Introduction
Startups usually refrain from launching a complete version of their idea to gauge their business ideas and see how to improve. When it comes to creating mobile applications, small companies, startups, and even businesses in stealth mode come up with innovative ideas and bring them to life.
Such an approach involves minimum investment and a faster time to make.
This will usually have businesses create a minimum viable product that can function to showcase their idea. While it is easier said than done, such businesses need to know how much does it cost to build an MVP?
Once you have the idea, you can frame a budget around the same and start with creating an application that serves the purpose.
This pushes businesses to create a Minimum Viable Product (MVP) which means a basic structure of an app with minimum features to showcase the idea.
The goal is to present an idea with a particular objective in mind; therefore, it does not need a complete package.
The first time, the phrase MVP was used by Frank Robinson, the CEO and President of SyncDev, in 2001. Since then, the term has gained popularity as its reach and advantages have been stressed.
Prototypes or products without special equipment, known as MVPs, often include the most critical aspects in their design. Your MVP is not the beginning of a project's development.
Instead, it is a first step in turning your new company idea into something that can be used and sold.
Going ahead with MVP will enable you to gather vital user feedback about app features and objectives while also opening up data points for investors to get started. It's the best approach to test the app and ensure it does not have serious flaws.
Intelivita provides top-notch MVP development services to its clients.

We're one of the top MVP solution providers; Connect with our industry experts to access premium quality MVP products.
Check out some key information to understand MVP better
It is a fully working application with only the most fundamental features.
Remember, 95% of product-based startups fail because of a lack of validation. This is why it is important to get your product validated using MVP.
New features will be developed in stages and will not overburden the available budgets.
It aids in the development of sensible spending strategies so that you have enough finances to create the app's second phase.
MVP is a comprehensive product that changes as new features are added throughout time.
Why Do You Require Planning the MVP Development Cost?
Before considering various aspects that influence the cost of an MVP app, it is important to understand why you should prepare ahead of time.
Even while the cost of creating an MVP is lower than the cost of complete app development, it still comes with a hefty price tag. If your goal and budget are out of sync, you may have a tough time creating a perfect app.
Conversely, if your business ideas end up in poor execution, then your product will inevitably fail. This is why you need to ensure that app cost, functionality, and quality are all in tandem with the MVP development.
Creating an MVP is useful to test the powerful features of the app and gather consumer response to those features. This way, customer input can be considered before creating a final product, helping you to launch flawless applications in the market.
What are the Reasons to Build an MVP App?
Stay away from possible dangers by testing the concept on time.
Using resources wisely rather than squandering them on a single feature of an app that may not add value in a longer run.
Get candid and accurate feedback from end-users to incorporate it in the final product.
It helps in presenting the app concepts to potential investors.
Help finalize the budget for your complete application.
How Much Does It Cost to Build an MVP?
If you want to create a minimal viable product yourself, the cost will be nominal. Although it appears to be a nice idea, it is not an ideal way to go about MVP app development.
A typical cost of a mobile app MVP can range from $5,000 to $50,000. A lot would depend entirely on the complexity of the app idea, features, and design.
The MVP cost is only one aspect of the equation; on-time delivery, quality, and UI also form critical factors.
The significance of choosing an expert and experienced developer is another thing to consider. Therefore, the human aspect is an essential factor to consider when determining the cost of MVP app development.
A. In-house MVP development
In-house development is a choice that certain founders need to make. It creates open lines of communication and genuine relationships. Individual talents with distinct skill sets must be identified for in-house development. There are plenty of benefits of having an in-house development team, but there are also some disadvantages.
One of the major downsides is the cost. So, if you're on a tight budget, you might consider hiring MVP development services. They take care of everything — including infrastructure and recruiting costs, as well as the development.
A full-stack developer may charge you $2900 a month.
A UI/UX designer will charge you $3600 a month.
A project coordinator costs $7500 per month, and a QA developer costs $4100 per month.
It would cost roughly $25,000 to create your MVP with the in-house staff.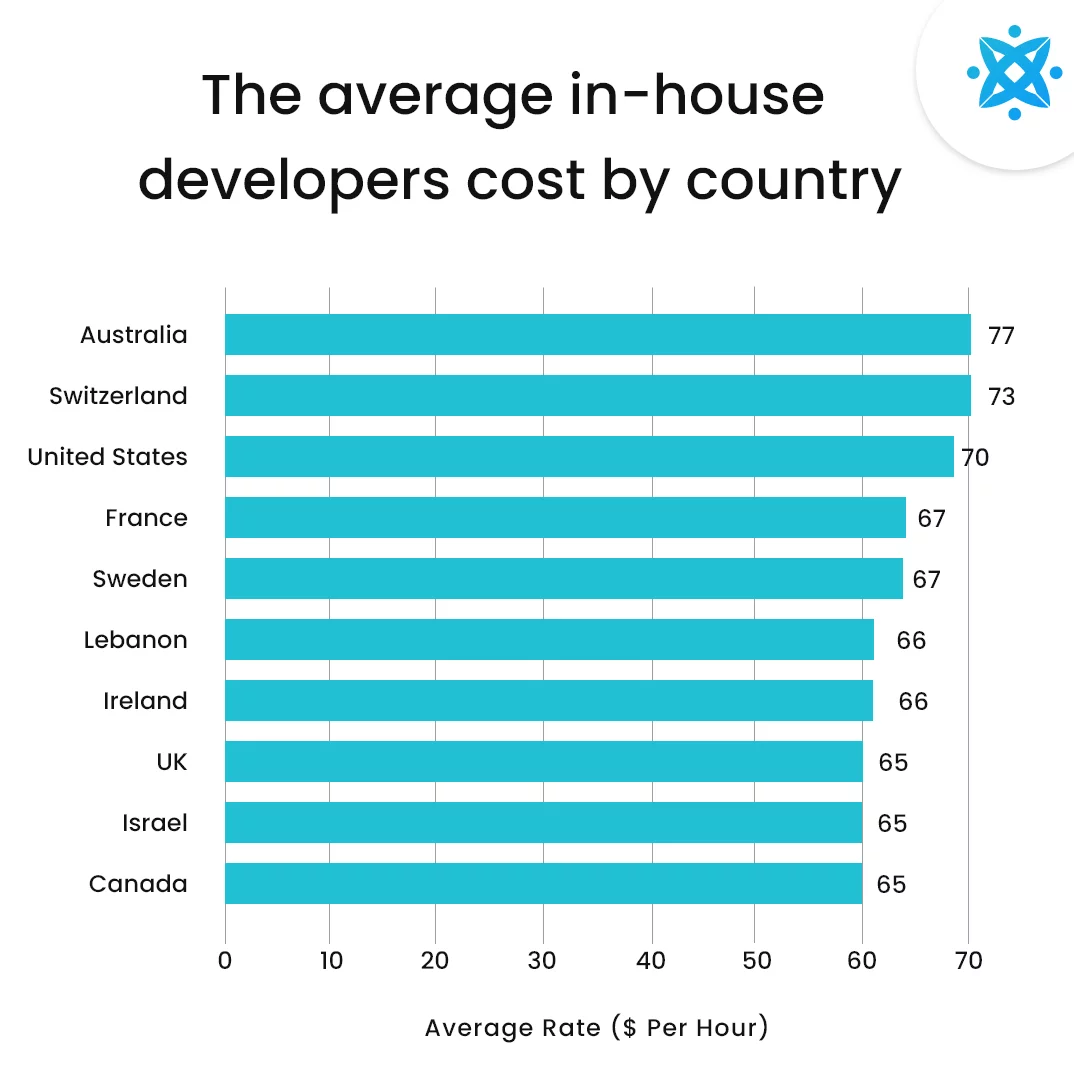 B. Outsource MVP development
MVP outsourcing is a popular alternative to in-house development because of its feasibility. Rather than having an in-house staff that requires a lot of time and effort, working with an MVP app development company is a great option.
Clients operating and choosing next-door services are also opting for remote software development services. The lack of trust and the difference in time zones aren't an issue. Thanks to the latest tools, technology, and agile methods, these issues are no longer a concern.
As a result, outsourcing MVP for startups appears to be a solid option. Let's look at how much it costs to build an MVP and why companies should outsource MVP creation.
It might cost you $30 per hour to outsource MVP development in the USA.
A four-person team will set you for $120. Building an MVP might cost you $19,000 a month, depending on your app type, design, and features.
💡 In order to calculate the MVP development price, you need to know how many hours will it take to build the MVP.

A basic MVP development takes anywhere between 240-400 hours. Calculate the average hourly rate for each team member for up to 400 hours and that's. your estimated cost of developing an MVP.
There are two primary advantages to hiring an app development company. First, you have skilled developers who are easily accessible. And, if you are unhappy with the output of the given developer, a new dedicated developer can be assigned immediately.
Looking to build an MVP for your next app idea?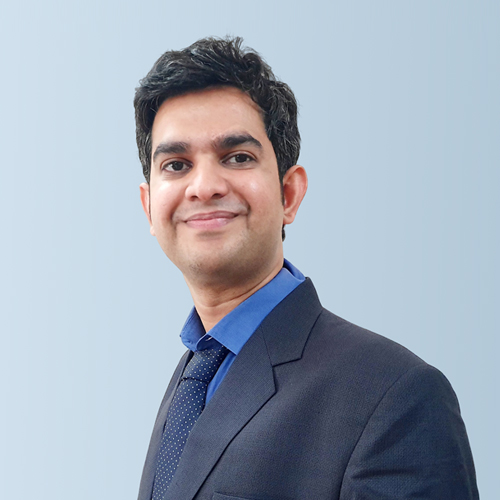 Let our experts do the heavy lifting for you.
Global Outsource Rates per hour are as given below: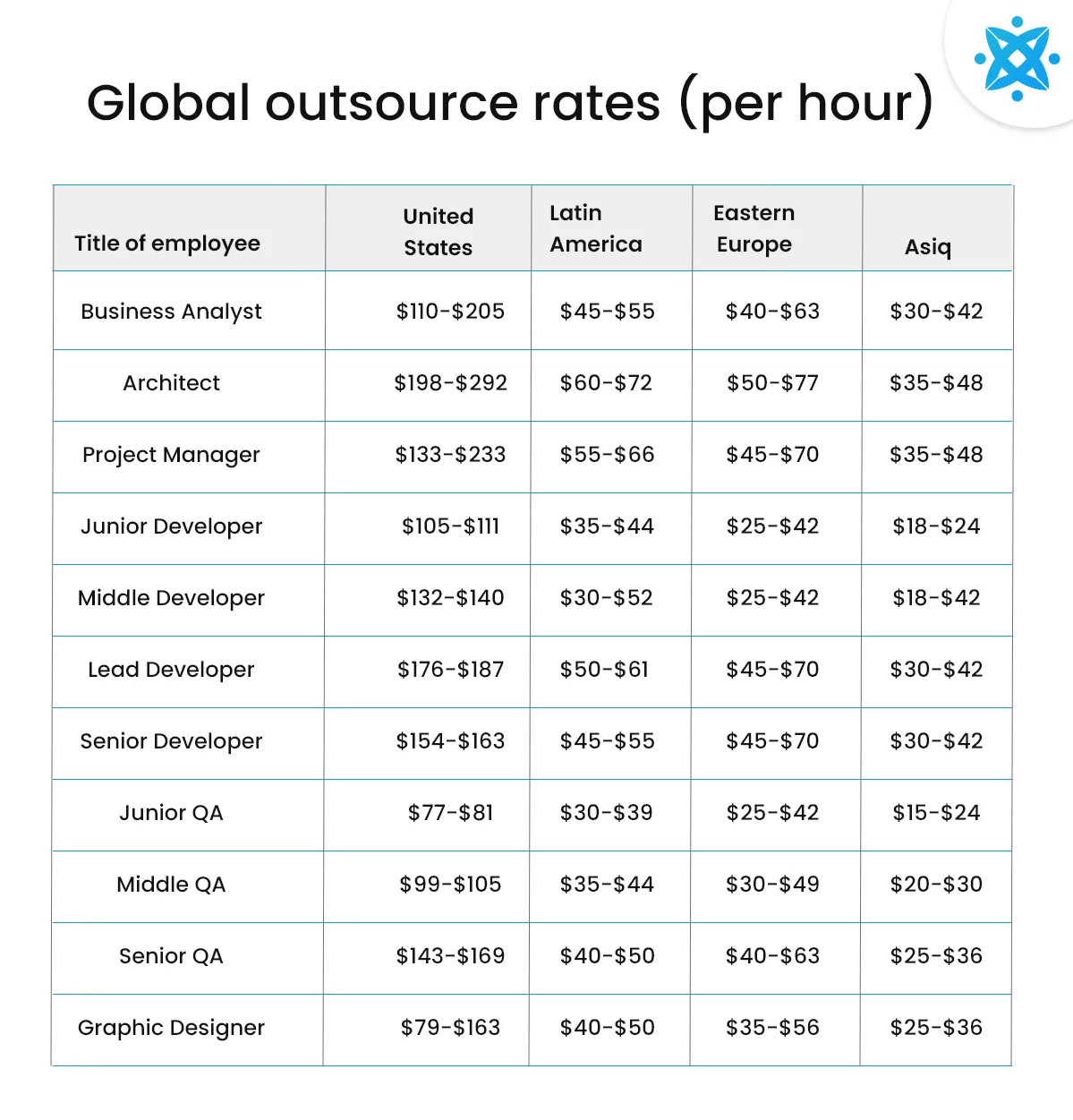 C. Freelancer
A freelance developer will undoubtedly be less expensive and, if carefully chosen, can benefit you. Chances are, you don't want to use freelancers because you don't trust their work. Or, some of your team members may find it difficult to interact with them.
This is why outsourcing the task to a reputable app development company will be the best option.
They will take your MVP project as if it were their own, and they will do their best. Though it is a contentious issue, the cost to outsource app development may come down if you opt for freelancer.
You can hire a full-stack developer on a monthly basis that costs around $5,000. This freelancer will stay throughout the project.
It costs almost $4,000 a month to employ a designer. It is essential that you hire this expert at the start of the project.
It is also necessary to have a tester on hand at all times which would need you to spend around $2,500 a month.
Typically, creating the MVP of an app would cost between $4,000 and $15,000 from a freelancer.
A lot would depend on their expertise, experience, and commitment.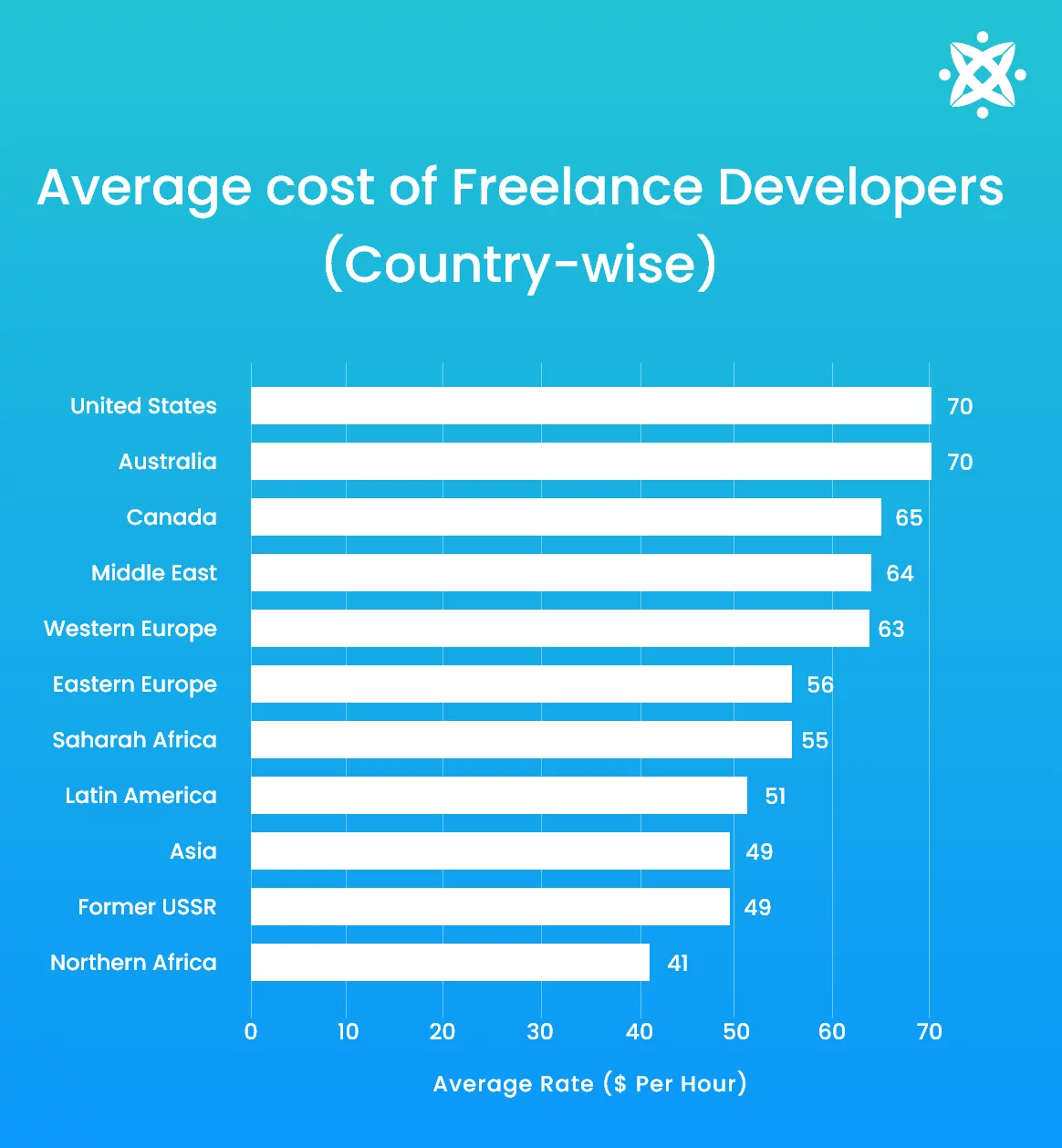 D. Hire a local team
The cost of developing MVP locally is also a consideration. However, this cost will cover the development of business and technological processes. With the amount of engagement and specified processes, you will receive a specialized development team, a project manager, and a tester.
Clutch or GoodFirms are wonderful platforms to scout for a reputable MVP development company. These websites display client ratings and feedback to assist you in selecting a competent and dependable team.
Agency prices range from $100 to $250 per hour for one specialist. This implies, you will have to pay at least $400 per hour for a dedicated MVP development team.
You must, however, consider if you are willing to pay up to $64,000 every month to get started with your MVP development. This is a decent choice if the response is yes. Now let's look into the cost of a minimum viable product.
As mentioned above, the cost of MVP development varies depending on the type of team you opt for. Here is a quick overview of each approach.
| | |
| --- | --- |
| Type | Cost |
| In-House MVP development | $25,000/month |
| Freelancer | $13,000/month |
| Outsource MVP development | $19,000/month |
| Hire a Local team | $64,000/month |
What Factors Can Influence the MVP Development Costs?
By now, you must be aware of what an MVP is, why you need one, and, most importantly, why it's vital to plan ahead of time. Implementing startup ideas with MVP will require you to consider multiple factors, which can also impact the cost.
The application framework and the technology stack will impact the cost and time to create an MVP. This implies that creating an MVP for a more complicated app idea will be more difficult.
Your app's service and purpose will dictate what features to include. Therefore, you must first identify the most important ones. Here, let us discuss factors that affect the cost of MVP development.
The application framework and the technology stack will impact the cost and time to create an MVP. This implies that creating an MVP for a more complicated app idea will be more difficult.
Your app's service and purpose will dictate what features to include. Therefore, you must first identify the most important ones. Here, let us discuss factors that affect the cost of MVP development.
Type of application
First, the cost of developing an MVP is mostly determined by the type of app, followed by its complexity and features. In other words, the lower the complications, the lower the expense of creating an app, and vice versa.
Therefore, it is best to come up with a list of features you want in your application. Start prioritizing them because adding too much would increase the cost of the MVP app.
The easiest strategy to emphasize the must-have features is to divide them into segments based on the user's journey — users, user's actions, and their activities. You can refer to these feature prioritization techniques to define the features and identify the important ones.
Looking for MVP development cost for your idea?
Get a precise and accurate cost estimate for your MVP Today!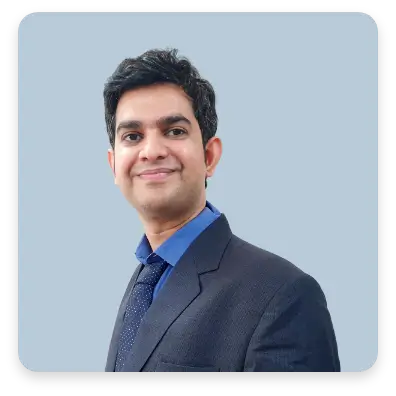 Here are some of the best ways to identify key features that you may include in your MVP:
Prioritization matrix
MVP will include a project management team communication that keeps a burndown chart. They ensure that key projects tasks are on track. Priority Matrix is a business analysis tool that utilises defined criteria and enables people and project teams to objectively assess possibilities. In turn, this assures for faster MVP development with a focused approach.
Feature bucket
Start with creating a feature bucket for MVP that helps design a new product. Later, test how the intended audience will react to its basic functionality and minimum features. This allows your technology team to focus only on the key features you may need to launch an MVP.
Moscow method
This technique divides MVP features into four categories: must, should, could, and won't have time. The must-have group comprises the required features. The 'should have' category includes non-essential yet important features. And, 'could' category includes good to have features. This time category will not contain features that are not currently prioritised but may be introduced later.
💡 Simple MVPs are obviously less complex and cheaper to build compared to complex MVPs. But whether to choose a simple MVP or a complex MVP will entirely depend on your app idea.
Designing cost of MVP
The design part may add up to a hefty portion of MVP app development. In truth, how you choose wireframes, UI, and hire experts all contribute to the high app/website designing cost. This is why you should plan and estimate the development cost ahead of time to know exactly how much it costs to build an MVP?
Designers should question their assumptions about user requirements. Troubled people often don't know what they need. So how can designers presume they know best before doing user research and learning about client pain points?
Pivoting UI to design with such an approach during the MVP design phase will help you create a user-friendly application. And to ensure an engaging User Experience (UX), your MVP UI must be seamless, easy to browse and add value to people who interact within the application.
Preparing for design
Start with getting the design ready but remember to keep your MVP UI/UX within the budget. Try incorporating adequate knowledge of the app's design as it lets designers craft a robust brand identity in the MVP itself (which poses a good impression amongst investors).
Moreover, you can participate actively in the meeting with the design team and incorporate meaningful customer insights into designing an MVP.
Wireframing MVP
This is more like the bare bones of your mobile app. You may either doodle it on a piece of paper or draw it on a computer screen, but the latter will provide you with the right information to structure your app better.
To create an MVP, you need a blueprint that depicts the structure and flow of your project. Wireframes are used in this step. They show the screens and structure that determine the user's journey through the solution.
On-page interaction
Remember that your MVP product isn't merely a page jam-packed with content. Consider creating an interface using a dynamic layout that allows for more consumer involvement to boost engagement. You may create an MVP with tools like Axure RP and InVision.
Developing a dynamic model is more expensive than building a static model. To understand why or why not a prospective consumer may buy a product, you need to consider the in-app interactions. This forms a crucial part of your MVP UI that fetches "actual data" after a product has been launched to the market.
You can monitor and learn from user interactions as a startup by measuring the metrics or user behaviours crucial to engine growth. This lets you select which features to enhance, add, or remove from the application.
Budget Planning for MVP App Development
You now have the features and design of the MVP app to consider. And then, there's a matter of how you do it as it may impact the budget of your MVO (Minimum Viable Offer).
The budget planning will also need you to consider whether to keep an in-house staff or outsource MVP for startup to avoid the hassles?
How do you intend to design triggers that reduce the cost of MVP app development? The cost will also depend on design, team, and features.
When hiring a mobile app development company, you may require between $5,000 and $50,000 to complete the task.
Keep in mind that your requirements determine the overall cost. All you need is the proper team to get the job done correctly.
User Understanding
Entrepreneurs frequently divide the entire process into different phases or versions of an MVP. This is done to guarantee that the final product meets the user's expectations.
As a result, the cost of creating an app rises as the complexity of development rises.
The cost of MVP app development is heavily influenced by functional and business needs depending on how your business targets users. It is best to consider conducting user research as a part of MVP development to ensure matching functional expectations of end-users.
Tech Stack for MVP Development
When considering the factors that can impact the MVP development price, it is impossible to ignore the technology stack. Your job would be easy if you had teams having expertise in technologies and frameworks.
However, if neither you nor your team can pick the ideal technologies, you will have to consult an expert that is bound to shoot up the overall costs of the project.
Consider the following technology solutions for MVP development:
Ruby on Rails for backend development: Because it is simple to learn and has a development cycle that is 30–40% faster.
React Native: Building cross-platform apps decreases development time by reusing 90% of the code.
Project completion time
Most often, developers are paid according to their working hours. The larger the scope of development, the more the time and expenses. You can bring down the cost of MVP development by beefing up your workforce. This will also save you the time to launch your MVP.
Assume you have eight developers working for $25 per hour. In two months, they complete the job. However, if you hire four developers for the same amount, they roughly take four months and thereby increase your time and cost. This is why you must exercise caution when determining who to hire and for how long.
Post-launch MVP Development Cost
You must advertise, market, and manage your MVP application after developing it to get the intended outcomes. You will need to incur these costs to transform your MVP to a Minimum Marketable Product (MMP). And when you put in the work, you will have to invest to ensure cohesive results in a long time.
Here are three key post-launch MVP costs
Advertising and marketing
Begin choosing an acceptable marketing partner to advertise your app across all platforms so that your prospects may contact you as soon as possible. The marketing cost varies depending on the marketing you use and the platforms you advertise.
Many companies provide social media promotions, sponsored search engine ads, and corporate events. MVP marketing efforts cost roughly $10,000 on average.
The sales funnel is critical to attracting the right audience and profiting from your MVP. You need to strategize the right path to roll out your products and thereby help the audience curate your application in a meaningful manner.
Typically, entrepreneurs pay $5,000 to $10,000 to test ideas and determine the best sales funnel.
The cost of product maintenance is typically 20% of the initial MVP development budget. Remember, it is entirely dependent on the team's location and product complexity.
Along with maintenance costs, you need to factor in server costs and the cost of integrations coupled with APIs that assist you with various interactions.
Timeline for MVP development
The time it takes to create an MVP is directly proportional to the budget and features. The more the features, the more will be your budget and time. The allocation of resources is also proportional to the number of features that need to be developed.
Here are some of the key considerations when it comes to MVP development time:
The platform (web, mobile, or hybrid app).
The amount and complexity of features.
The number of app roles.
iOS or Android development.
Considering the above-mentioned factors, you will need to know the project's criteria and milestones before the start of the project. Such an approach will help you adjust to the changes faster and enable outperforming your competition.
MVP development usually takes 1-2 months. It covers the entire development process, from business analysis to product maintenance. While this is just a basic timeline, you can factor in the delays caused by change of technology stack, feature set, and number of resources.
Alternatively, it takes 6 to 12 months to complete the whole product development process.
Frequently Asked Questions
Q.1 What is the objective of MVP?

The goal of an MVP is to get input from end-users and investors before creating a full-fledged, functioning model of your mobile application.
Q.2 Is it possible to build more than one MVP?

Yes, you can have more than a single MVP as it is built on various assumptions and plans.
Q.3 What are the types of MVP?

There are two types of MVPs; High-fidelity and low-fidelity where the former requires you to create a full prototype, while the latter depends on gauging whether or not your product can solve customer problems.
Q.4 What are the things that require maintenance in MVP?

An MVP must maintain your product's minimum and must-have features. Therefore, you MVP must run frequent security patches, keep updating features, and make changes to match user expectations.
Wrapping up
Calculating the MVP development cost is not an insurmountable challenge as long as you are clear with your goals. You can quickly evaluate the cost and acquire the outcomes you want by considering crucial aspects. A low-cost offering is essential for setting the groundwork for a successful app or website.
Once you are done creating an MVP mobile app, you may take the next step towards creating a full-fledged version of the app.
You can make the MVP available to the public and receive useful feedback from your target audience. It is critical to keep getting feedback to make the necessary modifications.
If you are looking to develop an MVP, schedule a free consultation with our team.

Let's analyze your requirement to build a custom MVP with advanced features for your business.