Isn't it desirable to have a hiring model that provides you with top talents at half the normal price?
Be it talents with rare skill sets, highly experienced programmers, or highly motivated developers, it's realistic for a cost-effective price with app development outsourcing.
For every $30,000 spent on application creation in the United States, you'll only need to pay $10,000 for a project of the same complexity if you outsource app development to India.
Also, since 82% of businesses fail for financial reasons; thus, opting for a hiring model tailored to conserve cost without sacrificing quality is important.
Outsourcing opens your business to a new range of possibilities at a cost-effective price.
Willing to learn more? Then keep reading this article as we'll discuss the following:
What is App Development Outsourcing
App development outsourcing models
Steps to outsourcing app development
Challenges in app development outsourcing
How much does it cost to outsource app development?
And more!
Let's discuss the intricacy of each of the points:
If you prefer pictorial depiction over text, you can head straight to our infographic section.
What is App Development Outsourcing?
App development outsourcing entails contracting a mobile application creation process to an external body outside the purview of your startup.
The approach here aims to partner with an agency to create new mobile apps from scratch, maintain existing software, perform adjustments, or total code revamp.
And with outsourcing being one of the most cost-effective business models, this trend is expected to rise.
Before delving into more details on app development outsourcing, let's take a dig into some insightful statistics on the subject matter:
📊 Insights On App Development Outsourcing
Outsourcing is gradually becoming a trend, and there are multiple statistics to prove that. Let's delve into that:
With these few statistics, we've demonstrated that startups are spending a lot on outsourcing, and it's gradually becoming the preferred model due to its numerous benefits.
Let's discuss some of those benefits:
Benefits of Outsourcing App Development
Outsourcing your mobile application creation process offers you a range of pros that entails:
Cost effectiveness
Access to top-notch expertise
Quick product development
Laser-focused effort
Flexible development model.
Benefit 1: It is Cost Effective
According to Deloitte, 70% of businesses opt for outsourcing for cost reduction.
Outsourcing app development helps you hire developers cheaper than most hiring models. It enables you to save on overhead costs and avoid investing in expensive software development stacks.
Benefit 2: It offers Access to Top Talents
Mobile application development outsourcing lets you access a global pool of programmers as they have talents spread all over the world.
Statistics suggest that 80% of companies report improved quality of their products and services after outsourcing.
Benefit 3: Faster Time to Market
A report by PwC published on BusinessWire suggests that 70% of companies that outsource their software development get quicker time-to-market.
This hiring model ensures quicker time-to-market by providing you access to a dedicated development team with expertise in the needed tech stack. Their understanding enables them to type requisite syntax quicker, implement libraries, and adopt technologies without guesswork.
Benefit 4: Focus on Competencies
Outsourcing your mobile app development project lets you focus on competency by reducing internal distractions caused by having to oversee your development process.
By partnering with a software development outsourcing agency, you can focus on core business activities like sales, customer service, and marketing.
Thus, your team will only concentrate its efforts where it's at its best.
Benefit 5: It offers Top-notch Flexibility
App development outsourcing and allows companies to flexibly access a large pool of talent. They can promptly onboard and reduce their workforce, without recourse to recruitment laws or hiring bureaucracies.
Now that you know the benefits of outsourcing app development, let's discuss the options available:
App Development Outsourcing Models
The choices of outsourcing app development available are:
Offshore outsourcing
Nearshore outsourcing
Onshore outsourcing.
What do they entail? Let us dig in and also consider their pros and cons so you can make educated decisions:
Offshore Outsourcing
This option entails hiring developers in a software development agency situated in a distant nation, especially with one cheaper cost of living.
Offshore outsourcing application development is a cost-efficient option but also have its own challenges.
Let's discuss the pros and cons of this option:
Pros
Cons

Outsourcing to areas with lower labor-cost significantly reduces development price.
Access to specialized skills and expertise that may not be available In-house.
Different time zones mean there's the possibility of getting a task done even when the company is closed.

Timezone and language differences can hinder communication.
Differences in cultural values and norms can lead to workplace conflict.
Difficulty in seeking contract-breach redress due to differences in laws.
Another type to factor in when considering steps to outsource application development is nearshoring. Let's delve into this:
Nearshore Outsourcing
This outsourcing model is one where you contract a software project to a team of developers in a nearby country. For example, an Australian company is outsourcing to an agency in India.
To fully understand whether this is a great option, we'll delve into its pros and cons:
Pros
Cons

Closeness to the home country improves communication and collaboration as work-time overlaps.
Similar cultural differences
Access to the skilled workforce in the nearby country.

Language barriers may still exist, as in the United States and Mexico case.
Other cons of offshore outsourcing may remain.
Prices may remain high, as in the case of two countries in the E.U. economic zone.
And lastly, we have onshore outsourcing.
Onshore Outsourcing
This onshore outsourcing model entails hiring a software development team located in the same nation as your startup. For example, a US-based startup outsourcing to a US-based software development agency. Let's discuss its advantages and disadvantages.
Pros and cons of onshore outsourcing:
Pros
Cons

There's no language barrier since work is done in the same country as the startup.
Cultural similarities facilitate collaboration and communication.
It's easier to maintain legal and regulatory compliance.
Better oversight over outsourced work, especially if you're in the same state with development team.

It's more expensive in comparison to other alternatives. Especially for startups in high-income nations.
Access to talent is limited to only your home country.
Now that we've discussed your option, which suits you?
Which App Development Outsourcing Model is the Best?
The best outsourcing model depends on your personal preference. However, it's mostly suitable for startups to opt for an offshore outsourcing model, as they'll help you save on development and maintenance costs.
For example, the cost of developing a mobile app in the US is 3x the development price in India.
Got an App Ideas in Mind for Your Startup?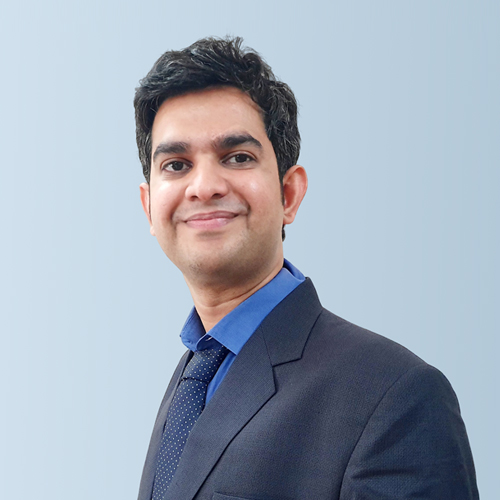 Connect with Intelivita experts to explore cost-effective ways of app development.
Steps to Outsourcing Application Development
It's important to use the right metrics to identify the software development to hire to outsource the right set of developers.
For that, follow these steps: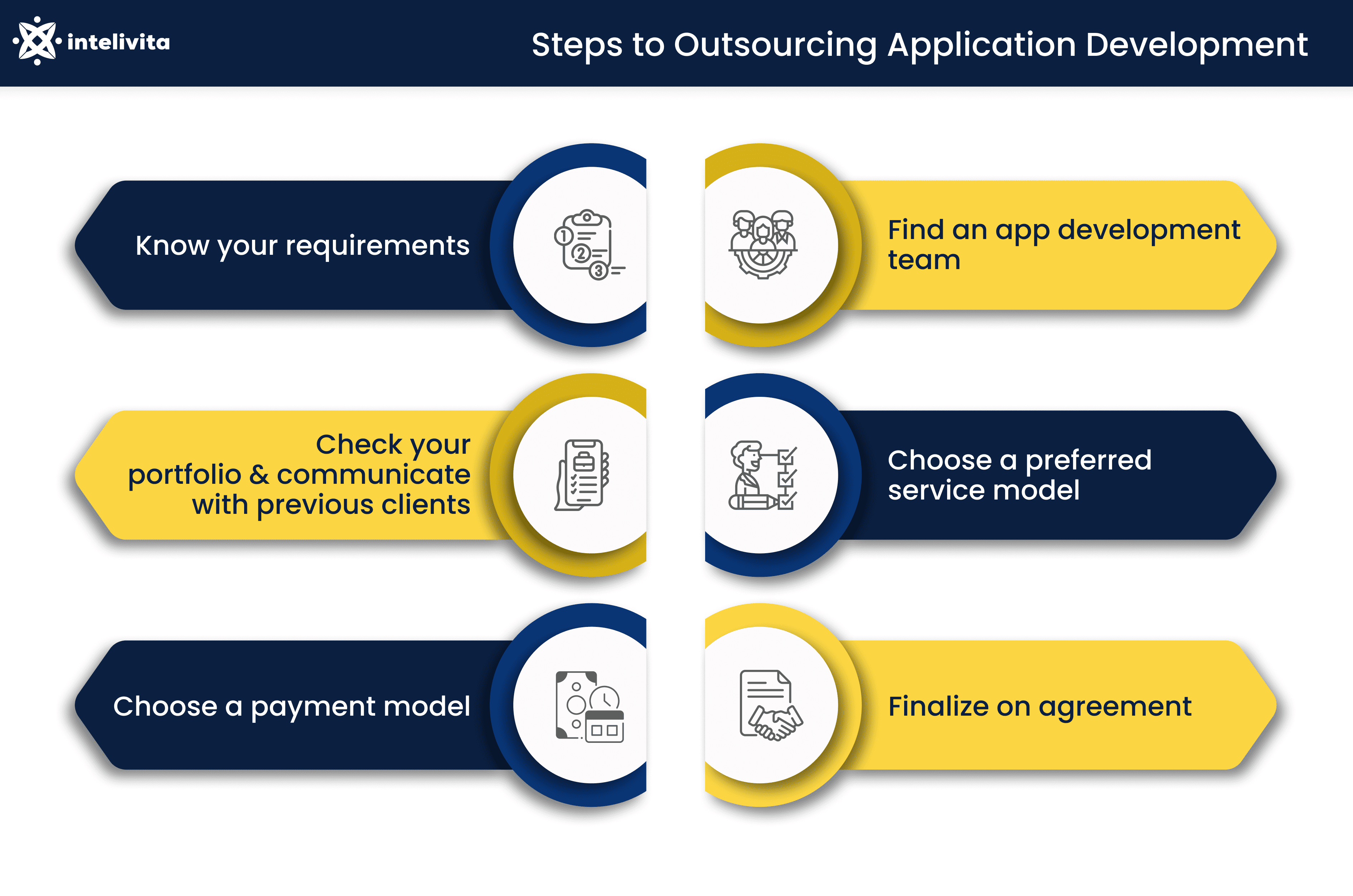 Here's a breakdown of the steps:
Step 1: Know your Requirement
It's important to know your development requirement before anything as it helps you communicate your needs to the software agency. Thus, having a better understanding of the project's scope.
You should also evaluate the capacity and qualifications your potential development partner should have. Additionally, it helps you agree on costs and milestones before work starts.
Here are tips for figuring out your app development outsourcing requirements:
Know your business goals
Identify your target audience
Define the scope of the project
What operating system is the development for
Identify market trends
Identify preferred communication models.
Once you've understood this step, the next is to start searching for outsourced app developers.
Step 2: Find an App Development Team
You can find app development teams either offline or online. Although referrals are still the surest means of hiring talents, other ways to find programmers are:
App Development Platforms
Description
Freelance platforms
Freelance platforms connect independent professionals with clients in need of their services.

Some examples of freelance sites to try out include Upwork, Fiverr, Freelancer, PeoplePerHour, etc.

Social media
You can find suitable development partners via their social media platforms. Most platforms have a search field that lets you find accounts within your niche of interest.
B2B ratings and reviews platforms
B2B ratings and reviews are primarily dedicated to helping businesses find agencies offering needed services.

An example of a platform offering this service is Clutch.

Online business listings
These are directories that provides information about companies. The information they provide includes name, address, contact details, etc. An example is Google My Business.

Simply searching using the keywords "software outsourcing provider" or "software development agency" will pop up a list of options in your niche.

Search engine platforms
Search engine platforms like Google, Bing etc., can crawl the internet and suggest software development agencies.
Industry events
Online meetups and physical events have representatives of software development agencies in attendance.
Once you've found development teams that interest you, the next step is to choose from your options.
And for that, you'll need to consider their portfolio and speak with past clients. Let's discuss this:
Step #3: Check Portfolio and Communicate with Previous Clients
Before hiring an outsourced mobile app developer, check their project portfolio and discuss it with your past clients to ascertain their expertise and work quality. This way, you'll know if they have the relevant knowledge for timely deliverables.
For proper checks, ask a CTO or tech lead to help vet the code samples.
Step #4: Choose a Preferred Service Model
A service model refers to the collaboration between the startup and software development agency.
There are numerous types of service models to choose from:
1. Staff Augmentation
This model is where you hire a dedicated team of app developers to partner with your in-house team on a specific project. These outsourced developers report to your organization but remain employees of a software development agency.
With this model, you'll keep development indoors while easily adding the expertise you need in a scalable and flexible manner.
2. Time and Material Contract
This outsourcing model is one where you hire developers and pay them hourly for tax done, as opposed to per project payment.
3. Project-based
This outsourcing model entails hiring a development team to work on a predetermined project, per blueprint and deliverable. Here, the budget is fixed, and the expected outcome is well spelled out in the contract.
4. Project Outsourcing
This model entails transferring the task of creating software from scratch to a software development company. The organization here undertakes the design, development, testing, and deployment on a suitable platform.
The best option depends primarily on your business needs and the resources available.
Project-based and staff augmentation is ideal for companies with in-house development teams but only needs to augment a lacking skillset. Otherwise, project outsourcing is the most beneficial option.
Step 5: Choose a Payment Option
Before you sign a contract with an outsourced app development provider, it's best to first agree on a suitable means of payment.
Some payment options to choose from are:
Pay per project (fixed cost)
Pay hourly rate
Paying on a milestone basis
Combination of fixed and monthly payments.
Once you've chosen your preferred payment option, the next step is formalizing agreement:
Step #6: Formalize your Agreement
Once you've agreed on the deal, the next step is formalizing your agreement by making it legally binding to both parties.
You'll also need to draft some documents to keep development a secret and guarantee an effective workflow.
Some documents you'll need to sign here include:
Statement of Work
Master Service Agreement
Non-Disclosure Agreement
DPA (Data Processing/Confidentiality Agreement).
Ready to Develop a Scalable Mobile App for Your Business?
Get a precise and an accurate cost estimate for your custom mobile app with advanced features.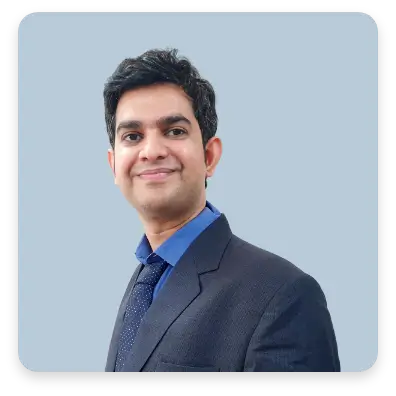 Now that you know the steps involved in the development, let me educate you on the likely challenges you'll face:
Challenges in App Development Outsourcing
There are numerous challenges you might likely encounter when outsourcing app development.
These challenges are pain points you may have to solve to get the desired experience and deliverables from the hired outsourced app development team.
Challenges in application development outsourcing are:
Let's discuss the intricacy of each application development outsourcing challenge:
Challenge 1: Maintaining App Development Quality
Most development teams have their distinct pattern of creating mobile apps. As such, it can be challenging to ensure that work done by the outsourced developers meets your organization's in-house standards.
To surmount this challenge, ensure you detail your expectation and involve a QA tester in verifying the quality of the codebase. Additionally, regularly request the development team to publish their code on GitHub at intervals. This way, you can quickly identify errors and make modifications deployment.
Lastly, it's best to have a project manager helping to ensure outsourced teamwork to plan and act as a liaison between your internal team and the developers.
Challenge 2: Communication Barriers
Language barriers, time zones, and cultural differences can affect communication among both sides during app development outsourcing. Also, the fact that they'll only communicate virtually can make it difficult to convey complex ideas in real time.
Agreeing to a clear communication model at the onset is a way to surmount this problem. For example, daily meetings, biweekly check-ins, etc. Tools like slack, Google Meet, and other video conferencing teams can also bridge communication gaps between parties.
Also, encourage an open-door policy so both sides can identify communication pain points.
Challenge 3: Possibility of a Data Breach
It's possible to experience a data breach due to outsourcing since it's an external body that creates the core aspects of your app, including the database. The development team may have internal unwholesome practices, creating a surface area for cyberattacks.
To overcome this problem, you should adopt a strict protocol and guidelines for both sides to keep sensitive information safe. This includes encrypting sensitive information, performing regular audits, and securely transferring important information.
Also, ensure that the organization you're outsourcing to has good knowledge of compliance laws like the General Data Protection Regulation.
Another way of securing information is signing a Non-Disclosure Agreement, binding developers from divulging sensitive data that can be used to breach your product. For example, in eCommerce app development, the NDA should protect user data and financial information.
Lastly, have a disaster recovery plan to reduce the impact of a breach and to prevent litigations.
Challenge 4: Legal and Contract Difficulties
Legal and contract issues often result in disagreements and misunderstandings between the parties involved.
These difficulties occur due to different legal jurisdictions and the need to properly clarify the agreement and its terminologies. To surmount this challenge, you should adequately draft detailed contracts that outline the roles of all parties involved.
Also, back-and-forth communication on any grey areas in the contract can prevent legal and contract difficulties. You should seek the service of a lawyer before signing any contract.
What's next? Let's discuss the cost of outsourcing app developers vis-a-vis other models.
How Much Does it Cost to Outsource Application Development?
App development outsourcing costs typically range between $15,000 and $180,000 and can go over $200,000.
The exact cost will depend on your development team's location, among other factors.
Cost by Team Location
App development outsourcing costs depends on your team's location. For example, a mobile app creation cost that requires $200,000 in the United States will cost about $60,000 in India.
Below are the prices required to outsource mobile app development for a solution of average complexity:
| | |
| --- | --- |
| Region | Estimate Cost |
| Australia | $120,000 |
| The USA | $180,000 |
| The UK | $150,000 |
| Western Europe | $100,000 |
| Eastern Europe | $60,000 |
| India | $45,000 |
As you can see from this spreadsheet, cost varies per location. And for the best cost-quality ratio, it's best to outsource mobile app development to India.
Frequently Asked Questions on Outsourcing Application Development
Q.1 What is Outsourcing Application Development?

Outsourcing mobile applications entail hiring a third party for mobile or web application development. They undertake app research, UI/UX design, coding, QA testing, DevOps, etc.

They also help maintain your solution, ensuring you focus on core business activities.
Q.2 How Do I Choose a Company to Outsource App Development to?

Before choosing a mobile app development partner, you should consider the experience of developers, portfolio of projects, communication models, project management methodology, and understanding of the project.

You may also request references to verify their claims. Conduct interviews with team members if you can.
Q.3 What are the Risks of Outsourcing App Development?

Some risks of app development outsourcing include data breach, lack of development transparency, poor communication, and project delays. To prevent this, partner with companies like Intelivita, which has a proper in-house development blueprint.

Also, your software development partner may not understand the full vision of your app. To prevent this, ensure you have a project manager and agree to a proper communication model.
Now that you have an idea of how to outsource mobile app development, let's help you get started!
Do you Need a Reliable Offshore Mobile App Developer?
Having discussed how to outsource application development, we can help you cut the chase and get started.
Intelivita is a mobile app development agency with over a decade of experience creating software of varying complexity.
We have over 70 programmers with expertise in various tech stacks.
Doubt our competence?
Then view some testimonials made by past clients and check out our case studies of recent projects.
Bonus Infographic
Here is a summary of our detailed guide. Learn the highlights of how to outsource mobile application development in a few steps and how much it will cost.

If you are looking to outsource app development, schedule a free consultation with our team.

Let's analyze your app development requirements to build a custom application for your business.
[Last Updated On: 31/01/2023]