Are you a startup founder, tech executive, brilliant innovator, or serial entrepreneur looking for answers to the question how much does it cost to design a website?
Or do you aim to redesign the website of your business and you're wondering about the price tag?
If yes, it's imperative to read through every aspect of this article, as we'll provide you with information on what a web design costs.
Here's a summary of web design prices we'll elucidate on in this article:
eCommerce site–$25,000 to $40,000
Corporate web apps–$20,000 to $30,000
Landing pages–$1,500 to $2,500
SaaS web apps–$25,000 to $45,000
Blog websites–$12,000 to $20,000
📃 Want to know more? See a checklist of what we'll discuss in this article:
How much does it cost to design a website?
Factors that Affect Web Design Pricing
Specific cost of designing particular examples of websites and web apps
Steps to costing a web design
And more!
If you prefer a visual text experience, you can also head straight to the bonus infographic.
Let's delve into the crux of the article:
What's the Cost of Website Design?
In a nutshell, the cost of designing a website can start from $3,000 and can go up to $40,000 and over.
The precise cost implication for a web app design depends on a gamut of factors which will be discussed in the subsequent section.
Factors that Affect Web Design Pricing
There is a host of information to consider in determining web design costs. Here's a checklist of some of these factors:
Type of website
The complexity of the design
The location of the web design team
The type of team involved in development.
Let's discuss their intricacies and elucidate how price ranges based on each factor:
Cost of Designing Defined by Type of Website
Cost can be priced based on the type of web app you're interested in designing.
For example, a design firm will charge higher for e-commerce web apps than corporate sites. How so?
Here's a comparison and how they stack up against each other:
Type 1: Cost of Designing an eCommerce Website
An eCommerce website is a platform where people can purchase and sell digital products, physical goods, and services. The business meets the client and receives payment for the service or product offered without having physical contact with the buyer.
Typical examples are Amazon, Shopify, Salesforce, Volusion etc.
Ideally, an eCommerce design should enable users to discover items, add items to the cart, and make payments.
The cost of designing an eCommerce website by a professional web design agency ranges from $15,000 – $40,000.
Type 2: Cost of Designing a Corporate Website
A corporate website is designed and created to represent a company, an institution, or an organization and provides its audience with information online. Target users get to understand the company and can reach out via online forms or through a contact-us section on the site.
Examples of corporate websites are HSBC, KPMG, Daniel Corp, Sparkbit, IWG, etc.
Designs here are simplistic and tailored to encourage page viewers to contact the company for specific tasks.
The site design cost for a corporate website ranges between $20,000 – $30,000.
Type 3: Cost of Designing a Landing Page
This is a single-page platform with monopolistic information that aims to convert traffic and increase conversions.
Usually, they're part of a website that a person lands after clicking an ad campaign or call-to-action social media post.
An example of a landing page within a website is "how to hire dedicated developers for your startup." There are also standalone landing pages–a website with just a single page and nothing else. Here's an example of that: "ApplePlugs."
Single-page designs are unique from others as they highlight a call to action button. Designs here highlight the page's goals and emphasize the brand making the offer.
The cost of custom website design for a landing page is around $1,500 – $2,500.
Type 4: Cost of Designing a SaaS Website
SaaS, also called Software-as-a-Service, are solutions that are hosted in Cloud and are delivered to computers via the internet. Rather than installing the software onto a mobile app, or computer, you'll simply access it online.
Examples of SaaS websites are HubSpot, Salesforce, Hyper Context, and Buffer.
Its functionality, user interface, and user experience must be optimally considered to design a SaaS platform.
It requires a simplified registration page, a simple onboarding process, streamlined information architecture, and engaging dashboards.
The cost of designing the UI/UX for a custom SaaS website is $25,000 – $45,000.
Type 5: Cost of Designing a Blog Website
A blog is a website that viewers can visit to read about generic content or get information on a subject matter. Examples of blogs are Ryan Robinson's blog, Copyblogger 101, and Little Fat Boy.
An essential element for a blog design is readability. The UI/UX design should have foreground and background colors that contrast sufficiently to make texts readable.
The cost of designing the UI/UX of a custom blog website is $12,000 – $20,000.

Another way custom website design cost is defined is the design's complexity. Let's discuss this briefly.
Cost of Website Design Defined by Complexity of the Design
The complexity of a design depends on several factors, such as the number of pages involved, animation, tools required to design the product, and the number of characters per page.
It can be a basic design with few pages and minimalist characters or a complex website redesign with multiple characters, animations, and a complex UX mapping.
| | | | |
| --- | --- | --- | --- |
| Design Complexity | Average Cost | Designing Timeline | Examples |
| Basic | $1,000 – $4,000 | 1 month | ApplePlugs |
| Average | $5,000 – $15,000 | 2-3 months | Shopify |
| Complex | $20,000- $60,000 | 3-6 months | EcoSystemizer |
If you don't know what type your prospective design fits in, below is an explanation of each.
Basic Complexity
A web design of basic complexity has less than 15 user interfaces and few or no animations. This complexity requires a few experts to integrate and is usually for portfolios, blogs, and landing pages.
Average Complexity
Website designs of average complexity have up to 50 pages of interfaces, multiple 3rd party integrations, and advanced animations. Examples of web designs of medium complexity are large corporate sites and cloud software products.
Difficult Complexity
Designs of difficult complexity have interactive animations, over 50 pages of interfaces, a complex UX process, multiple-page navigations, and characters.
Examples of websites like these are banking websites, animated web builders, etc.
Another cost-influencing factor to consider is the team location. Let's touch on this:
Website Design Cost Defined by the Team Location
The geographical location of your team is another factor that can impact web app design cost.
Living expenses differ from nation to nation–consequently, services cost also differ–even when deliverables are the same.
Take India for example; the cost of web design there is 3x-4x cheaper than in the US. Here's a table depicting how price differs per location:
| | |
| --- | --- |
| Country of location | Cost ($/hour) |
| United States | $100 |
| United Kingdom | $90 |
| Canada | $90 |
| Australia | $80 |
| Western Europe | $75 |
| India | $50 |
From the table above, it's only logical to conclude that when you hire a designer from India, it'll give you the best cost-quality design ratio. This is particularly important for early-stage startups.
Another factor to consider is cost, as determined by the preferred team type. Let's also discuss this:
Web Design Cost Defined by The Type of Team
Your team type astronomically affects the cost of custom website design. For example, hiring three in-house developers to design a product is more expensive than outsourcing to a website design company. Why so?
When you hire developers, you're legally bound to provide their equipment and convenient work environment and have to pay for unproductive hours. Let's help you understand how cost differs from one team type to another.
We'll assume that you're designing a complex solution requiring 400 cumulative design hours.
| | |
| --- | --- |
| Team Type | Cost |
| In-house Development Team | $100,000 |
| Local Development Agency (US, UK, Canada) | $80,000 |
| Freelance Team (US, UK, Canada) | $65,000 |
| Offshore Development Agency (India) | $30,000 |
Before settling for a preferred team type, let's educate you on what they entail:
In-House Design Team
These are a team of experts hired by a company, as its full-time employees, with a mandate to help create, manage, and innovate on its technical goals. They receive daily instructions from the management team.
Before choosing this employment model, it's best first to understand its advantages and disadvantages, which are:
Pros
Cons

They're readily available to work on design corrections promptly.
Due to proximity to the management team and startup founder, they have a better understanding of the idea's objectives. Thus, they guarantee top-notch founder satisfaction.

This hiring has multiple hidden costs that include recruitment costs, equipment costs, and welfare bonuses.
You'll pay for unproductive hours.
46% of new employees are considered bad hires after 18 months of work. As such, there's a high risk of hiring wrongly.
Possibility of legal blowback from wrongful termination.
Onboarding process is cumbersome.
Another common hiring model is outsourcing to a local design agency.
Local UI/UX Design Agency
This is a software design company resident in the same location as your startup.
For example, if your organization is based in the US, then a local design agency is one based in the United States of America. For this article, we'll group design agencies in the US, UK, Canada, and Australia as one.
Pros
Cons

Time-zone and cultural similarities make corporation smoother.
Disputes can easily be settled by litigation.

Cost of hiring local design agencies is exorbitant, especially for startups in high-income nations.
Another option to consider for your web design is freelancers. Let's educate you on this:
Freelance Designer
These are UX/UI designers that work independently to design mockups, prototypes, and user experience maps. They are not employees of any organization and only handle projects per contract.
As with other options, they also have their pros and cons, which include:
Pros
Cons

Freelancers are cheap to hire.
They offer access to rare skills.
They're flexible and can be disengaged at prompt.

Freelancers may abandon your project for a more beneficial one.
Freelancers may divulge sensitive information about your product to competitors.
The difficulty in supervising freelancers makes them prone to mistakes.
Inability to cooperate with an internal workforce.
Global payment limitations may hinder partnership.
Another cheap yet effective option to consider is an offshore design agency. Let's also educate you on this:
Offshore UI/UX Design Agency
As the name implies, they're designers situated in a foreign country with experience designing User Interfaces. This is particularly common with companies in the US and India-based outsourcing providers. Here are the pros and cons of this option:
Pros
Cons

Access to a large pool of global talent.
High-quality technical expertise and experience.
Faster flexibility and scalability.
It's highly cost-effective.

Lack of in-person communication.
Too many vendors to choose from.
Cultural differences.
Time zone constraints.
Want to cut to the chase and hire a web design company with verifiable proof of expertise?

Click here to get started!
Popular Websites and their Custom Website Design Cost
Below, we combined the cost of designing some reputable websites and the items that make each unique.
Cost of Designing a Website Like Facebook
The cost of designing a website like Facebook is between $10,000-$15,000.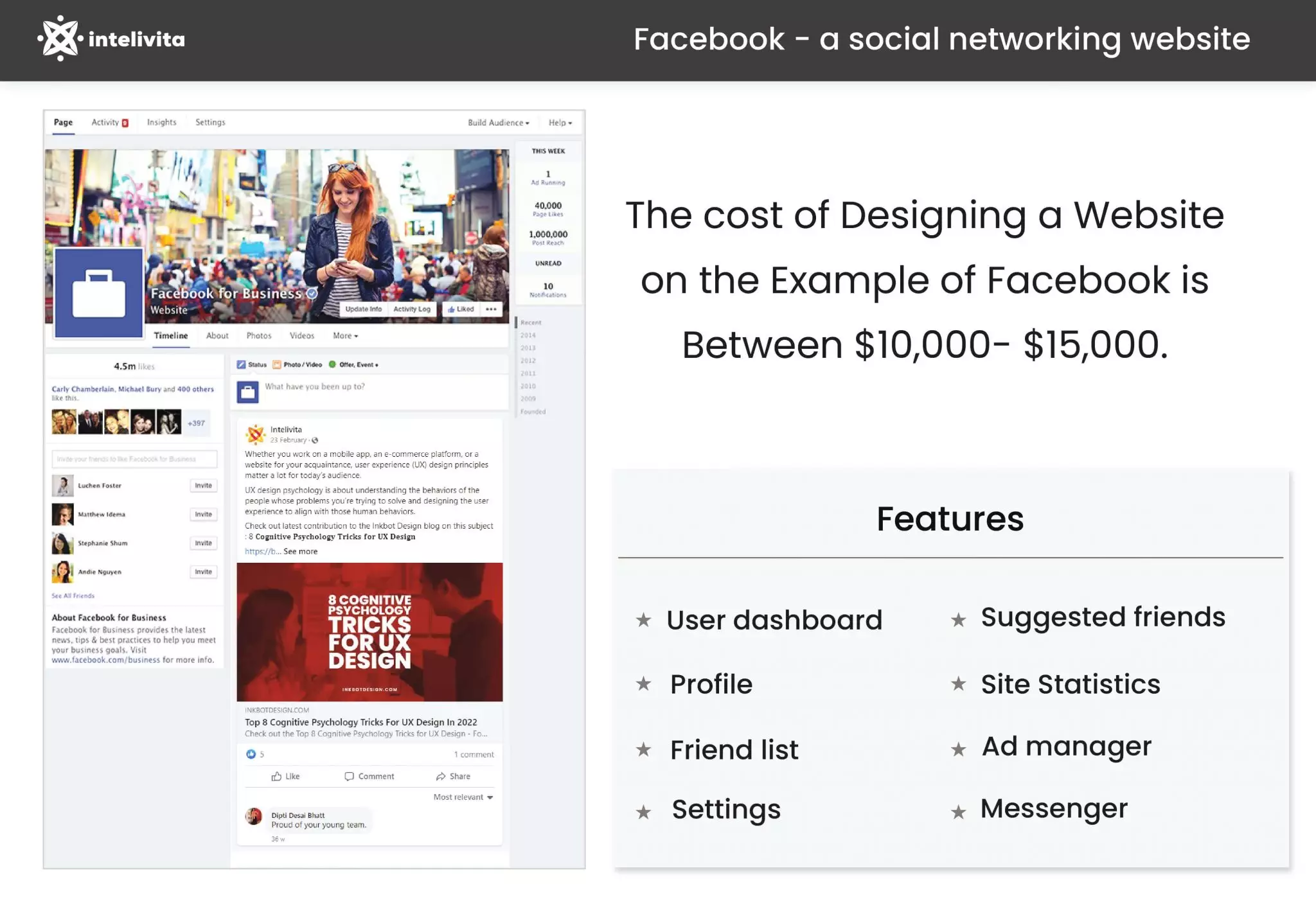 Characters in Facebook Design
The platform is designed such that its blog posts are placed on the left to draw users straight into the app's content the moment they hit the app.
Since blue is a generally good color, Facebook claims it adopted blue and white because those two colors are in its design elements as they're associated with religion, peace, and calmness.
Features Designed into the Facebook App
Facebook's features are:
| Features | Purpose |
| --- | --- |
| User dashboard | Facebook's custom design has a user dashboard, also called a timeline, that brings up a series of posts from friends and pages liked. Ads also come up on this page. |
| Profile | The profile is a page showing details of account owners and buttons to modify their preferences. |
| Settings | The settings section allows users to make more advanced decisions, such as account deletion and user blocking. |
| Ad manager | Facebook Ad manager is a section that allows users to set advertisements, fund advertisement campaigns, and set target viewers. |
| Suggested friends | This feature suggests friends connect based on location, mutual, workplace, and education. |
| Site Statistics | This feature is designed within the web app to provide them insights on viewers and ad campaign results. |
| Friend list | It provides a list of people connected to a particular user. |
| Messenger | This feature allows account owners within the platform to message each other. |
Beyond Facebook, another example of custom web design cost we'll consider is Udemy:
Costs of Designing a Website like Udemy
The cost of designing a website like Udemy is between $5,000-$10,000.
Udemy is a platform with over 50 million users and over 46,000 instructors.
Some interesting characteristics of this site are:
Subtle call-to-action icons
White background
Interactive cards
Compelling texts.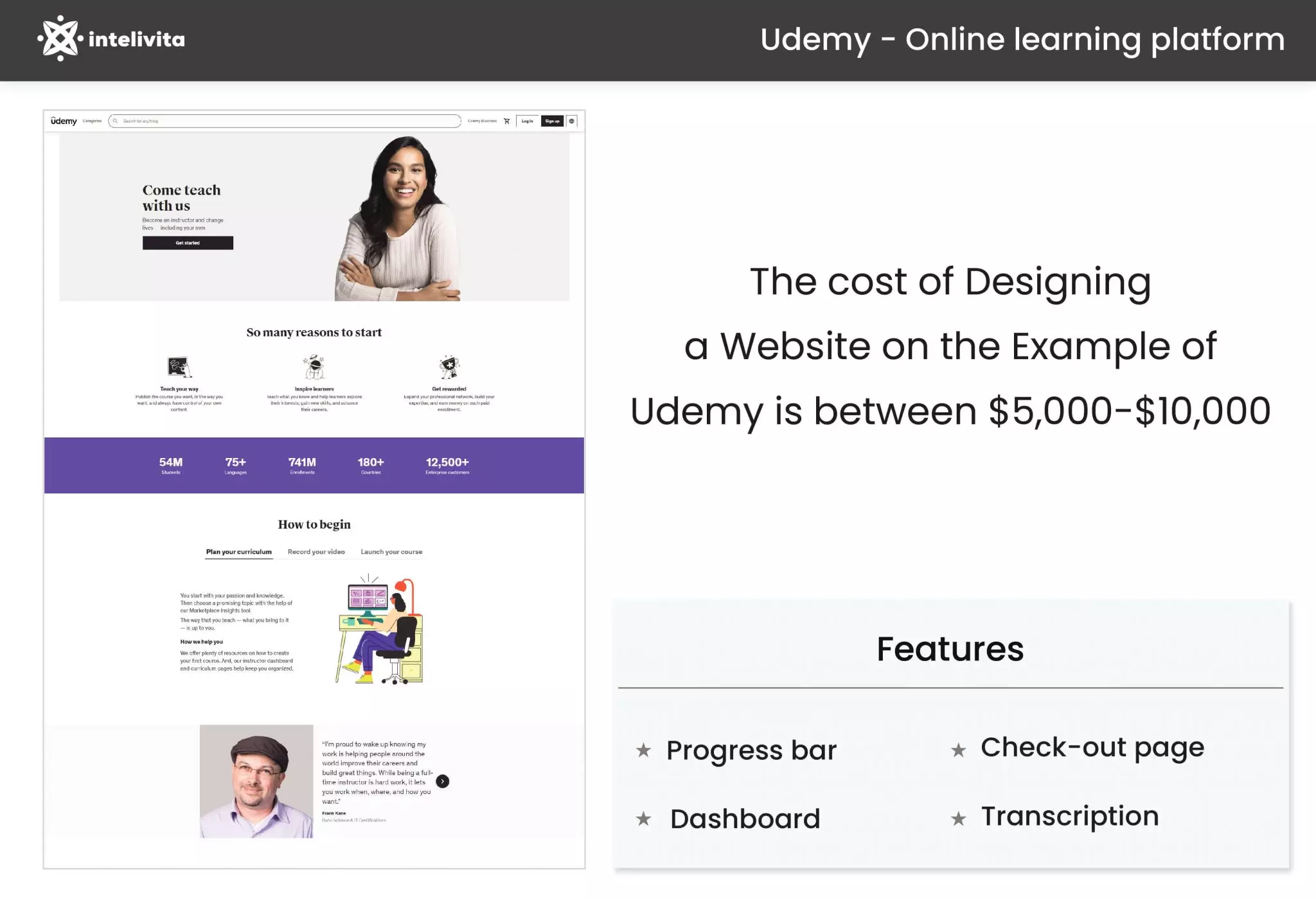 Features in Udemy Website
Udemy's features are:
| Features | Purpose |
| --- | --- |
| Progress bar | This shows the extent that you've watched a course. It shows in percentages. |
| Check-out page | This page is designed to show users a course they want to purchase, the cost of purchase, and a coupon text field. |
| Dashboard | The dashboard is a section that shows a list of trending courses in a niche you're interested in. |
| Transcription | This feature provides texts to the words of the lecturer. |
Another web app we'll use as a case study is Uber. Let's discuss this:
Cost to Design a Website like Uber
It'll cost you $15,000 to design the Uber website.
Uber has over 93 million users and over 3 million drivers. This makes the platform the most visited ride-hailing service in the world.
Parts of its success can be attributed to the app's UI/UX design, which stands out for the following:
The app uses icons and images for description
Icons explain the texts
Simple and easy-to-use User Interface
It is designed for one-handed use.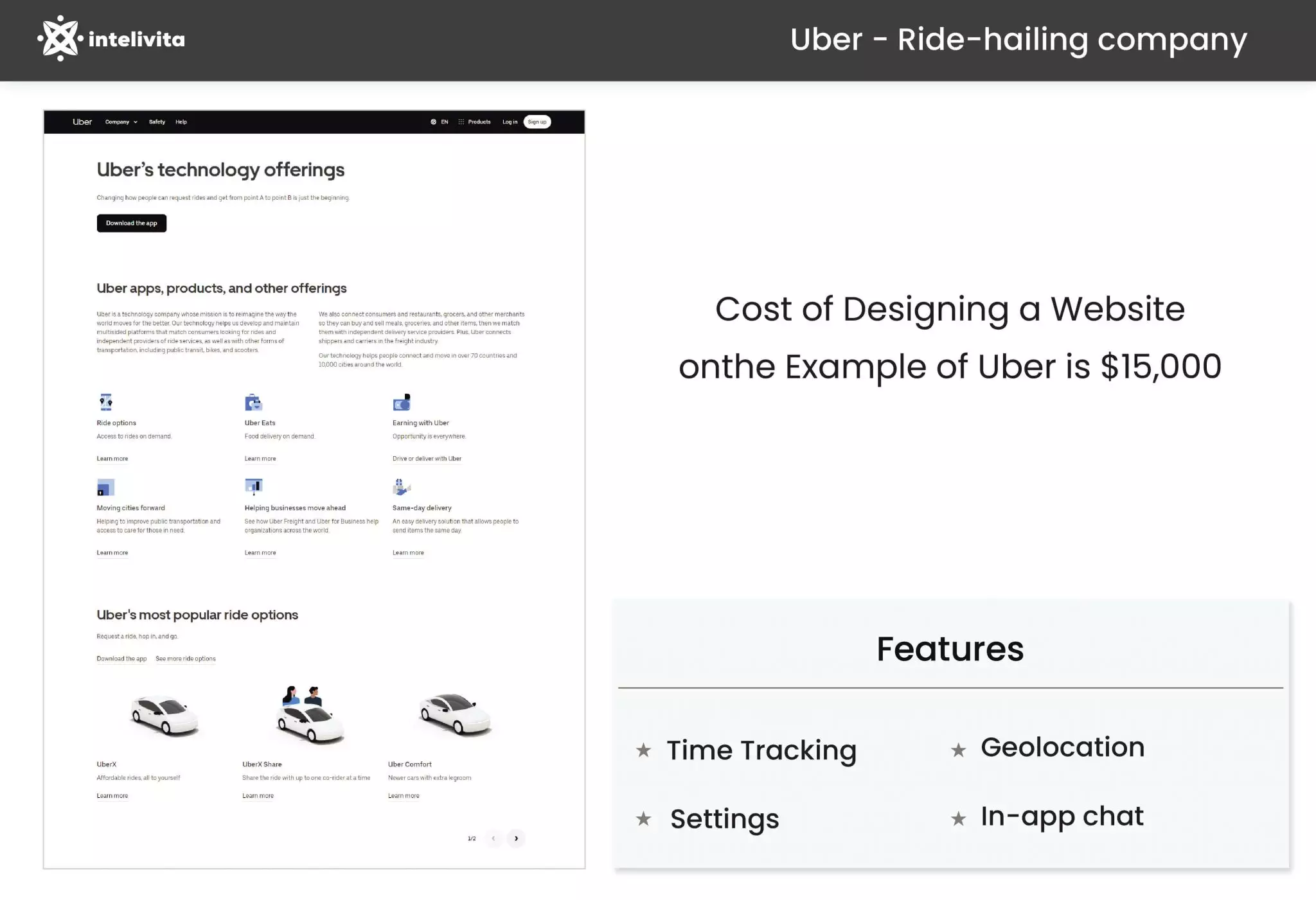 Features in Uber
Here are some features designed for that platform that makes it stand out:
| Features | Purpose |
| --- | --- |
| Time tracking | This feature tracks the time it takes for the ride to reach its destination. |
| Geolocation | Geolocation is a feature that provides real-time direction to users and drivers. |
| Settings | This feature lets users set their preferred payment method, name, home address, work address, phone number, and profile picture. |
| In-app chat | It allows for in-app communication between the rider and the driver. |
You now have a better idea of website design pricing cost per different examples of web apps. Let's discuss the steps to costing a web design:
Steps to Determining Custom Website Designing Cost
We follow these steps to cost your web design project:
Step 1: Discovery Phase
The discovery phase is a research stage where we highlight the most desired deliverable and the steps to achieve that.
The extent of time needed to map out a preferred workflow, and deliverable will be considered here.
The discovery phase of a web app design of average complexity entails:
| | |
| --- | --- |
| Activity | Hours Required |
| Research & Analysis | 8 |
| Paper prototyping (Sketches) | 4 |
| Persona creation | 2 |
| Usability testing | 5 |
| User journey creation | 5 |
| Hand-off to dev | 3 |
| Information architecture | 5 |
| Buffer hours | 20 |
| Total Hours | 52 |
For a more complex web project; the discovery phase may extend to 100-150 hours.
Another step to consider is UX wireframing.
Step 2: UX Design
Another critical factor we consider in costing a web design is the UX design.
This is the process of designing a platform to ensure it's usable, efficient, enjoyable, and provides relevant experience to its target users. The aim here is to design an easy-to-use platform.
The time spent with a UX design also differs based on the complexity and the number of features in a solution. Here's a table showing UX design activities per hour required:
| | |
| --- | --- |
| Activity | Hours Required |
| Low-fidelity prototyping | 5 |
| High-fidelity mockups | 160 |
| UX handoff | 15 |
| Design Audit | 30 |
Step 3: UI Design and Wireframing
The cost here depends on whether it's a unique UIs, averagely unique UIs, or a single UI design repeated on different web pages.
For a unique screen, you'll design every web page on the website from scratch.
An average unique page entails designing about half of the page from scratch, while repeating the designs on the other half.
For repeated screens, we'll design a single user interface, and repeat the design on other pages–only the texts will differ. This is common with blogs, and portfolio websites.
Here's how much each type costs for a website of average complexity (20-50 web pages):
| | |
| --- | --- |
| Interface Type | Time Required |
| Unique Interfaces | 100-200 hours |
| Averagely Unique Interfaces | 20-100 hours |
| Repeated Interface | 8-20 hours |
Step 4: Additional Components
This step entails inputting extra buttons, icons, pages, and characters into the custom website design, based on the client's recommendation.
The price you'll pay on additional characters varies with the type of components you're requesting for. Here's how each additional characters stack up:
| | |
| --- | --- |
| Components | Cost |
| Icons | $100-$1,000 |
| Feature | $1,500-$10,000 |
| Background images | $100-$1,000 |
| Webpages | $1,000-$5,000 |
Once this cost is known, there's more. You'll also have to figure out the total, as the design phase is just one of the 4 major steps to launching a website.
And for that, you can read this titled: "how much does it cost to develop a website?" It's very detailed.
It's also worthy of note that for custom WordPress website development, the design may not have much impact on the development cost due to the use of plugins and themes.
How Intelivita Can Help You Create a Custom Website Design?
Reading this article on custom website design cost doesn't tell it all. You should reach out to us for a precise cost estimate.
We help design platforms at the most cost-efficient custom web design pricing.
Doubt our pedigree, check out our portfolio or view our reviews on clutch.
Bonus Infographic
Check out our summary of our detailed guide "Cost to Design a Website" to learn some key points about the costs of designing a website.