If you have a brilliant idea for building a mobile app but are new to the market, one of your first questions would likely be – "Can I make money from an app?"
We could have started this article by saying how prevalent and trendy mobile apps have become. But you already know that. From talking to friends to finding jobs, making reservations, or finding love- it's all there in the apps.
Let us look into some facts and do the math. A study shows that an average adult American checks their phone every 12 minutes.
We use our phones everywhere!
You might be reading this article from a mobile device right now.
What is everyone doing on their phones? Well, 90% of the total time spent on mobile is actually spent on apps. This is encouraging enough for anyone who owns a mobile app or wants to develop one.
In 2020, global revenue from mobile apps surged to over 318 bn US dollars. This was an increase of over 60 bn US dollars compared to 2019. The strongest segment that year was the mobile games segment with a revenue of over 200 billion US dollars.
The Statista Digital Market Outlook estimates that revenue across most segments will increase over the next few years and overall will stretch out around 613 billion US dollars by 2025.
Do we still need to address "How much money can you make from an app?" 49℅ people open an app more than 11 times a day.
We know for a fact that people are using mobile apps more than ever now. But that's not enough information to develop an app. It's like opening a restaurant just because you come to know that people love to eat.
And, then we're in a constant juggle of whether to build a mobile website or a mobile app. Let's see the comparison of mobile apps and mobile websites and mobile apps.
Mobile Website vs. Mobile Apps
As a general rule, your first step in mobile marketing strategy should be creating a mobile website. This is the bare minimum you can do for your business to create an online presence in a world dominated by the internet and smartphones.
On the other hand, a mobile app complements your website by letting users complete certain tasks more conveniently than they could on the site and by advancing marketing goals.
Why You Need a Mobile App?
Apart from the number of hours people spend on apps, there are a few other reasons to consider before building an app.
Apps can feed information about your business to the customers. From prices to offers, bookings, and everything in between, your user should learn about your business.
You can pitch your business or a segment of it to your base and target. For example, if you own a bakery and sell baking supplies, you can market your products to home cooks or stay at home moms through a personalized customer section.
Stand out of the competition. You already know that you have the edge over your competitors if you provide your customers with another way to reach you.
With apps, you cut through the noise and distractions of the web. You provide a holistic experience that is concentrated on your business only. It's like staying closer to your customers.
Now that you know the "why" behind building a mobile app, let see the important factors to consider before building an app.
Important Factors to Consider Before Building an App
You might have a fantastic tech startup idea, but it alone won't garner positive responses from the users. Your idea should be unique enough to stand out amongst the crowd, especially when there is an overwhelming number of apps already in the app market.
Let us look at some of the crucial things that you should consider before developing an app.
Concept proof your idea before you start developing your app. Ask yourself if your app will solve an existing challenge or just be another app sitting in the app store.
Research well before starting the process of development. Know the audience who'll be attracted to your idea and focus on marketing your app amongst them.
Don't forget about the design of your app. The more user-friendly your app is, the more users will be inclined towards your app.
You shouldn't compromise with the security. From locations to passwords and bank details, smartphones hold a lot of confidential information.

Hence, data protection is of utmost concern for every user. Make sure that the security of the app is your top priority while developing an app.
 Hence, having a database is very important if you want your users to experience optimum performance. Otherwise,  your dream of a successful app builder will down in the drain.
You should consider data structure, speed, scalability, size of the data, accessibility of the data along with safety and security before choosing a database if you want to make money from your app.
If you are developing an eCommerce app, it is essential to provide an online payment gateway. Building an app integrated payment system will ensure that customers can make payments quickly, right at the moment.
 It is also essential to have a robust user experience to stay afloat in the long run.
How Much Does It Cost to Build an App?
Let us now finally get back to the question we addressed at the beginning of this article
Can I Make Money From An App?
At any given time, there are about 2.68 million apps available for download on Google Play Store and 2.2 million apps on Apple App Store. Out of them, a lot of apps are free to download.
Free? Come on; you already know that!
Considering the capitalistic society we live in, you might have wondered:
How Do App Owners Make Money?
Trust us; there isn't a definite answer to how much money you can make from an app. A lot? Maybe more.
Hence, we've decided to help you get your idea off the ground and show you how exactly you can make money with apps.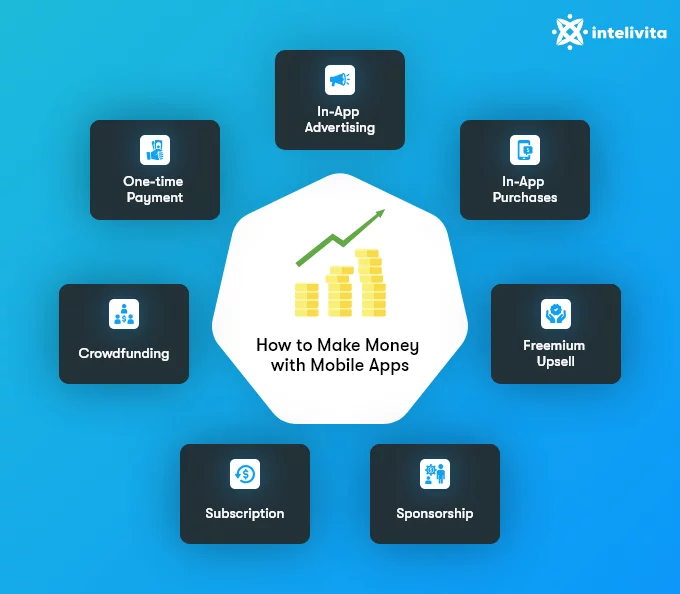 1. In-App Advertisements
Statista shows that more than $186 million would be spent on mobile ads this year. Needless to say, mobile ads drive the market. With in-app ads, you can advertise affiliate products inside your app, and you get paid if users interact with those ads.
The most common campaigns used in affiliate marketing are cost per click, cost per view, and cost per install.
If you want to make money from apps through ads, there are networks like AdMob and Flurry to work with. You can use several ways to display your ads- banners, native ads, videos, interstitial ads, or rich media ads that include audio, video, text, and more.
2. In-App Purchases
IAPs are directly made from within the free mobile apps. They're typically used to allow exclusive content or additional features to users.
In simple words, they provide the ability to sell a variety of virtual items directly from the app. The best free gaming apps like Clash of Clans and PUBG have enhanced their user experience by providing their users with IAPs.
According to Forbes, this strategy generates the highest revenue for publishers. Generally, this model is used in gaming apps, mostly because of the digital money. For the most part, this is an exciting model to convert free users into paying users without being too intrusive.
But don't forget that you have to keep your users engaged in your app so that they keep paying. With this strategy, there is a great chance to create an app and make money from a low-monetization method.
3. Freemium Upsell
A freemium upsell model enables you to offer your app for free but would have paid or premium features. The magic of the freemium business model is that it will grow your business rapidly through advocacy.
After experiencing the value of your app first-hand, users can enthusiastically spread the word about your app.
Take Spotify, for example. Spotify isn't necessarily a professional tool, but if you've ever used it, you know that everyone loves it. You can use Spotify and almost all of its features for free, but you have to listen to the ads on desktop or mobile.
While users get to experience the benefits of your product without actually giving or losing anything in the process, you get their foot in the door.
From here, you can convince customers to pay or just let the greatness of your product do it for you. Overall, if you can make a user love and depend on your product in a Freemium model, they won't mind paying to get more of it. The best part?
You don't need to spend a dime as the users themselves will spread the word about your app.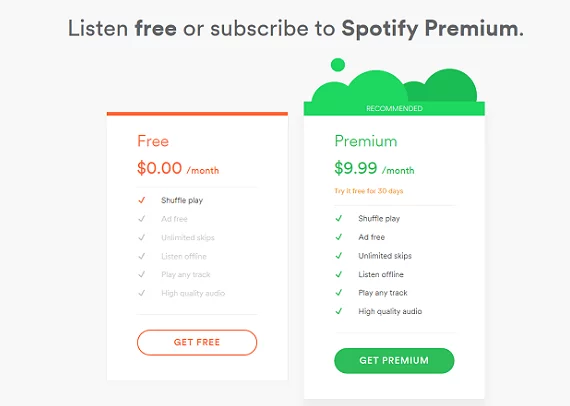 4. Sponsorship
Finding a sponsor is a real breadwinning monetization model. It works like this:
You create a mobile app with a large number of users, after which you find a sponsor company and offer them to update and use your app to match their brand.
The sponsorship deals can be of two types; either you can split the revenue with your sponsor or ask for a monthly sponsorship fee.
But, finding a sponsor is a tough nut to crack. Your mobile app has to be good enough to catch the interest of potential funders.
5. Subscription
Even though the paid subscription business model is the most common app monetization strategy, subscription-based mobile apps, like Netflix, Amazon Prime, and Dropbox, have gained massive popularity in recent times.
It is similar to in-app purchases except that instead of giving users the option to buy whenever they want, this model introduces 'subscription periods.' When a user has an active subscription period, they can use the app's premium aspects, after which they can no longer use them unless they renew their subscription.
It is quickly becoming one of the top monetizing options because users get to try the application for free for a fixed period and then choose if they want to continue with paid subscriptions. This brings in steady recurring revenue. Moreover, app owners pay less transactional fees to Apple and Google for long term subscriptions.
Do we need to mention that subscribers are usually loyal app users? The key to achieving success with the subscription model is to provide a constant stream of fresh and valuable content and services. Users will keep subscribing as long as they will get value from the app.
Looking Build Customized Mobile App?
Talk to us! Share your app requirement with our app development consultant and turn your idea into a live mobile app.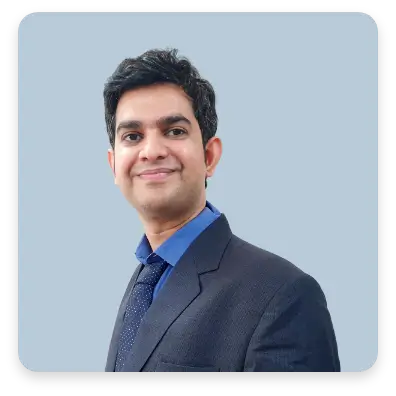 6. Crowdfunding
When we say crowdfunding for your app, it doesn't necessarily mean that you have to be looking for money you think you need to develop your app. You might need funds for a particular part of your mobile app development or test a specific feature of your app.
You can post your app on one of the crowdfunding platforms mentioned below to gauge interest for your product and back it up with all the money you might require. Pitch your project the best way possible, and if you get zero funding, then you should reconsider your product. But if people enthusiastically back up your idea, you're probably onto something!
You might also get ideas during the process of app development, and by the time your app is launched, they'll be the ambassadors of your app and will talk about it.
Kickstarter
Indiegogo
CrowdFunder
AppsFunder
7. One-time Payment
For different purposes, many users cannot cope with the services of free mobile apps. Sometimes, they need more than what they are offered for free. Again, for different occasions, users need some extra services that only some paid apps can provide.
They are only likely to pay for companies they trust. One way to let users know the value of their apps is to create a lite version of it and offer it to the users to test. If they find your product worth spending money on, they'll purchase the premium app.
But make sure your app is not just another app they could have used for free. Remember, users, walk away sooner than they walk in.
Which Model Will You Use to Make Money From Mobile Apps?
There are numerous ways to make money with apps, but it will take some planning and a multi-faceted marketing strategy. Remember, don't overuse app monetization methods. Your app shouldn't be inconvenient to use for your audience.
If it's full of ads and in-app purchases, your users may stop using your app and download a similar one. As a mobile app developer, you should realize that your app will only bring profits as long as people use it.
Your users should feel comfortable with using your app. So, you need to be careful and make all ads and offers as subtle as possible.
Don't forget that without the best design and development, your app isn't going anywhere. If you aren't sure about how to create an app and making money, you can hire an app developer to have the edge over your competitors.
Our application development team makes sure that the software is developed, keeping in line with your business requirements and objectives.
Our execution model is in sync with the latest trends so that we don't fall short of offering the best software efficiently and economically.
What are you waiting for? Do you have an idea for a mobile app you think will bring revolution? Share your thoughts with us.
If you are looking to develop a mobile app, schedule a free consultation with our team.

Let's analyze your requirement to build a custom app tailored to your business needs.