UX is everything. It always has been, but it's undervalued and underinvested.
Business growth is impossible without a strategy. A good strategy brings together all the resources of your startup and guides them towards a common goal — which is growth.
Growth means different things for different businesses.
For some, it is a swell of the bottom line, for others, it could be doubling the customer base in the first year, while for others it could be a calculated move to enter a market and make themselves prominent as the most reliable brand.
Irrespective of which mission you are chasing, including how to start an online business, you ought to know the various business growth strategies available at your startup's disposal.
The knowledge of all possible strategies makes it easy to handpick the right one that can help your startup achieve its goal.
Curious to know what those startup growth strategies are? Read on.
6 Top Growth Strategies for Startup to Reach Your Goals"
1. Organic Traffic Generation Through Evergreen Content
Every piece of content in any format has a shelf life to it.
A blog post can last up to two years, while a tweet will be long gone in less than 18 minutes. Of course, we are not considering viral posts for the matter.
The table below shows the estimated shelf life of various content formats: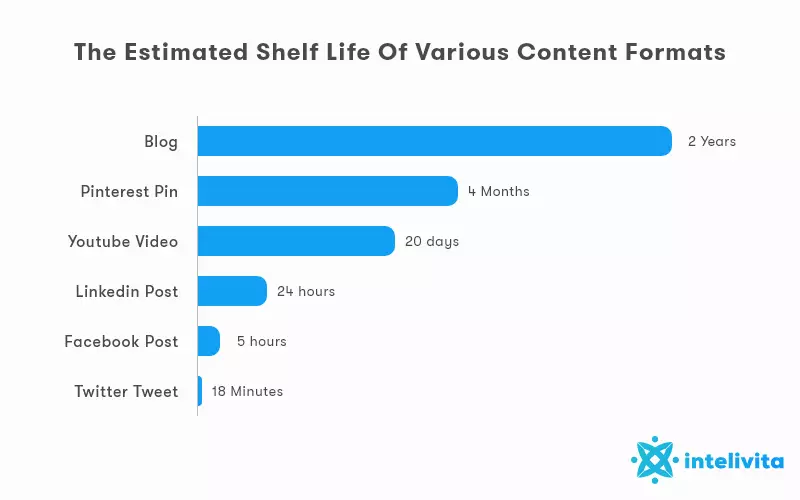 Marketers know that maximizing the life of their life content is essential to growing organic traffic and lead-gen.
After all, creating a single piece of content with engaging high-resolution photos requires so much effort, time, and collaboration from multiple professionals. Those resources cannot be left to go to waste in a short span of time.
Is it possible to make your content stay relevant beyond its shelf life? It is possible and such type of content that has a long shelf life, almost endless is referred to as evergreen content.
What is Evergreen Content?
Evergreen content is one that remains relevant and popular way beyond its estimated content shelf life.
Evergreen content continues to bring in relevant visitors and conversions with minimal changes to the original content.
Some examples of evergreen content:
How-to guides:

How to create a UTM link using Google's Analytics URL builder
How to create a LinkedIn showcase page for your product

Guides, eBooks, and whitepapers

The beginner's guide to influencer marketing
[eBook] Digital Transformation in banking & finance
[Whitepaper] Marketing automation in B2B eCommerce

Annual or seasonal trends

10 marketing trends to watch out for in 2020
5 fall fashion outfits to add to your wardrobe
Thriller series to chill & Netflix over the weekend
Of course, there are still more worthy examples of evergreen content.
Experimenting with various content formats can help you maximize organic traffic over a period of time.
What Benefits Does Evergreen Content Deliver?
It spares you from the need to consistently create new content
It establishes your content as an authority in the respective domain
It brings regular new visitors and conversions to the blog
It maximizes brand image
It creates opportunities for content syndication and link building
The ultimate benefit of all of these is that your organic traffic keeps growing at a steady rate.
And every marketer worth his/her salt knows that organic traffic is crucial for long-term growth.
In fact, when it comes to evergreen content, you can update old blog posts to boost their search engine rankings.
A study conducted by Databox found that more than 61-80% of organic traffic comes from "old blog posts".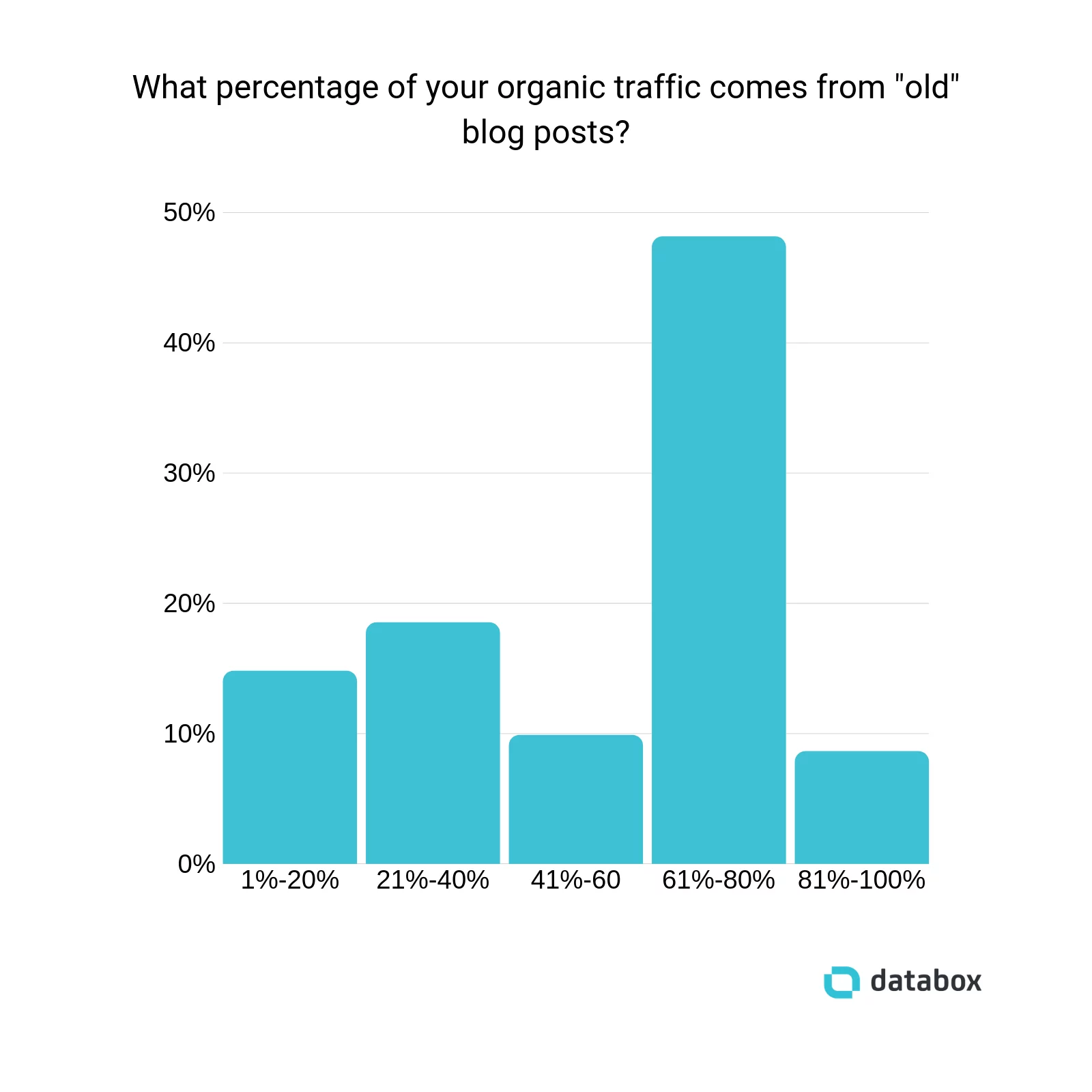 Source: Databox
As a business growth strategy, organic traffic generation holds the pole position since it yields RoI longer than any other strategy.
2. Freemium Model to Win Early-stage Customers
The word freemium is coined by connecting the words "Free" and "Premium", where basic features are provided free of cost while premium features are chargeable.
The freemium model is an extremely popular growth strategy deployed by most software makers of the world.
The freemium business model allows users to use the basic features of the software free of cost while upgrades, premium features, or higher plans are offered at a cost.
The freemium plan is designed in such a way that the user becomes well-acquainted with the product and starts using it frequently.
In due process, they come across scenarios when an upgrade is required to maximize the product's utility.
What Unique Advantages Does the Freemium Offer?
If your startup is new to the market, has a small sales team that has a huge market to capture, and has a modest marketing budget, the freemium business model can help in several ways. As a business growth strategy, the freemium model gives some truly unique advantages that you cannot ignore.
You don't need a sales team to win prospects in large numbers
If your software is great, your freemium users will upgrade to a paid plan with ease
Customer churn rate is minimal for customers who moved from freemium to paid plans
It is ideal for software products or services that do a specific set of tasks or processes in a standardized fashion
The word "Free" is definitely a bait for users who want to try and feel assured before making a purchase
Has Anyone Tasted Success with the Freemium Model?
Three popular brands you must be popular with have tasted success with the freemium business model.
One, Zoom — The web-based video conferencing tool zoomed into popularity with remote working becoming the new normal.
Two, Canva — A graphic design tool that anybody can use without any prior design knowledge,
Third, Atlassian — an enterprise-grade project management software,
Finally, Spotify — the music streaming service that begins and then ends the day for more than half of the world.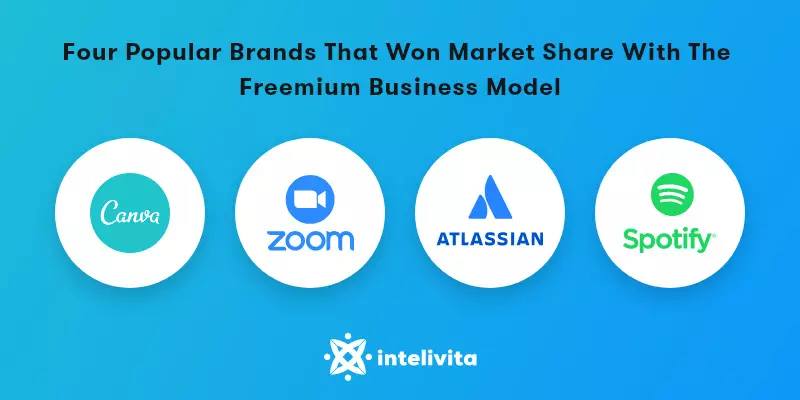 Zoom's zooming growth story
Zoom's freemium model is what allows users to quickly jump on a video call complete with screen sharing. It allows users to host video conferences with up to 100 participants.

From small businesses with small teams to larger companies with football-sized teams, Zoom has become the favorite of all kinds of businesses.

And, what has made it so popular?

It is free to get started. The 169% growth rate in the first quarters of 2020 can be attributed to Zoom's freemium business model.


Atlassian's freemium success story
Atlassian built a highly complex, yet easy-to-use product that will "sell itself". To quote Atlassian Co-chief executive Scott Farquhar, "These days, people are making decisions based on how good the products are."

Since Atlassian was a product that was groundbreaking in the project management software domain, it was able to win 25,000 corporate customers and a collective of 8.5 million users without having a single salesperson on board.

And, the company has also been profitable since day one.

Canva's freemium success story
Canva can rightly be called the poster child of the freemium model. Within the first two years of launch, through the freemium model, Canva was able to garner 2 million users.

In 2019, it was averaging 3,600 signups a day, or 111,111 signups per month. It even raised US$60 million from investors in June 2020, doubling its market value to a whopping $8.74 Billion (Source).


Spotify — Marking its spot in the music streaming world
When Apple introduced iTunes, it took the music industry as a whole. It changed the way users consume music.

Spotify took the game away from Apple by introducing personalizations. It was also able to maximize its user base with a sleek mobile app that gives (arguably) the music streaming experience ever.

As of June 2019, Spotify and Apple Music are at arm's length from each other in subscriber base. Like the other examples mentioned above, it is Spotify's freemium model that has led to this tremendous growth.

How to Know if Your Product or Service is Suited to the Freemium Model?
Follow these three steps to find it out.
You know your customer's expertise
Not the cliche way of knowing your customer, but, in reality, are your customer's folks with technical expertise in your field? Or are they amateurs trying to get something done the easy way.

The freemium model is more suitable for the latter kind. For example, a web-based design tool that does not require prior design expertise to get started.

You can release a lightweight version
The success and failure of the freemium version are dependent on the lightweight version of your offering.

The light version should be easy to onboard, requiring minimal or zero training, and can be used without the need for a salesperson. Basically, the light version can be used by the user without any hand-holding.

You can distinguish the Free and the Premium
As a thumb rule, the free version should be equipped enough to impress the user. If it takes the entire nine yards of the offering for the user to realize its value, then probably the freemium model is not for you.

The premium version should be the real deal with all the bells and whistles that will solve advanced problems for the user.
3. Referral Programs to Quickly Build a User Base
Nielsen reports that 92% of consumers believe suggestions from friends and family more than advertising.
Word-of-mouth referrals is a key influencer in buying decisions. They are more potent than the most persuasive copy ever written.
A referral program is a systematic way of spreading the word about your product or business. It offers rewards or incentives to existing customers who refer new customers.
Chase, one of the premier institutions in the USA has a referral program that has been helping it build its customer base effortlessly.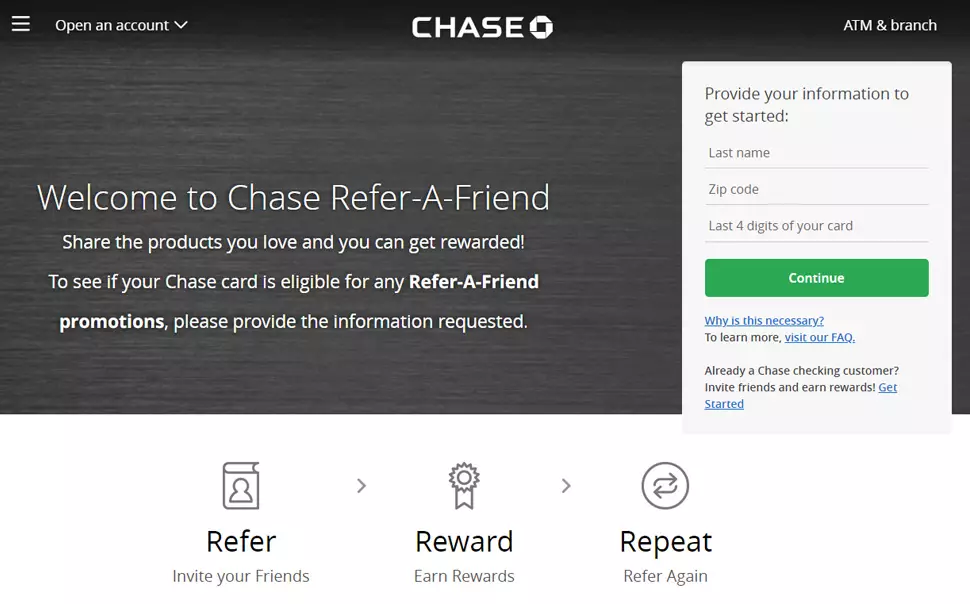 Source: Chase
Chase has a dedicated referral page where customers can invite their friends, earn a reward for the referral, and also repeat the referral for another friend.
Such a simple and easy way of referral also maximizes the popularity of the referral program.
Here's why referral programs can be listed as one of the excellent growth strategy:
Prospects who are wary of trying your product can be easily convinced with a referral
It builds the customer base while keeping customer acquisition costs lower
It maximizes the marketing outreach organically
It shows who your most loyal customers are and how they can be retained
Referral programs are easy to track with specific referral marketing software
4. Live Videos on Social Media Channels
Your social media handle is the unofficial mouthpiece for everything you do.
Unlike your blog or your email newsletter, social media handles have the capability to make your users interact with you on a personal level — reactions and comments being the medium of communication.
There is one more medium of interaction that has become popular in recent years — live video.
According to a combined study conducted by Livestream and New York Magazine, at least 82% of users prefer live video over branded social media posts.
YouTube and Facebook Live are occupying the top slots on the leaderboards.
Instagram Live is also slowly egging up in the race for live videos on social media channels.
What type of live videos is the world watching?
According to HubSpot: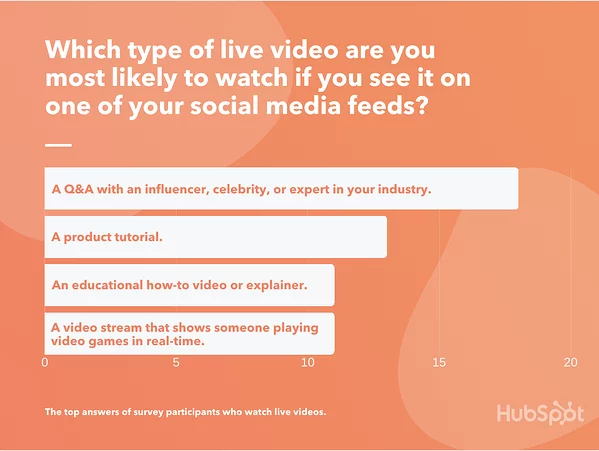 Source: HubSpot
The top-viewed live videos happen to be sessions with an influencer, celebrity, or industry expert. What does it indicate?
Businesses can and must leverage live video as a means to make their brand more aware.
After all, unlike real events, a live video does not cost much to set up and run.
And it gives a treasure trove of benefits:
It is highly engaging than other content formats
It gives maximum attention to your brand
It can target a highly targeted niche of audience
It is easy and is not time-consuming to create
A single live video can be repurposed into multiple content formats
What Do You Need to Create Your First Live Video?
In case you want to give a quick hand at a live video, here are three things you must have for sure.
A live video platform
Where will the video go live? Is it going to be your YouTube channel or Facebook handle?

It could even be Instagram if your target audience spends more time there.

Alternatively, there are also focused live video platforms like Twitch and TikTok that you can explore. Ensure that your target audience uses the platform as well.

An agenda
What is the live video going to discuss? An agenda gives it a solid purpose and structure.

It gives the audience a heads-up about the takeaways if they are willing to spend the time to watch the live video.

Pointers to engage the audience
A live video is not a one-way road. It lets users also communicate with the video in the form of emoticons, comments, and even social shares.

Some video platforms also let the host run Q&A sessions and polls that make the users interact on a real-time basis.

Gadgetry and paraphernalia
The basic gadgetry you need to host a live video includes a high-res camera, sufficient lighting, a proper mic, and uninterrupted internet connectivity.

You can also set up a background to make it appealing. It is not always necessary though.
5. User Experience Engineering
For startups that are trying to penetrate a new market and establish a presence, UX is a matter of survival.
It is a differentiator.
It can make the startup and its offering attractive to customers who are otherwise used to inferior products.
UX is everything.

It always has been, but it's undervalued and underinvested.

— Evan Williams, co-founder of Twitter
Although not all, a huge population of folks in the startup circle undermines the need to have great UX.
UX is often misunderstood as the look and feel of a mobile app or a web application.
On the other hand, it has everything to do with how the user perceives the product, how quickly it solves the user's problem, and what makes them cling to it even when there are numerous other options.
Can user experience help a business grow?
Of course, yes. It is a huge factor that makes the customer stay or even leave.
In fact, studies have found that 88% of customers would not think of revisiting an online store if it delivered a bad experience.
The same goes for mobile apps and web apps as well.
Recommended Reading – Web Design Pricing: How Much Does Website Designing Cost?
Is bad experience restricted to how your app looks on screen?
As mentioned before, UX is a larger concept that transcends the look and feel of the app.
It also accounts for the customer's journey with the business.
It can be best explained with the example of Airbnb. Until Airbnb entered the scene, hotels were fleecing guests with abnormal tariffs, poor customer service, and also rigid rules that had little to call user experience.
Airbnb changed the rules of the game by allowing every property owner to become a business owner.
It also enabled travelers to find affordable, exciting, and safe accommodations anywhere in the world.
That is a user experience revamp of an entire industry. One that made even hotel chains rethink their business strategy.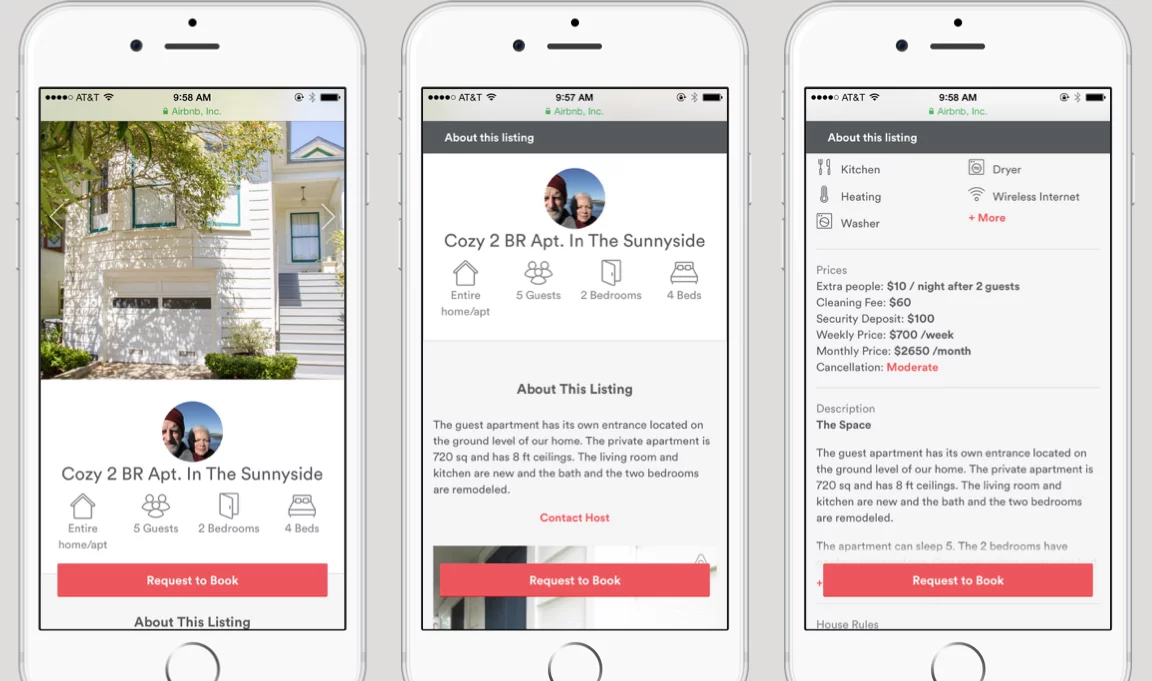 Source: Techcrunch
6. Feedback Gathering for Long-term Growth Planning
You can have millions of customers from around the globe or a handful of customers within a specific geographic range — irrespective of your customer base, feedback gathering is necessary for growth.
Here is why. Great marketing begins with understanding what your customers want.
The copy on your website, your first email to the customer, the form on your sign-up page — everything should be optimized to meet your customer's expectations.
Can you gain any other benefits from feedback gathering? Of course yes!
It helps prioritize the areas of improvement in your product or service
It validates the feature roadmap that you are building
It gives instant visibility into your overall customer experience
It embeds customer-centricity into your company culture
It brings to light selling opportunities that you never thought of before
It is also worth noting that 67% of customer churn is preventable if firms resolve issues the first time they occur (Customer Thermometer).
Hence, the need to collect feedback from customers. It is a surefire way to grow your startup into a mature business without making expensive mistakes.
How to Grow Your Startup From Zero To One
Growth does not happen overnight. To quote Biz Stone, the co-founder of Twitter, "Timing, perseverance, and ten years of trying will eventually make you look like an overnight success."
Growth takes a lot of perseverance, proper timing, and also consistent trying.
All these ingredients put together in the right measure are what results in growth.
Blindly aping your competitor or trying to replicate what has worked for some other brand might only result in a waste of time and effort.
What any startup needs is a focused approach to growth. A strategy brings that — focus.
It ensures that all the available resources are dedicated to a given mission with a timeline attached to it.
Should a startup have only one strategy to grow?
Growth being an abstract goal, a startup can deploy multiple strategies at the same time to take its business from zero to one.
One could be a million customers, a million in revenue, or even subscribers who can be monetized at a later stage.
So, now that you know what strategies are available to your business, how are you planning to get started?
Which is the strategy of your choice?