Building websites for your small business can be done without needing a developer.
Many tools have been designed to simplify building websites and integrate basic functionalities with them, like signup, pagination, checkout forms, routing, etc.
The problem arises when the website does not properly suit your taste or represent your product as much as you want or does not even rank properly on the search engine results page (SERPs).
At this point, you might need a custom service from a developer.
Furthermore, the cost of a custom website can be quite substantial but excellence comes at a cost.
Finding these developers are the easiest on the right platform but finding the right one for the job, that agrees with your budget and scope for your project is the hardest.
In this article, we will walk you through six easy steps to hiring a professional WordPress developer for your project.
We will also provide you with a list of the top places to find WordPress developers.
Let's delve in!
Why You Should Hire a WordPress Developer
You can play around with WordPress and build a working website as a beginner without needing much support from anyone but you might need a developer anytime soon as you might not like the basic functionality that is implemented.
Hiring a developer will ensure that you have a unique website and proper technical structure that can allow your pages to rank on Google easily.
Aside from these aforementioned benefits, there is a span of reasons why you should hire a developer which include:
Maintenance: You need someone with proper skills to check on your plugins and update them regularly to meet current standards or fix minor downtime issues etc.
Security: you need a professional developer to be able to use the proper third-party software that is free from security attacks and ward off any future threats that will be imposed on your website.
Analytics: You need a developer to be able to track whatever activities that happen within your website.

This analytic data can help you make data-driven decisions that will help you improve how you provide services to your visitors and customers.
Search engine optimization (SEO): WordPress developers can help you optimize your website for search engines by creating search engine-friendly URLs, optimizing meta tags, and optimizing content.
To mention but a few, the above reasons are why you need to hire a WordPress developer.
How Much Does it Cost to Hire a WordPress Developer
Hiring a WordPress developer can cost a minimum of $20 to $250 per hour based on the complexity of the project, expertise, and location.
But before you hire a developer, you need to identify what type of developer you need because this is a factor or component that adds up to make the average cost of a developer.
Usually, you have two options to choose from, full-time, and freelance.
If you have a small project and a restricted budget, hiring a freelance developer can be an ideal option. Nonetheless, one disadvantage of engaging with freelance developers is that their availability may not align with your schedule, as they could be working with other clients.
Furthermore, freelance WordPress developers can also be part of an agency or just a stand-alone, regardless of their setup, they can be utilized as external resources to outsource projects to.
A full-time WordPress developer is a good choice if you run a large business because you can always have one person dedicated to your website maintenance. A full-time WordPress developer can provide more than just website maintenance.
Full-time WordPress developers can also develop custom WordPress plugins, troubleshoot technical issues, and optimize website speed and performance. By having a dedicated developer, a business can ensure that its website is running smoothly and efficiently, which can lead to increased customer satisfaction and business growth.
Having the type of developer you need in mind, let's further see how much hiring one would cost:
The cost of hiring a WordPress developer depends on different factors including their location, expertise, level of experience, and scope of the project.
Usually, a freelance WordPress developer will charge anywhere from $20 to $150 per hour depending on their expertise. If the freelance developer is part of an agency, the charges are usually fixed. If these agencies charge hourly, it can range from $200 to $400 per hour.
Hiring a full-time WordPress developer for your business is a good investment if you run a large industry.
The benefits are significant however are more expensive. It's important to note that a full-time WordPress developer can provide more than just website maintenance.
They can also develop custom WordPress plugins, troubleshoot technical issues, and optimize website speed and performance.
By having a dedicated developer, a business can ensure that its website is running smoothly and efficiently, which can lead to increased customer satisfaction and business growth.
According to Glassdoor, a full-time WordPress developer in the United States can expect to earn approximately $70,000 annually.
However, depending on several elements including the developer's level of experience, the difficulty of the projects they will be working on, and the company's location, the cost of employing a full-time WordPress developer may be greater or lower.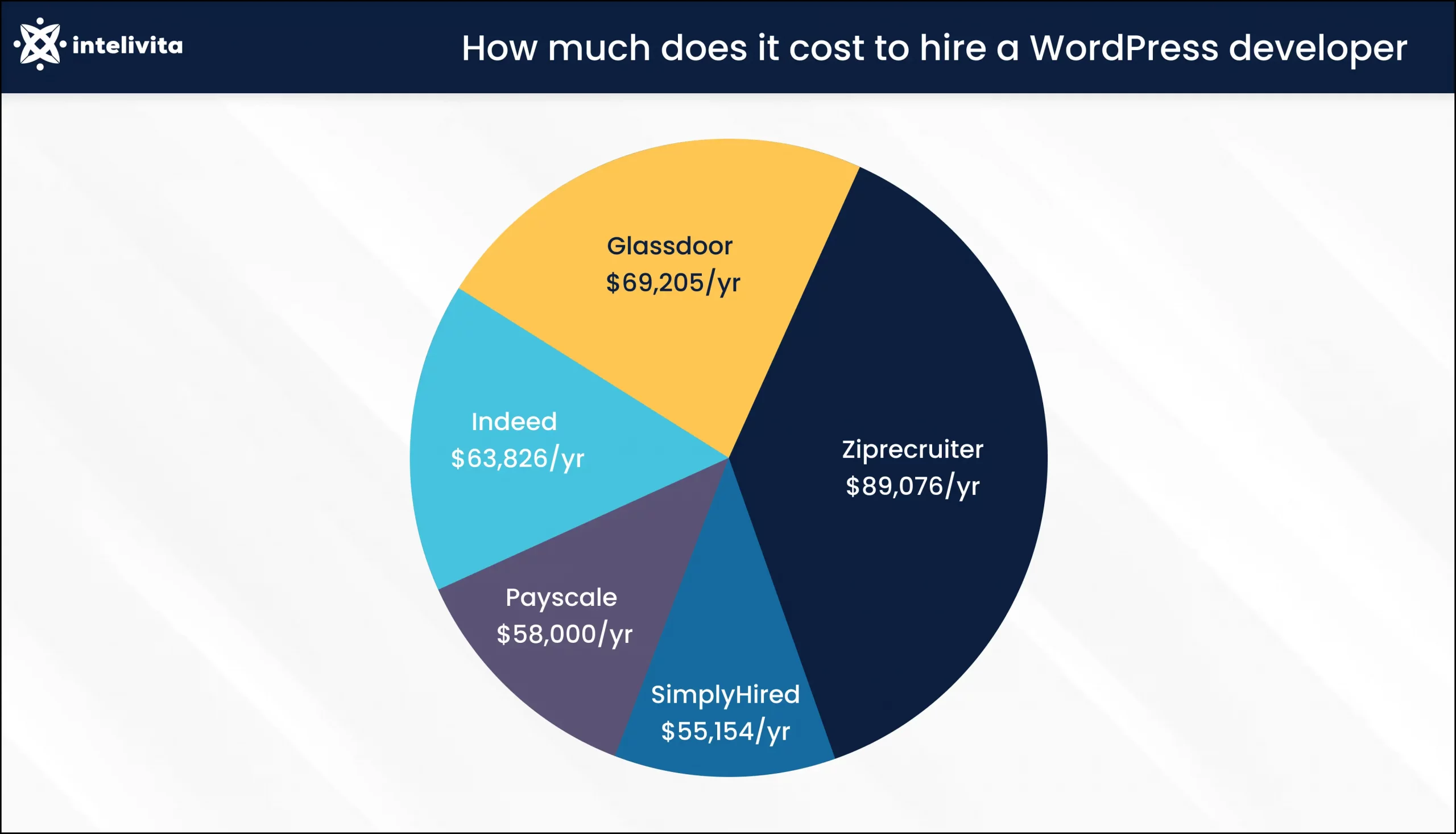 Finally, finding someone who is willing to do the work for a lower price may come at a cost.
While they may possess the necessary technical skills and capabilities, they may not be able to deliver the project just in time.
This implies that there is a tradeoff between quality, timeliness, and cost and that finding the right balance is important in ensuring the success of a project.
Pros and Cons of Hiring a WordPress Developer

Advantages
Disadvantages

If you are a startup and you hired a good developer, you can focus on other parts of your startup.
You always have someone to reach out to for technical difficulties.
They can optimize your website to rank properly on Google.
The developer can (depending on how good) get your MVP ready in no time.
It takes time to learn something new like WordPress even if it was created to make building websites easier but with a developer, you do not have to waste so much time.

Hiring a developer can be expensive especially when the planned time to launch isn't met, you might have to continue paying the developer.
You will become dependent on the developer to maintain and manage the website. This might come with more cost depending on the developer.
If you hire the wrong person, you might end up with a bad quality.
The developer might have outstanding projects but if you are not familiar with coding, it is possible the developer might have a poor way of writing code which can cause harm later.
If your developer works remote, communication might become and issue and time zone difference might all make work hard for both you and the developer.

Top Places for Hiring WordPress Developers
Once your project's requirements have been established, you may begin searching for potential WordPress developers.
You can discover candidates through a variety of methods, such as job boards, freelance platforms, or referrals.
The success of your project can be greatly impacted by choosing the correct developer, therefore it is crucial to take your time and thoroughly weigh your options.
In this section, we'll look at some of the best places to look for WordPress developers.
#1. Intelivita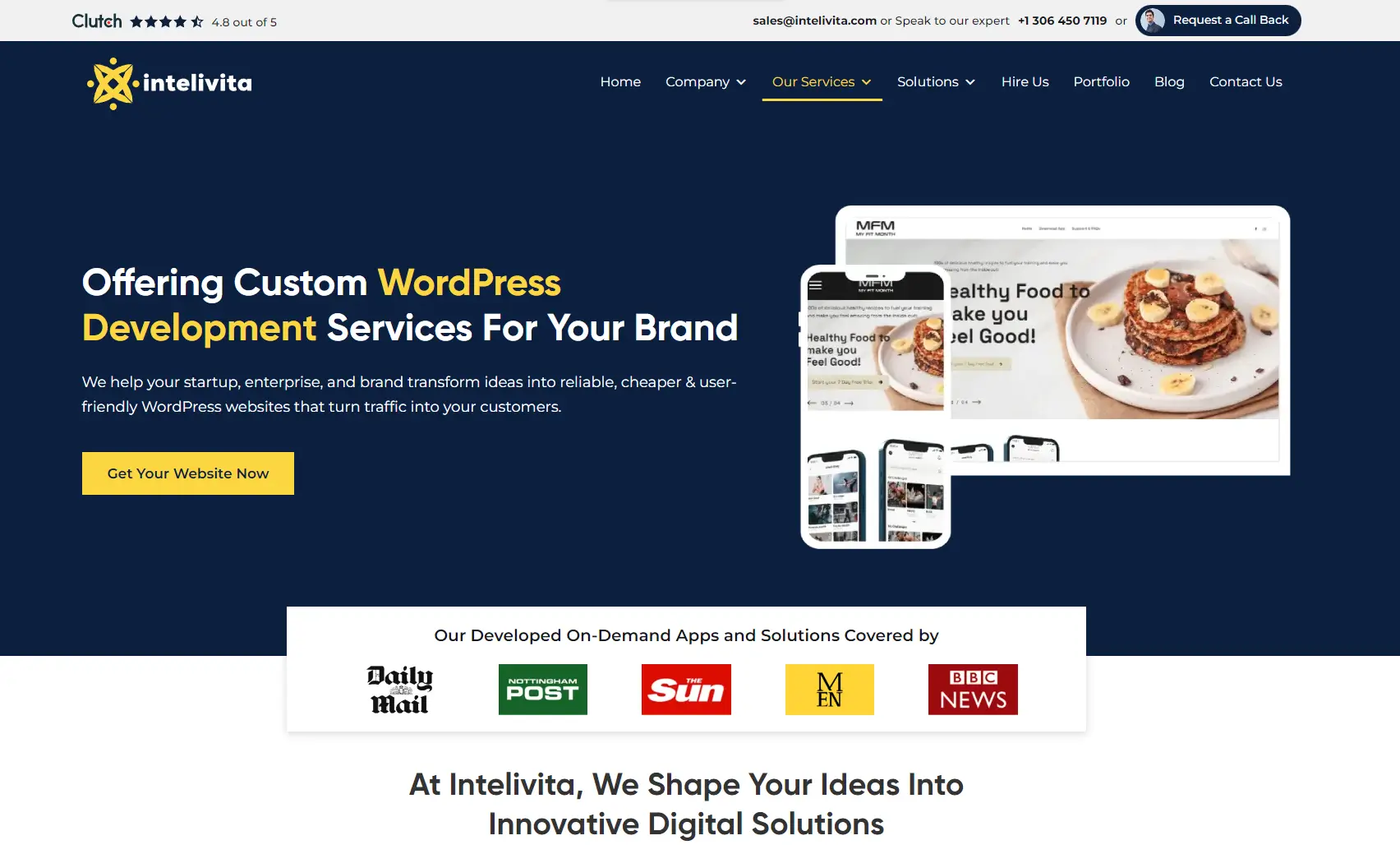 At Intelivita, we offer top-notch custom WordPress web development for businesses.
We have the best developers on our team to handle your project.
Any feature ranging from creating plugins, creating a WordPress theme, and creating and integrating API to your WordPress, we can help you get started.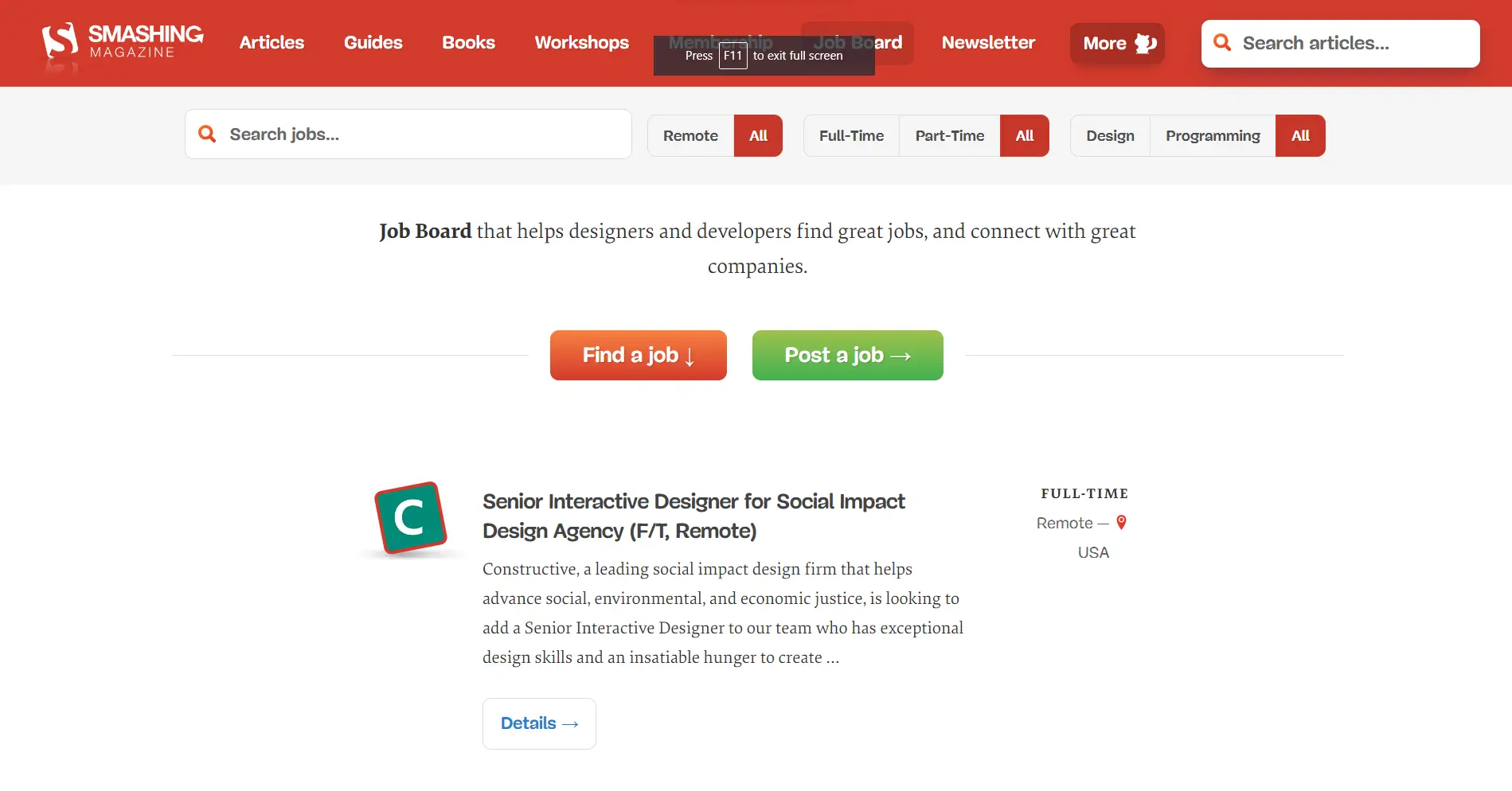 Smashing jobs is known as one of the most popular job listing sites for high-quality web development jobs.
Smashing is also known for publishing articles for developers called Smashing magazine.
Listing a full-time job on smashing job costs $225 while a freelancer job listing is $75.
The jobs last for over 60 days and if you are in no profit, they give a discount.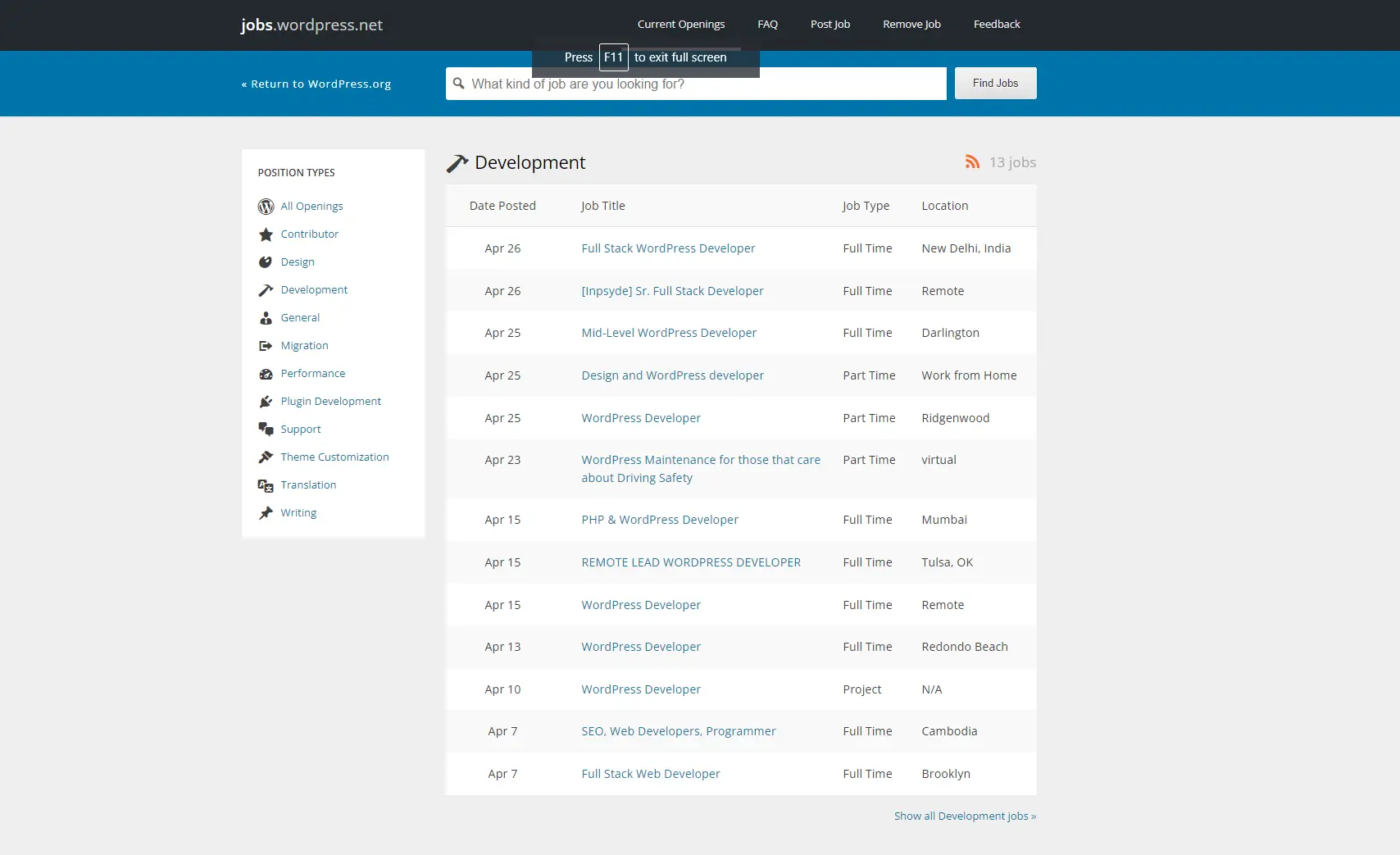 This is the official WordPress site for WordPress developers.
This is especially useful if you need to find who can build plugins or a theme.
Once a job is submitted, it is reviewed and published.
The job placement stays for about 21 days.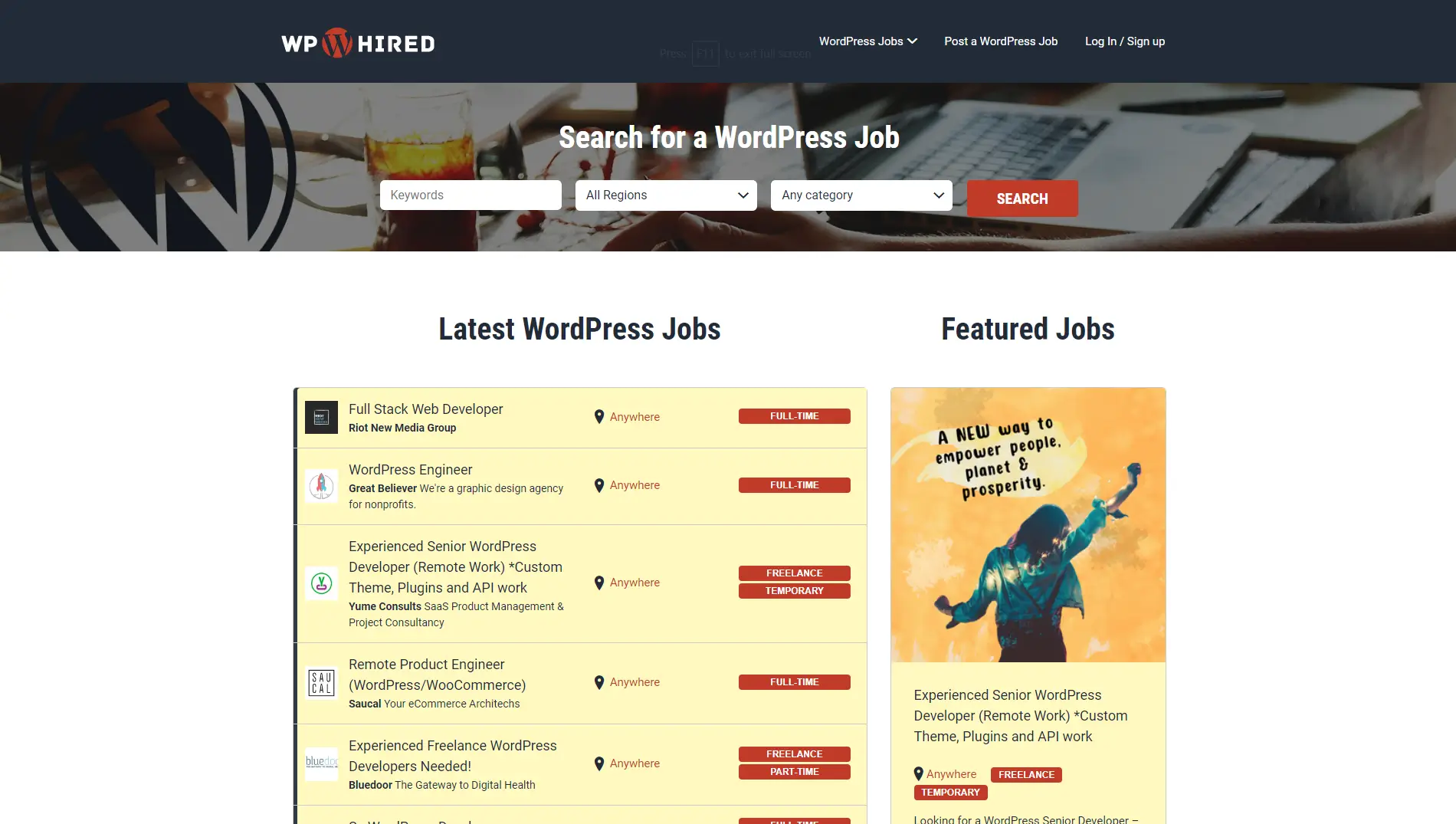 This site also has lots of freelance WordPress developers.
It is one of the oldest job boards and it is designed to help small businesses find talents for their projects.
There is over 1000+ job posting on the website and it is committed to keeping job postings free for everyone.
How to Hire a WordPress Developer in 6 Steps
Finding the right talent for your project can be a very difficult task.
If you're hiring for the first time and don't take the appropriate precautions, you can end up hiring someone who isn't a good fit.
This section highlights the crucial actions you must take to guarantee that you hire the ideal applicant.
1. Define Project Scope
Another factor you need to consider before hiring a WordPress developer is the scope of the project.
Defining the requirements for your project will help you narrow down your search for finding a perfect fit for your project.
When defining your project's need, you should consider factors like the functionality of the website, your budget, timeline, and design. Taking out time to define these requirements upfront will save you time and money down the road.
Creating these requirements will help you discuss your expectation for your project which will put you and the developer on the same page.
For instance, if you need to develop an e-commerce website, you will need someone who has experience working with an e-commerce plugin like WooCommerce, etc.
2. Create Job ads on Job boards
After defining the project scope, the next thing you want to do is create a job post on different job boards.
This will help potential candidates know what you are looking for before applying.
It is important for your vacancy ad to have a proper job description.
This includes detailed tasks they may carry out if hired, this will help remove candidates who don't fit.
3. Consider WordPress developers Who Charge Flat Rates
For someone running a small business and on a low budget, considering developers who will do your job at a fixed rate will help you complete your project without having to pay an extra cost if the project's time is extended.
4. Review their Portfolio
Every WordPress developer knows that the best way to showcase their skills and prove that they have experience as they claim is through their portfolio website and their case studies.
The level of work on their website is likely the quality you get for your projects.
5. Set Technical Interview
At this point, you have a list of candidates that should fit your project. The next step is to invite them for an interview.
Having a video call would be the best approach, this is because it allows you to access both the content of what they say and their expression.
A developer who is sure of their skills will sound confident and their facial expression will usually correspond.
Furthermore, for the technical part, you can take your candidate for a spin.
You can assign a section of your project to the developer to work on.
This will help assess the relationship you will have with them afterward.
6. Draw a Contract
Making sure that all agreements are in writing is the last step after deciding to employ WordPress programmers.
Usually, a contract or agreement is drafted by the chosen WordPress developer.
As a result, it is crucial to check and make sure that everything stated is precisely included, from the project's scope to the payment terms.
Furthermore, it is essential to carefully read and comprehend the agreement while dealing with intellectual property.
Remember that the WordPress developer might also serve other clients, such as rival businesses in the same sector.
You should also draw an agreement that makes the developer not lease your code or to other developers on the market or other clients.
Hire WordPress Developers from Intelivita Today!
Starting out with WordPress can be easy for the smaller project but for a larger project that needs custom development, you might need an expert.
This is why we have drafted this article to help guide you in hiring the best developer for your project.
Ready to take the next step?
Contact us today and let us help you build the website of your dreams.