The question: how much does it cost to build a WordPress website? is highly popular with startup founders, serial entrepreneurs, or business managers trying to establish a brand presence online.
While WordPress is a free open-source platform, creating a custom one costs a lot, and the price depends on several factors such as the project's complexity, team type, and location.
Ideally, the cost of creating a WordPress website ranges as follows:
Basic complexity: $5,000
Average complexity: $15,000
Advanced complexity: $30,000
Want to know more?
Then continue reading this article as we'll shed light on other factors surrounding the question: "how much does it cost to develop a WordPress website?"
As you continue reading this article, we'll learn the following:
What is a custom WordPress website?
How much does a custom WordPress website cost?
Examples of custom WP sites with their cost implication
How to choose a custom WordPress development team.
And more!
Let's delve into more details of the article.
Choose Intelivita, the trusted WordPress development agency, to help you achieve your online goals.

Book a free 30-minute consultation today! And get the information you need to make informed decisions about your WordPress project.
What Does Custom WordPress Development Mean?
Custom WordPress website development entails the process of creating unique, and tailored features on the WP framework, to meet a business need. This activity lets businesses access more features beyond the limitations of WordPress themes, and templates.
This process is primarily done by WordPress developers with a good understanding of the framework and its underlying codebase.
Custom WordPress development can be a confusing concept for a non-techy person. Especially, when trying to figure out how it differs from a website coded from scratch.
| Custom WordPress Site | Other websites |
| --- | --- |
| A custom WordPress site is created on the open-source framework. Thus, developers have lesser control over their backend activities. | A website coded from scratch gives developers better control over the site's code and determines the tech stacks to use. |
| WordPress is built to be scalable and can handle large traffic. | A freshly coded custom site has to be coded specifically for scalability. It's not scalable by default. |
| Maintenance is done by downloading updates. | The maintenance process is done by code revamps, and edits–a cumbersome process. |
| It has a short development time as developers can simply add pre-built plugins and modules. | Every feature and functionality is created from scratch both in the front and backend. Thus, it has a longer development time. |
| It's less expensive as it requires a shorter term and few technologies. | It's more expensive to create than a custom WordPress site. |
Now that you know what custom WordPress development stands for, let's delve into its cost implications.
Custom WordPress web development pricing can be somewhat tricky. As such, we'll break it down in this next part:
How Much Does a Custom WordPress Website Cost?
Custom WordPress website price typically range between $3000 to $30,000. However, the exact price is dependent on:
However, the exact custom WordPress development price is dependent on:
The complexity of the WordPress site,
Your team type, and
Location of the development team.
It's also worthy of note that prices are determined by the supportive processes involved. For example, website design, marketing, support, etc.
Getting complicated? Don't fret as we'll discuss these supporting factors in subsequent sub-topics.
Let's break down development cost into a more understandable format:
Custom WordPress Website Cost Based on Complexity
The complexity of a custom WordPress website refers to the number of bespoke features, user roles, pages, functionalities, and design requirements of the platform.
Each of these complexity-defining factors doesn't independently affect the cost, but the totality of them.
What do we mean, the custom WordPress website cost for a platform of 6 pages may still be cheaper than a website of 5 pages if the one with lesser pages has more advanced features.
However, if the core functions are the same, a site of 6 pages is going to be a bit more expensive than that of 5 pages.
Here's a table depicting how custom WordPress cost varies with complexity:
Another factor that affects custom WordPress web development cost is the team type. This factor isn't just limited to WP platforms, but every software development price. Let's dig in:
Custom WordPress Website Cost Based on Team Location
Custom WordPress Site cost differs per location.
For example, the cost of building a custom WordPress website in the US is 3X more than the cost of doing the same in India.
That's, for a basic custom WordPress development cost that's $5000 in India, the cost of developing the same tailored platform in the US is over $15,000.
This imbalance is due to the differences in the cost of living in these countries.
Below is a Table detailing how cost differs per team location. We'll assume that you're creating a custom WordPress site of average complexity.
| | |
| --- | --- |
| Region | Average Cost |
| United States | $50,000 |
| United Kingdom | $45,000 |
| Canada | $40,000 |
| Australia | $40,000 |
| Western Europe | $30,000 |
| Eastern Europe | $20,000 |
| India | $15,000 |
As you can see below, India offers the best cost-quality ratio, as platforms developed here adhere with global standards. Microsoft, for example, outsources to India.
Another custom wordpress website development cost model to consider is price defined by team type. Let's delve into that:
Custom WordPress Website Cost Defined by Team Type
Let's consider how the type of team affects custom WordPress website development cost.
For context, we'll assume you're developing a custom WP site of average complexity:
| | |
| --- | --- |
| Team Type | Estimate Cost |
| Internal team, US | $30,000 |
| Local development agency (US) | $35,000 |
| Offshore outsourced Team (India) | $15,000 |
| Freelancers (US) | $15,000 |
Confused on which is the best model? Let's define what each means, and their merits:
Internal Team
An internal development team is a workforce of programmers who are full-time employees of an organization and report daily to the management.
Here, the startup is responsible for creating an ideal environment, and the requisite equipment.
Pros and Cons of the Internal Team Hiring Model:
Pros
Cons

You'll have full control over the hiring process.
It provides better control and overview of the custom WordPress web development team.
It helps to keep product development a secret.
Team members have a good knowledge of the company's goals.

It is expensive, as it carries lots of hidden costs. For example, management cost, equipment cost, office space etc.
The startup is responsible for ensuring compliance with all labor laws.
These pros and cons show that it's best for a well-established company that wants to keep trade and development secrets in-house. Another option is opting for a local development agency.
Let's delve into this:
Local Development Agency
The local development agency is a WordPress development company that's domiciled in the same company as the startup.
For example, a US-based startup outsourcing to a custom WordPress development agency in the United States. Let's delve into this:
Pros and Cons of Local Development Agency:
| Pros | Cons |
| --- | --- |
| Local development agencies have the same culture and time-zone as startups. | Custom WordPress development costs for local agencies are high for startups in Canada, the United States, The United Kingdom, and other high-income nations. |
A similar, but cheaper alternative here is an offshore development agency. Let's delve into this:
Offshore Development Agency
An offshore development agency is a custom WordPress creation company that's located in another country, usually far away from the Startup's home nation.
That is, a startup in the United States, outsourcing to a WordPress agency in India.
For a better understanding, let's consider its pros and cons.
Pros and Cons of Offshore Development Agency:
Pros
Cons

They are the most cost-efficient hiring model as they allow you to hire from low-income nations.
They offer access to a global talent pool.
They provide access to rare skill sets.
It offers top-notch scalability and flexibility as you can easily downsize and increase the workforce without breaking labor laws.
It's possible to work 24 hours on a task if work is collaboratively developed between the startup and the custom WordPress website development team.

Cultural and language barriers can impede communication.
Time Zone reduces the communication period between the startup and the development team.
Freelancers
Freelancers are independent developers, usually full-stack, that can create a fully functional custom WordPress website per business needs and requirements. They're not employees of any organization and usually work alone.
Thinking about hiring this model? Not without first considering its pros and cons. Let's elucidate on this:
Pros and Cons of Hiring Freelancers:
Pros
Cons

They offer cheap services.
Freelancers work on a project-by-project basis, which is ideal for occasional work.

Freelancers are not reliable as they can ditch your project without prior notice.
Freelancers work solo and may have limited resources. E.g., software, support, etc.
Freelancers don't have to be accountable to any organization.
For proper understanding, let's consider some examples of custom WordPress sites, and the cost of developing them:
Examples of Custom WordPress Sites with Cost
For a proper understanding of custom WordPress development cost, we'll consider 5 case studies:
Cost of Developing a Custom WordPress Website Using CNN as a Case Study
CNN is a NEWS reporting agency with a website for users to get top-of-the-craft information about relevant happenings around the world.
CNN launched its website on the WordPress framework and is now one of the most popular websites in the world.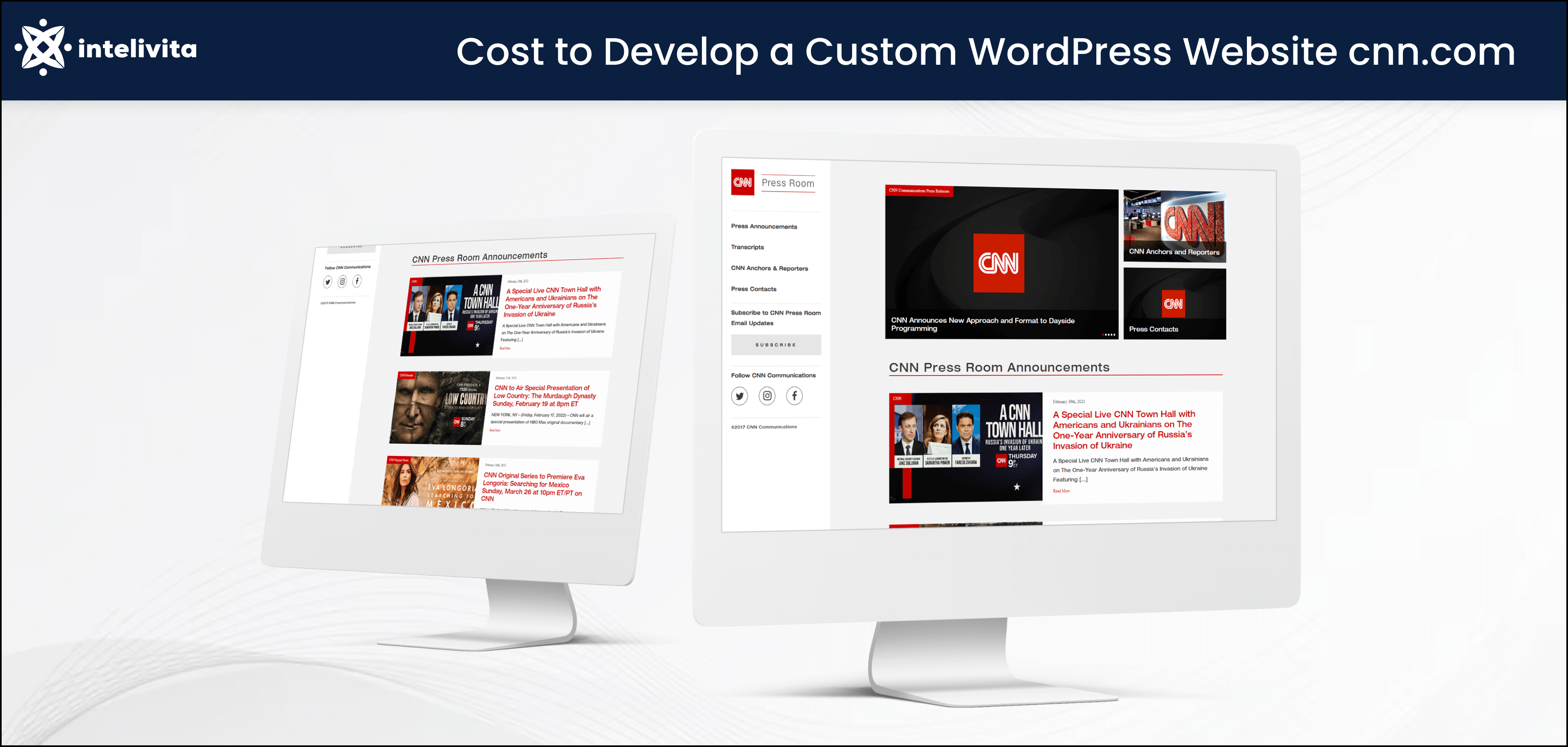 CNN is by far one of the most popular Custom WordPress Websites with a sitemap contains:
Searchable archive
Personalization features like the ability to save stories, customize the homepage, and receive news alerts
Live polls
Multi-language support
Store for purchasing CNN products
Live streaming.
CNN had over 166 million unique visitors online in 2022 alone. This is a true test of the WP framework's ability to handle huge traffic without hitch.
The cost of creating a Custom WordPress site like CNN is about $30,000. The exact Custom WP Web cost depends on the number of features, expected bandwidth, and the design of the site.
Another we'll consider is TechCrunch. Let's discuss this:
Cost of Developing a Custom WordPress Website Using TechCrunch as a Case Study
TechCrunch is a US-based tech and startup news reporting agency that was founded in 2005. The platform has international editions that are translated for readers into Chinese, French, and Japanese.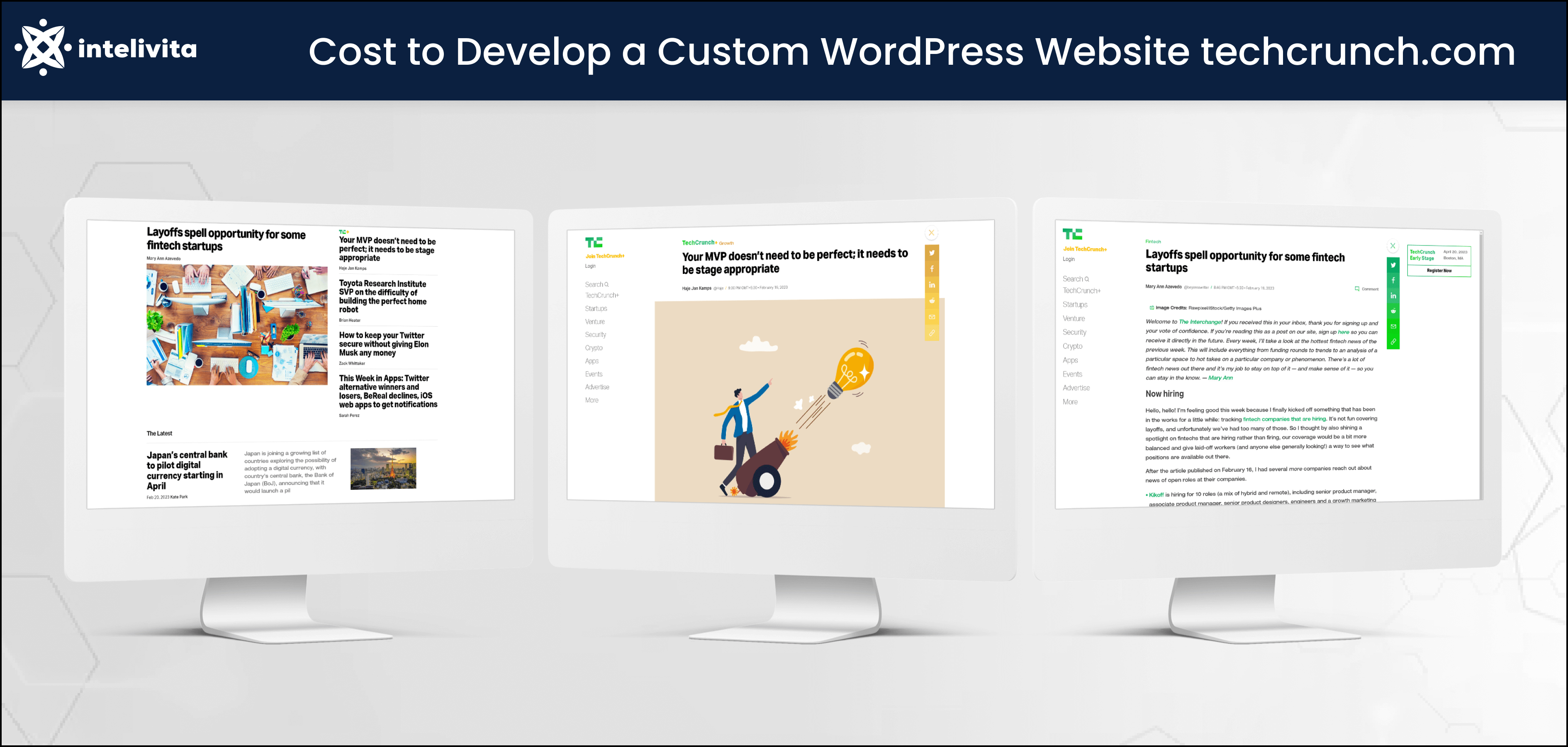 Features on this Custom WordPress platform include:
Pop-up updates on technology trends, startups, and venture capital funding
Original video content
A search field for finding videos and articles
Social media integration
Multi-language support
Job board for tech openings
Directory for investors, startups, and VC firms
Product reviews and analysis.
According to SimilarWeb, TechCrunch enjoyed a total visit of 14.1 million visitors last month. The company has an annual revenue of $37 million.
The cost of creating a similar custom WordPress site ranges from $15,000 to $30,000. However, the exact cost will depend on its functionalities.
Another website to consider is Angrybirds. Let's delve into this:
Cost of Creating a Custom WordPress Website Like Angry Birds
Angry Birds is a landing page for the Angry Birds mobile app. It lets users download the app, and provides information about the game.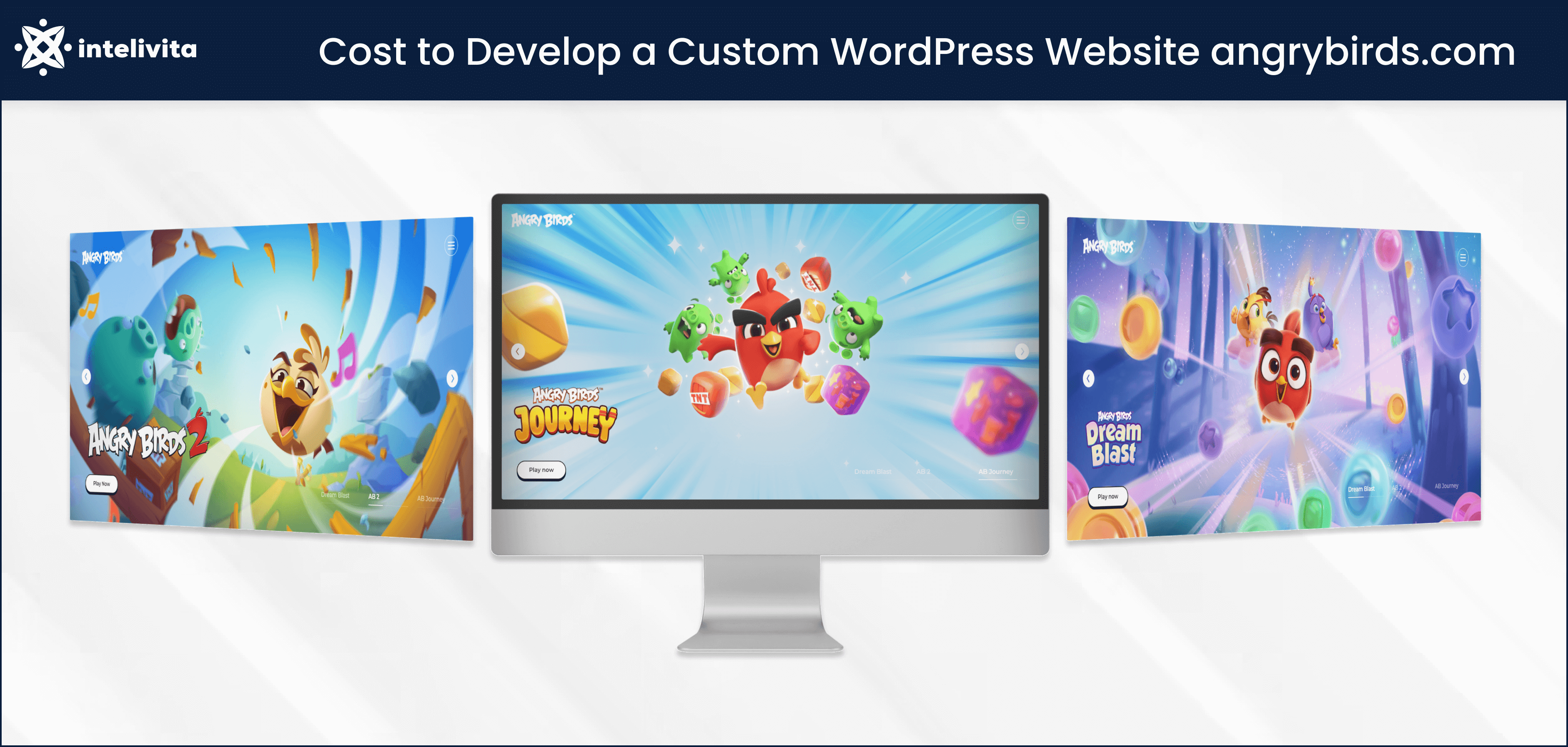 Users can also stream live games, get details on new offerings, and buy the Angry Birds merchandise.
Features on the Angry Birds website include:
Game information and trailers for different Angry Birds titles
Product listings
Downloads for games
A blog
Social media links to official pages
Interactive animations
Downloadable ringtones, and wallpapers
Forum.
The cost of developing a custom WP site like Angry Birds ranges between $15,000 to $30,000.
Another website to consider is Microsoft news. Let's discuss this:
Factors that Define the Total Development Cost of a Custom WordPress Website
The price of custom WordPress web development can be affected by some factors.
These factors are major determinants, irrespective of team type, location of the development, and product niche. They entail:
The complexity of design and development
Site maintenance.
We'll break down each of these factors to provide you with a realistic cost implication of your idea.
Factor 1: Complexity of the Design and Development
The complexity of a custom WordPress website refers to the level of difficulty experienced in developing the platform per business needs and technical requirements.
However, technical requirements differ, as some solutions require advanced knowledge of sophisticated tech stacks. In some cases, developers need to seek additional knowledge to implement a feature.
Websites with basic features are cheaper than those with complex user roles, and functionalities.
Let's breakdown the types of web complexity available:
Complexity Level
Description
Basic
These websites are created to only inform viewers. They don't require any special features, and can be developed by an entry-level wordpress developer.

An example of a site in this category is Yelp blog, and the WP cost is around $10,000. Sites like this have less than 10 unique pages, with generic features like:

Homepage,
About us,
Service page,
Contact us section.

It's easy to misconstrue these sites as a WordPress template-based platform. But the custom icons, CTA buttons, contact form and other custom characters differentiate them.

Basic websites require just a few professionals. At most you'll need a QA engineer, UI/UX designer, WordPress developer, and project manager.

Sites in this category are usually portfolio sites, business sites, blogs, landing pages etc. Expected custom WP software development timeframe is 8 weeks.

Average
These sites convey information to users and also get data from them. The cost of creating a custom WordPress website ranges between $15,000 to $30,000.

A great example of a custom WordPress site in this category is TechCrunch. These sites have more than 10 pages and a number of functionalities.

For this type of solution, you'll need project management, 2 QA testers, a WordPress developer, UI/UX designer, and marketing experts. Timeframe for custom WP web development of average complexity is 12 weeks.

Advanced
Custom sites with a complex design, multiple features, high infrastructure demand, and demand for in depth WP framework knowledge are deemed to have advanced complexity.

Average custom wordpress development cost for an advanced complex site ranges between $30,000 to $50,000.

An example of a complex WP site is Clickbank, a global ecommerce affiliate platform that helps visitors sell projects, register, and perform other features.

The number of pages, external APIs, in-app payment processing makes this a complex solution.

Due to its complexity, it requires the services of WordPress developer, Backend programmer, UX/UI designer, QA tester, DevOps, and project manager.

The exact number of experts depends on the nitty-gritty of your solution.

Estimated timeframe for development for custom websites usually range between 3-12 months.

It's worthy of note that not all eCommerce development is executable with the WP framework.
Before concluding on opting for a WordPress solution, it's worthy of note that it's not an idea that's executable on the open-source framework.

Thus, it's best to speak with an expert on the viability of your idea.
Another factor to consider in the total cost of development is the maintenance of the website. Let's briefly delve into this:
Factor 2: The Maintenance of The WP Website
Maintenance in custom WordPress development entails tasks and procedures embarked on to ensure the platform is working optimally, remains secure, and tech stacks are up to date.
This part entails tasks like updating WordPress core, monitoring security breaches, and troubleshooting for any error that may occur.
Also, the maintenance team may modify the website's design. Overall, the aim here is to constantly improve the site, and keep it user-friendly.
The cost of maintaining your custom website is sometimes equal to the website development price. How so?
In ensuring your Custom WordPress site is accessible, you'll need to spend on:
WordPress hosting
Domain name
Maintenance team
Security monitoring
Backup and disaster recovery
Troubleshooting and bug fixes
User support
Compliance laws
Analytics and reporting.
How to Choose a Reliable Custom WordPress Website Development Team?
The quality of your custom WordPress website depends on the team's expertise.
However, choosing the most ideal team is no mean task, and there are many disguised experts in the software development industry.
To choose the most ideal team, do the following:
#1. Get Referrals from other Custom Website Owners
Speak to people within your circle of influence on recommendations of experts to patronize.
This doesn't just quicken your search process, it also saves you money, and helps you find perfect-fit experts.
For quality recommendations, speak to startup owners, and technically proficient persons.
#2. Vet their Past Projects
Go through their past project to understand the complexity of custom WordPress sites they can create. Here's the reason for that:
Creating a custom solution on the WordPress framework requires in-depth knowledge of the stack. Thus, the only way a non-technical founder like yourself can ascertain their expertise is by vetting their completed projects.
Also, new companies don't yet have a methodology. As such, they don't have any strategy for creating quality solutions.
#3. Good Communication Skills
Don't opt for a team of experts without the right communication model.
Ensure that your preferred WordPress developers don't just have the technical skills, but can also communicate.
This way, you can be sure of getting needed updates, thereby, making requisite corrections as at when due.
#4. Testimonials
Testimonials are reviews and ratings from clients they've worked with or consumers that use their products.
These testimonials can be gotten by checking their website, business listing platforms like clutch, and social media pages.
#5. Cost
The cost of developing a custom WordPress site is an important factor to consider before choosing a software development agency.
As you might have noticed from this article, to have a great cost-quality ratio, it's best to opt for one based in an offshore, low-income country; preferably India.
Frequently Asked Questions
Q.1 How Much Does Custom WordPress Development Cost?

The cost of creating a WP site varies with the scope, and complexity of the project. Factors that'll determine the exact price include the functionality, pages, and designs required for a tailor-made site.

Averagely, creating a custom WP site with Intelivita can cost between $5000 to over $30,000.
Q.2 Is Custom WordPress Development More Expensive than Pre-Made Templates?

Custom WordPress development is generally more expensive than pre-made templates.

However, custom sites offer more possibilities and it can be tailored to your site's needs.
Q. 3 Can I Get Custom WordPress Development for a Low Price?

It's possible to own a custom WP platform for a cheap price.

However, great skills don't come cheap, and you'll likely be getting junior programmers for that cheap price.

Developing your product with an inexperienced agency can result in a solution susceptible to crashes, data leaks, and multiple downtimes.
Q.4 How to Get the Best Price for WordPress Development Project?

Carry out some research, ask for quotes from multiple agencies, and compare their rates.

Also, ensure you have a detailed scope of the tasks to perform, so you'll adequately measure their services vis-a-vis cost.
Interested in Creating a Custom WP Site?
Reading this article on Custom WordPress Website Development Cost is a testament that you aim to create your own solution.
At Intelivita, we have over a decade of experience creating custom WordPress sites that attain the highest standards possible.
For more clarification on our ability, go through our project portfolio, and view our reviews on Clutch. You can also request for a call back for a free precise cost estimate.