So you want to create a custom WordPress website and you're in need of a guide to help with the process?
This article has all there's to know about custom WordPress website development, amidst other information.
Consider this, "85% of B2B customers will first look at your website before making any business decision." Thus, there's no doubt that custom WordPress website development unlocks a whole new level of opportunity for all enterprises.
There's no doubt that owning a website unlocks a whole new level of opportunity for all enterprises.
A custom-made WordPress platform helps you create a unique, brand-centric web platform by leveraging the ease of the open-source framework to guarantee quick time-to-market.
Interested in how to develop a custom WordPress website as a startup founder, serial entrepreneur, or co-founder?
If yes, continue reading this article as we'll discuss the following here:
What is custom WordPress development?
Benefits of using a custom WordPress site
How to develop a custom WordPress website?
How to find WordPress developers?
Custom WordPress website development challenges
And more!
If you prefer a visual text experience, you can head straight to the bonus infographic.
Let's discuss the points made above.
Ready to elevate your online presence with high-quality WordPress website development services?

Sign up for a free consultation with us to build a powerful, user-friendly WordPress website that drives results!
What is Custom WordPress Web Development?
Custom WordPress development is the process of creating custom websites using the WordPress framework. In a manner that appropriately adheres to business needs without the constraints of traditional WordPress templates.
When using a WordPress web builder, you may opt for a WordPress theme or template and use it as-is.
However, this development method may make your website slow, unfriendly, or not unique.
To avoid these limitations, you can customize the WordPress website as desired with the aid of an experienced WordPress developer.
Here's a list of platforms to take a cue from: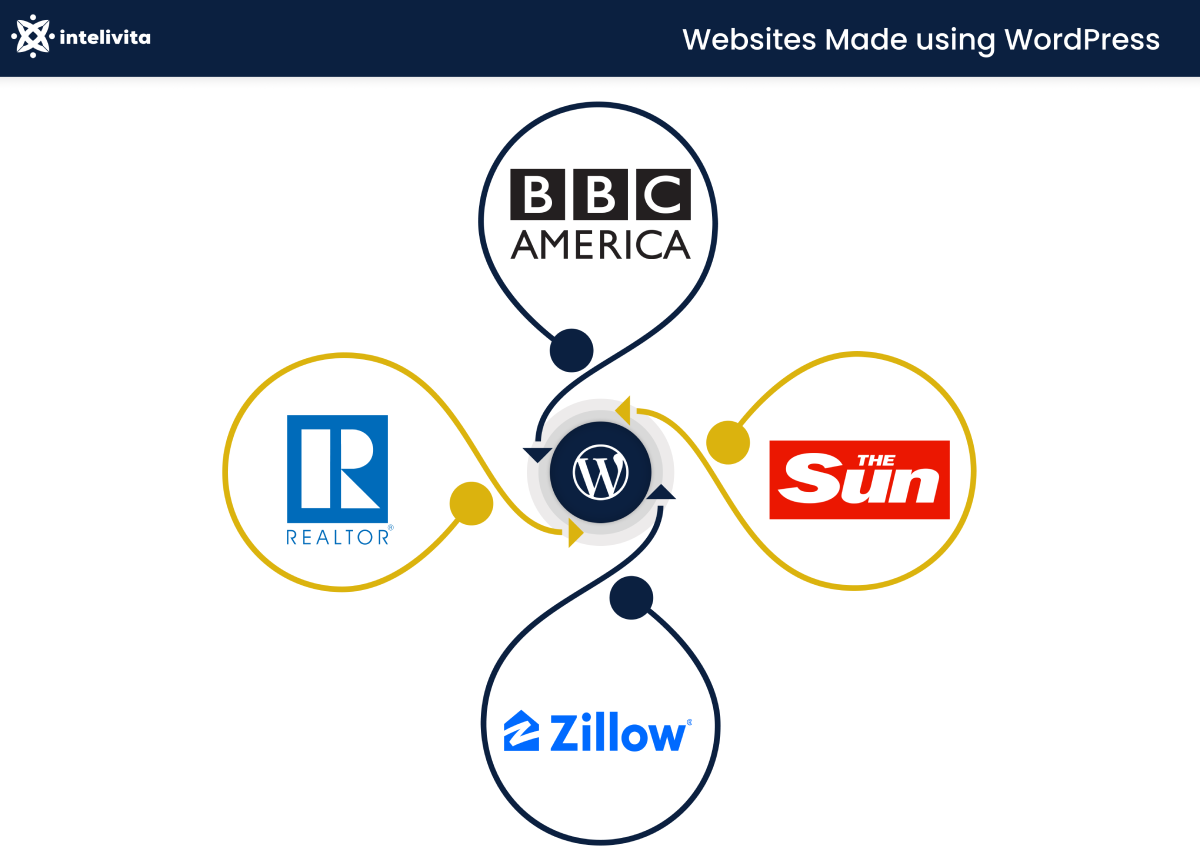 These websites are all made using WordPress, yet distinct from most platforms on the internet.
What is the Difference Between WordPress Website and a Coding Website?
The main difference between the two is that a custom website is created from scratch, while a custom WP site uses the WordPress open-source framework to create a unique website.
Here's a table showing the cost differences between custom WP sites and others:
Custom WordPress site
Other custom sites

They're built on the WP framework and customized to taste.
The backend of your platform is the admin area, and it's straightforward to configure per business needs.
It guarantees quick time-to-market.
Maintenance is carried out by WordPress updates.

They're freshly coded from scratch, and every modification requires code edits.
Backend requires seasoned developers with knowledge of multiple stacks.
Complex sites can require a large dedicated development team for regular maintenance.
What is the Difference Between WordPress.com and WordPress.org?
WordPress.com and wordpress.org are domain names for two separate, but similar operations. Below is a table depicting how both wordpress.com, and wordpress.org differ.
What is WordPress.com?
WordPress.com is a platform that lets account owners self-publish blogs for free. The platform is formed by Automattic Inc.
A common example of a website built by wordpress.com is The Walt Disney Company.
What is WordPress.org?
WordPress.org is an open-source and free content management system with a template system and architecture that lets users create web applications to taste.
The platform is formed by using hypertext processor languages and pairing them with MariaDB or MySQL databases. Features can be added to the platform by downloading plugins, which are features coded in supporting languages.
A common example of a website built with wordpress.org is TechCrunch.
Verdict–which is ideal for Custom WordPress Development
For custom WordPress website development, you'll have to opt for a WordPress.org platform. It offers top-notch flexibility and more robust options for development.
What are the Benefits of Custom WordPress Website Development?
To make an informed decision on whether creating a custom WordPress platform is a good choice for you, we'll educate you on some of its pros: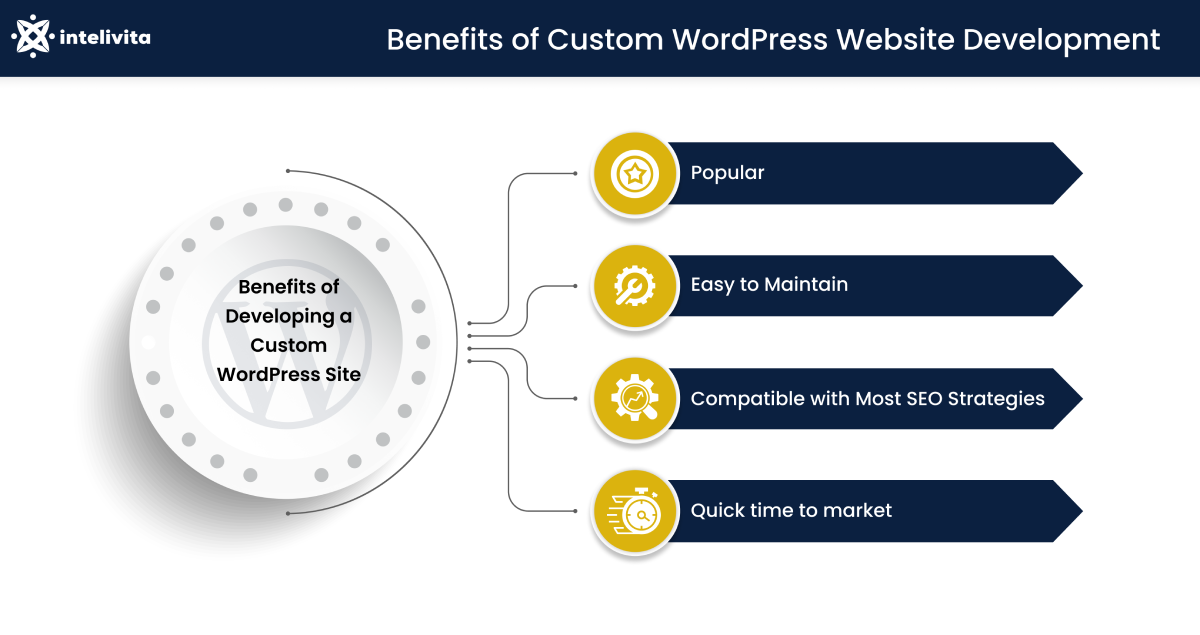 Let's discuss the intricacy of each benefit:
Benefit 1: It's Popular
According to W3Techs in 2022, about 43.2% of websites on the internet currently use WordPress. This number has increased from 39.5% in 2021.
With this statistic, it's safe to conclude that WordPress is the most popular website framework out there.
Another benefit of customizing a WordPress website is quick time-to-market:
Benefit 2: Quick Time to Market
Unlike traditional websites where every feature and functionality has to be independently coded; WordPress sites only require that you choose a suitable framework as it doesn't have a backend.
For example, the average time to build a website using WordPress is about 200-300 hours. While a website coded from scratch requires around 350 developmental hours at least. So yes, WordPress can save you a significant amount of time.
Benefit 3: Easy to Maintain
WordPress updates take care of most backend maintenance processes. The WordPress developer only needs to regularly download updates.
Also, maintenance cost is lower as the price for maintaining an e-commerce site coded from scratch is about $4,000/month, while you can maintain a custom WordPress e-commerce platform for $1,500/month.
These prices are not finite and are subject to change based on certain intricacies.
Looking for Custom WordPress Website Cost?
Reach out to our sales team for a free consultation on the cost of maintaining a custom WP site for your business, in comparison to a freshly coded site.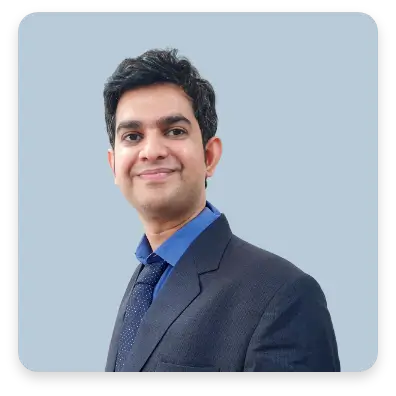 Benefit 4: SEO Compatibility
Custom WordPress sites are easy to optimize for search engines per expert guidelines on technical and on-site SEO. Features making it optimizable are:
Good site navigation
Sitemaps
Page speed
URL structure
Schema.
WordPress is written in high-quality code with semantic markup. As such, with the right strategy, your site can rank in the topmost position.
Benefit 5: Secure
Custom WordPress websites have a central core that's maintained by a team of world-class cybersecurity experts and programmers. This core is the center software architecture that forms the basis upon which other platforms are built.
WordPress's backend security team has over 50 experts that include top-of-the class programmers, and security researchers.
Your WP platform will remain secure provided that you take your website's security seriously. The top ways to keep WordPress secure are:
Hosting your custom WP website with a secure hosting provider
Enable SSL to protect user-sensitive information
Install plugin to scan your platform for malware
Protect your WP login details with strong passwords. Use features like multi-factor authentication, captchas, and plugins to track login attempts.
Steps to Creating a Custom WordPress Website
You'll need to understand the basics of the processes involved to build a custom WordPress site.
Hire a web development agency, create concise goals, identify suitable milestones, and adhere to the following checklist:
Step 1: Carry our pre-development research
Step 2: Create UI/X design
Step 3: Undertake the coding process
Step 4: Carry out requisite QA tests
Step 5: Launch your WordPress website.
Let's elucidate on the points in the checklist:
Step 1: Discovery Phase
The discovery phase, also called the scoping phase or the research phase, is a step whereby the development team undertakes requisite research on the idea's viability, objectives of the startup founder, requisite technical requirements, etc.
The outcome from this phase should be a development blueprint that serves as a guide for the development team.
This phase has a range of aspects that entail:
Research on the founder's idea viability
Identify technical requirements
Identify business goals
Identify your target audience
Create a development roadmap
Estimate milestones and budget.
Let's break down each point for better understanding:
Aspect
Meaning
Ascertain the Website's viability
The business analyst will assess the ability of the business idea to attain requisite business goals.

Before your idea scales through to the development phase, it needs to be profitable, and implementable within the WordPress framework.

Identify technical requirements
The technical requirements are the tech stack required to create the desired solution. Doing this also helps you identify needed talent beforehand.
Identify preferred target audience
Identify which category of people need your custom WordPress website.

To know an ideal target audience, do the following:

Identify your ideal demographics
Outline pain points that your solution will solve
Curate relevant usage triggers.

35% of startup failure is due to not identifying startup failures.

Estimate development, maintenance, and marketing budget.
The business analyst, project manager, and tech leads will brainstorm to create an estimate of the expenses needed to create the custom WordPress website.

Cash flow is the most popular cause of startup failures. According to statistics from numerous sources, about 82% of business failures are either due to a lack of capital, or cash flow challenges.

Create a project development roadmap
The project roadmap is a detailed description of the sequence of tasks for developers to perform.
Benefits of the discovery phase in custom WordPress website development are:
It reduces the cost of development
Founders have an early understanding of risks
It helps to validate an idea's scalability, and profitability
It eases the process of identifying talents.
Once you've drafted a project blueprint for the discovery phase, the next step is the custom wordpress website design phase. Let's discuss this:
Step 2: UI/UX Design Phase
The UI/UX design phase is a step where the product designer creates wireframes, mockups, and prototypes for the custom WordPress site.
These design steps help to provide a pictorial view of the custom WP site idea, thereby improving the team's knowledge of the product.
We won't discuss the idea of a well-designed platform as this is a subjective per business idea, niche, and type.
At the end of this stage, you should have either an interactive prototype, wireframe, or both.
Note: This phase is a fluid one, as deliverables are often subject to corrections from all team members.
Looking Build Custom WordPress Website for Your Business?
The UI/UX design phase is central to identifying the features and functionalities that should be on your custom WordPress site. It serves as a guide to WordPress developers on the details of the platform.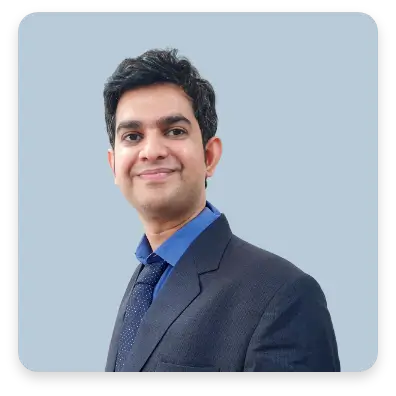 Learn more: Click here for more information on UI/UX website design.
Step 3: Development Phase
Now that there's an interactive prototype to guide the design phase, the next step is implementation.
The crux of this step entails turning the prototype into a custom live WordPress website. The developer will use requisite WordPress tools to create a website that's a pitch-perfect resemblance to the prototype or wireframe.
For timely development, it's best to set a reasonable timeframe and milestone to attain a strict deadline. For example, you may set a timeline for the completion of the homepage and its icons.
Once this phase ends, you should have a fully functional WP platform.
And at completion, QA tests will also be done on the website:
Step 4: QA Tests for WordPress Website Development
Even though you have an actionable website, you can't launch it yet as you need to verify its resilience, security, and scalability.
You'll also need to check for bugs, and loopholes in the newly built WordPress platform.
Here are the QA test processes involved: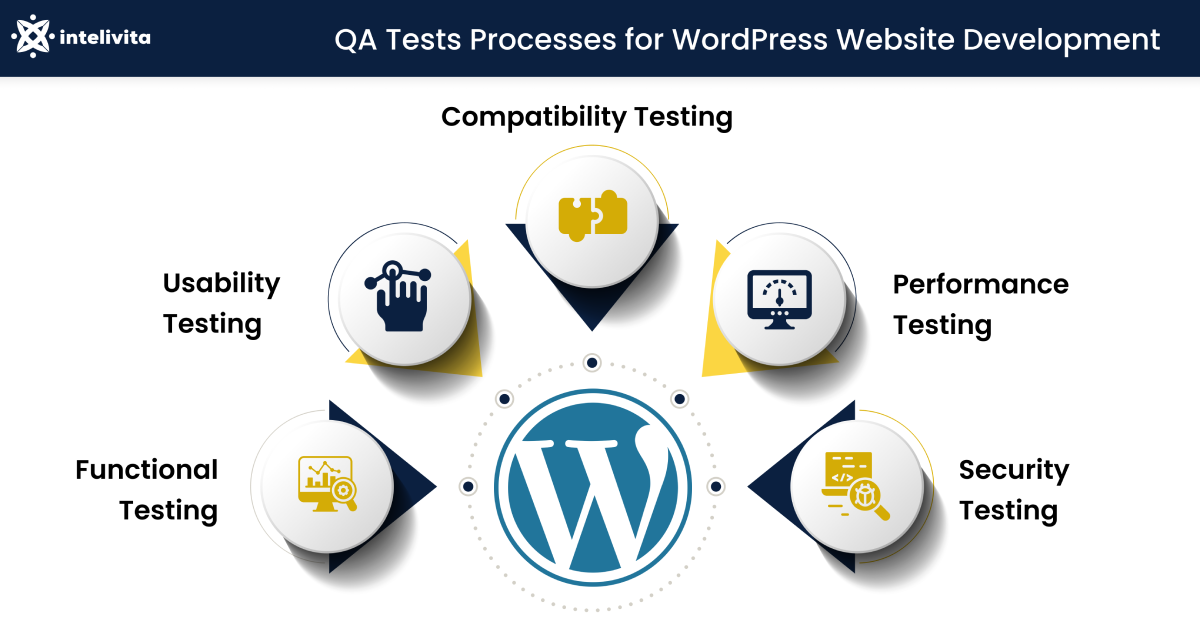 Let's break down the purpose of each test procedure:
QA Test
Purpose
Functional testing
This test ascertains that the WordPress site has satisfied all functional requirements detailed in the blueprint from the discovery phase.

Top Custom WordPress Website functional testing techniques are:

Unit testing
Smoke testing
Sanity testing
Regression testing
Usability testing
User-acceptance testing.

Upon completion, the QA tester should have verified that the main features of the website are working.

Tools for WordPress functional testing are:

Usability testing
This test procedure ascertains that page visitors get a top-notch user experience.

To ascertain this, the tester checks for design consistency, logo placement, image quality, clickable links and buttons, and button size.

Tools used here are:

Compatibility testing
This test procedure checks how well your custom WP site performs under numerous operating systems and devices.

For this, the QA tester checks for compatibility with:

Browser (Chrome, Edge, Safari), etc.
Mobile devices
Hardware
Networks.

QA tools here are:

Emulators & Simulators
GhostLabs
Cross-browser tool
Browsershots.

Performance testing
This QA test procedure ensures that the WordPress platform remains responsive and stable under a distinct workload.

Here are the types of performance testing to perform before launching a WP platform:

Load test–To check how well a platform will perform under a high workload.
Stress test–To test the site beyond the bandwidth it can handle.
Spike testing–To test for sudden surges or decreases in workload.

Some prominent tools being used here:

HP Loadrunner
WAPT
WebLoad
Apache JMeter.

Security testing
This test ensures that the platform is secure, and protects confidential user information.

The test procedure simulates several cyber-attacks and checks out for any loopholes.

The two types of security testing used in WordPress development are:

Vulnerability testing
Penetration testing.
Once the QA tester ascertains the quality of the custom WordPress site, the next step is to launch.
Step 5: WordPress Site Launch
Your overall development process is meaningless without launching. Once your product is live, you should then need to gather feedback, and regularly improve on existing products.
But before digging into feedback, let's break down the product launch process:
To launch your WordPress solution, you'll need to purchase domain names.
The domain name of a website is the address that a prospective page viewer types into a browser's URL field to access a web platform. An example is www.intelivita.com.
The domain name is unique, and cannot be the same as another website. Common places to purchase a domain name includes:
Bluehost
Domain.com
Namecheap.
Once a domain name is purchased, another thing to purchase before launch is hosting. Let's discuss this:
Purchase WordPress Hosting
You'll need to purchase WordPress hosting to provide resources and servers tailored specifically for custom WP websites. WordPress hosting ensures that data for the platform is on a server.
Note: Cheap WordPress Hosting plans can slow down your platform if it has low bandwidth.
Namecheap is one of the common place to purchase a managed WordPress hosting.
Once the domain name and hosting are purchased, your WordPress site can go live.
Once launched, the next step is to monitor visitors' feedback.
Feedbacks are like reviews from website visitors, providing relevant suggestions on what to improve, and top-performing features.
For a high-traffic platform, you may require a fully functional tech support team to handle structural feedback on your website.
For optimum performance and regular uptime, it's best to opt for a WP site that's at least 25% of the overall custom WordPress web development budget. That is, If the cost of developing a custom WP site is $80,000, then your maintenance budget should be $20,000 at minimum.
But first, it's important that you get users before feedback. Why? The more your users, the more relevant your feedback is, this, in turn, helps you identify loopholes.
Irrespective of your website niche, the bulk of your maintenance spending will be expended on:
WordPress upgrades
Enhancement
Analytics
Feedback monitoring
The addition of new features
And more!
Now that you know the steps involved in development.
Let's educate you on the cost of developing a custom website:
How Much Does it Cost to Develop a Custom WordPress Website?
The cost of creating a custom WordPress site ranges from $10,000 to $75,000 depending on your development region.
Some other factors that affect custom WordPress prices are complexity, team composition, and seniority of the development team, amongst other factors.
For a more precise WordPress cost estimate, you should reach out to our sales team. We'll provide you with a free one-on-one cost estimate.
Below is a spreadsheet detailing the cost of WordPress website development per region:
| | |
| --- | --- |
| Region | Cost |
| Australia | $70,000 |
| Canada | $80,000 |
| United Kingdom | $80,000 |
| The USA | $85,000 |
| Western Europe | $60,000 |
| India | $20,000 |
For more information on how location affects cost, it's best to read this article titled: "How Much Does it Cost to Make a Website."
Let's educate you on the steps to hiring a custom WordPress developer to get started:
Steps to Finding Custom WordPress Web Development Partners
Finding a developer is relatively easy!
Finding a top talent with in-depth expertise in WordPress website development is difficult.
To choose right, you'll need to understand the right metrics to watch out for.
This section will educate you about hiring the ideal web developer for your business:
Step 1: Know What you Need
To identify the type of talent you need for custom WordPress development, consider specific goals and tasks you aim to achieve with your WordPress platform.
Here are some important things to think through:
Things to consider
Reason to consider them
Determine your project scope
Do you want to create a WordPress platform from scratch? Do you want a minor update? Or do you want a major overhaul?

Knowing the scope of your project helps you determine the expertise you need and the number of developers required.

Consider your budget
Your budget also determines your choice. If you have a very restrictive budget, then it's best to hire custom WordPress developers with junior or mid-level roles.

Alternatively, you may hire offshore custom WordPress developers–they provide top talent for half the price.

Think through the developer's skill set
Some custom WP developers have expertise in specific areas, e.g., plugin or theme development. Outline essential skills for your tasks, and find developers in those areas.
Once you've identified what you need, the next step is to search online:
Step 2: Search Online and Offline
There are several places to find WordPress developers, some of which are:
1. Freelance Platforms
Freelance platforms like Fiverr, Freelancer.com, Upwork, etc. have thousands of developers spread across the world.
What's more? They allow you to view reviews and ratings before hiring a talent.
2. WP-specific Job Boards
Check out job boards like WordPress Talent, WP Jobs, and other platforms that list openings for WordPress developers and other experts in the open-source framework.
3. Online Communities and Meetups
Visit WP online communities like WordPress.org forums and online meetups for recommendations and to find developers with noteworthy achievements.
4. Business Listing Platforms
Business listing platforms are websites with information about firms with services in a specific niche.
An example of a business listing platform is Clutch, which allows you to find IT firms online. Business listing sites are a digital alternative to Yellow Pages.
Business listing platforms help you to quickly identify software development agencies with expertise in custom WP development.
Step 3: Vet Their Skills
Before you hire a developer or partner with an agency for your custom WordPress web development, you should ascertain the following skills:
Ability to create custom WordPress plugins and themes from scratch
Ability to use WordPress functions and hooks
PHP programming expertise, including the ability to use loops, functions, and variables
Strong understanding of HTML, JavaScript, and CSS
Knowledge of MySQL database
Strong understanding of responsive design principles, especially media queries
Experience with version control systems like Git.
Step 4: Sign Necessary Documents
Once you've found a suitable custom WP web development partner, the next step is to formalize your partnership.
There are two important documents to getting that done; these are:
Document
Purpose
A Contract
This is a legally binding document between the WordPress development company and the client.

It should detail the scope of work, payment schedules, and expected deliverables, amongst other important information.

A Non-disclosure agreement (NDA)
An NDA is a document prohibiting WordPress development agencies from disclosing sensitive information about your project.
It's important to review, and understand all documents before signing them.
Create a Custom WordPress Site that is Resilient, Scalable, Secure, and Guarantees a High Retention Rate
Your team choice is the primary determinant of success in your custom WordPress website creation process.
Thus, you should hire app development services from an outsourcing agency with the skills and experience to create a resilient, scalable, and secure WordPress site.
At Intelivita, we understand what it takes to create a high-quality WordPress platform and can help you do that in a couple of months. Doubt our expertise? Take a glance at our product portfolio and clutch profile.
Bonus Infographic
Check out our summary of our detailed guide to learn some key points about building a custom WordPress website, cost of creating a custom WordPress site, benefits, and more.