Software as a service (SaaS) applications have made lives easier for both companies and end users.
Slack, for instance, eliminates location boundaries between coworkers and improves team collaboration.
Taxi ordering is also easier thanks to ride-hailing services like Uber.
In this article, we will uncover the stories of 10 exceptional SaaS product examples that have redefined industries.
We'll explore their features, benefits, and the strategies that fueled their rise.
With these insights in mind, we'll then share proven strategies to help you build a high-performing and reliable SaaS application.
The Top 10 Popular SaaS Applications for Your Inspiration
Before developing your own application, it's crucial to come up with proven SaaS ideas.
This approach helps you find the right product-market fit, increasing your chances of succeeding.
To help your research process, we have compiled a list of some of the best and most popular SaaS examples in the market, from Slack and Uber to Netflix and Canva.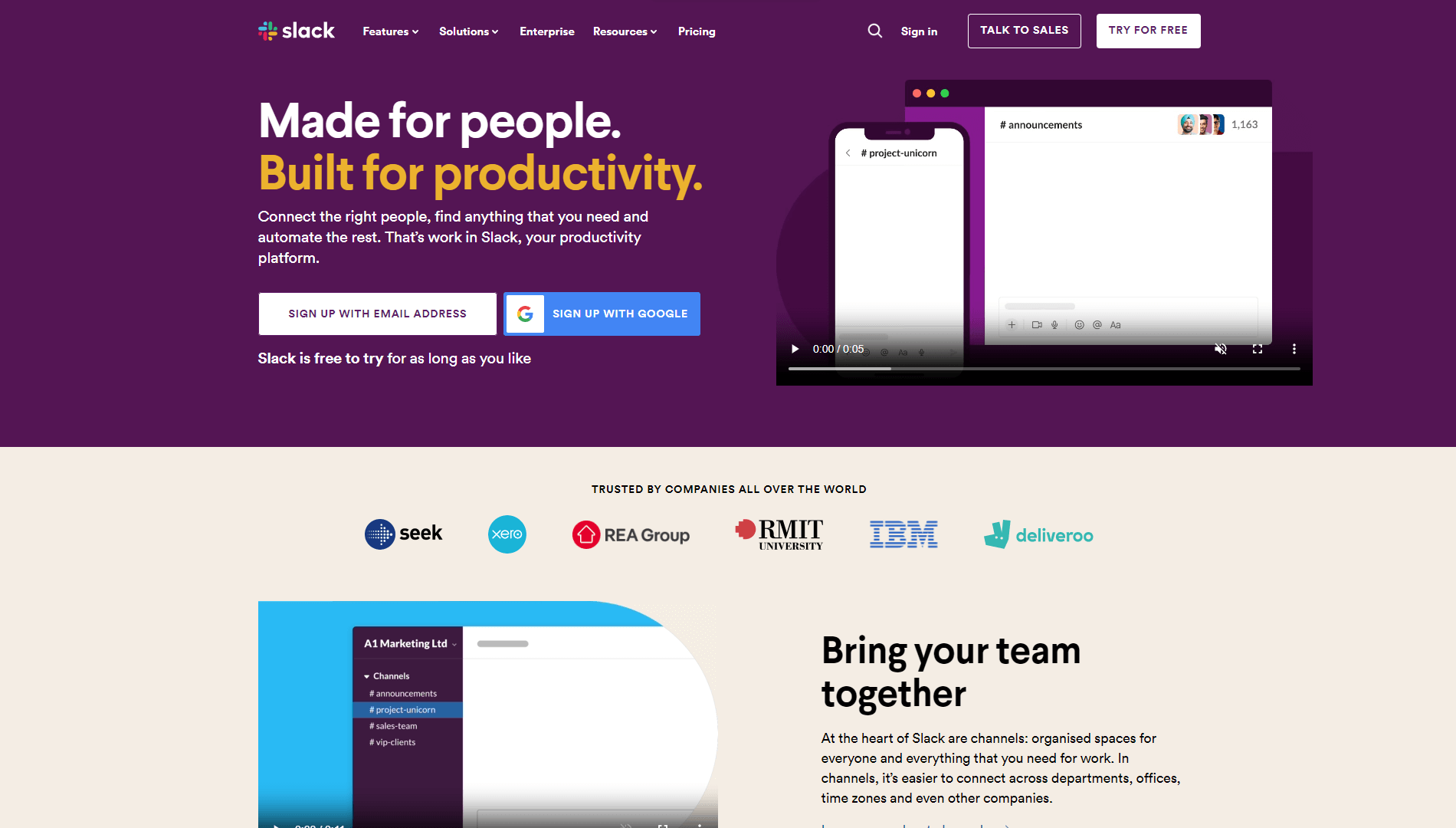 Slack is one of the most widely-used messaging platforms that streamline team communication regardless of their location.
Its free version offers features like one-on-one video and audio conversations, private messaging, public channels, file sharing, and third-party integrations.
If users want to invite up to 50 people in a single call and access Slack's advanced features, they need to upgrade to a pro plan, starting at $7.25 per month.
Key Features:
Channels for Organized Conversations: Slack introduces a unique channel-based structure that organizes conversations by topics, projects, or teams.

This structure ensures that discussions remain relevant and accessible, eliminating the clutter associated with traditional email threads.
Real-time Messaging: The power of Slack lies in its real-time messaging functionality. Teams can engage in instantaneous conversations, promoting quick decision-making and dynamic interactions.
File Sharing and Integration: Slack serves as a hub for file sharing, allowing teams to upload and share documents, images, and other files.

Moreover, Slack integrates seamlessly with popular tools like Google Drive and Dropbox, streamlining workflow and access to resources.
App Integration: Through an extensive collection of third-party integrations, Slack becomes an integrated platform for various applications.

Teams can connect tools like Trello, Asana, and Salesforce directly to their Slack channels to enhance productivity.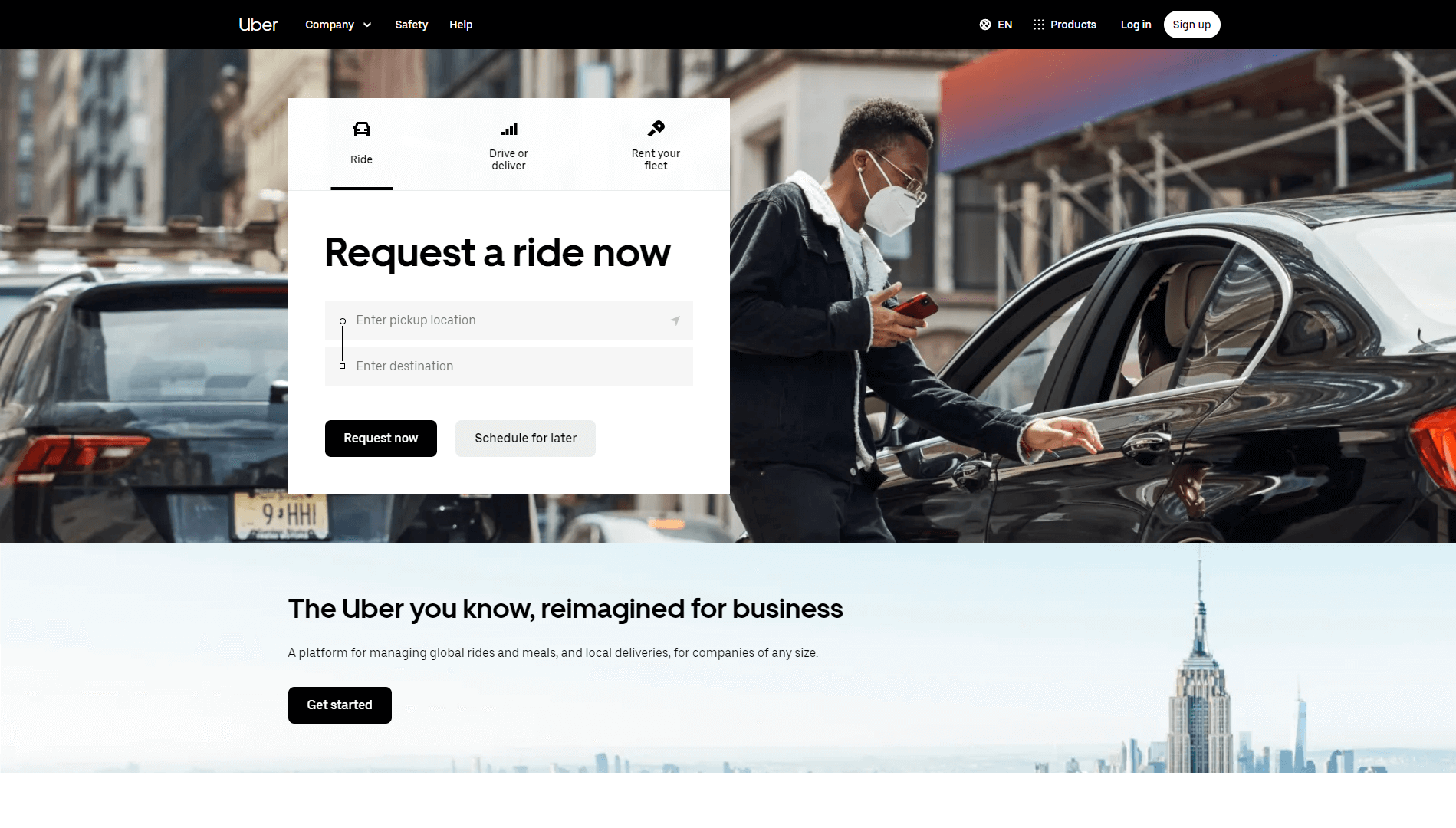 Uber is a ride-hailing service that seamlessly connects riders and drivers through an intuitive app.
This SaaS application redefines how people traverse their cities by embracing the concept of sharing economy.
Apart from transportation, Uber has also introduced a food delivery service called Uber Eats a few years back.
Key Features:
On-demand Transportation: Uber's hallmark is on-demand transportation.
Users can request a ride with a few taps on their smartphones and track their driver's arrival in real-time.
Ratings and Reviews: Uber incorporates a rating system that allows both riders and drivers to rate each other after a trip.
This accountability mechanism fosters a culture of quality service.
Cashless Transactions: Uber eliminated the need for physical payments by enabling cashless transactions through the app.
Payments are processed automatically through linked payment methods.
UberPOOL: This feature allows riders traveling in the same direction to share a ride, reducing costs and promoting efficient resource utilization.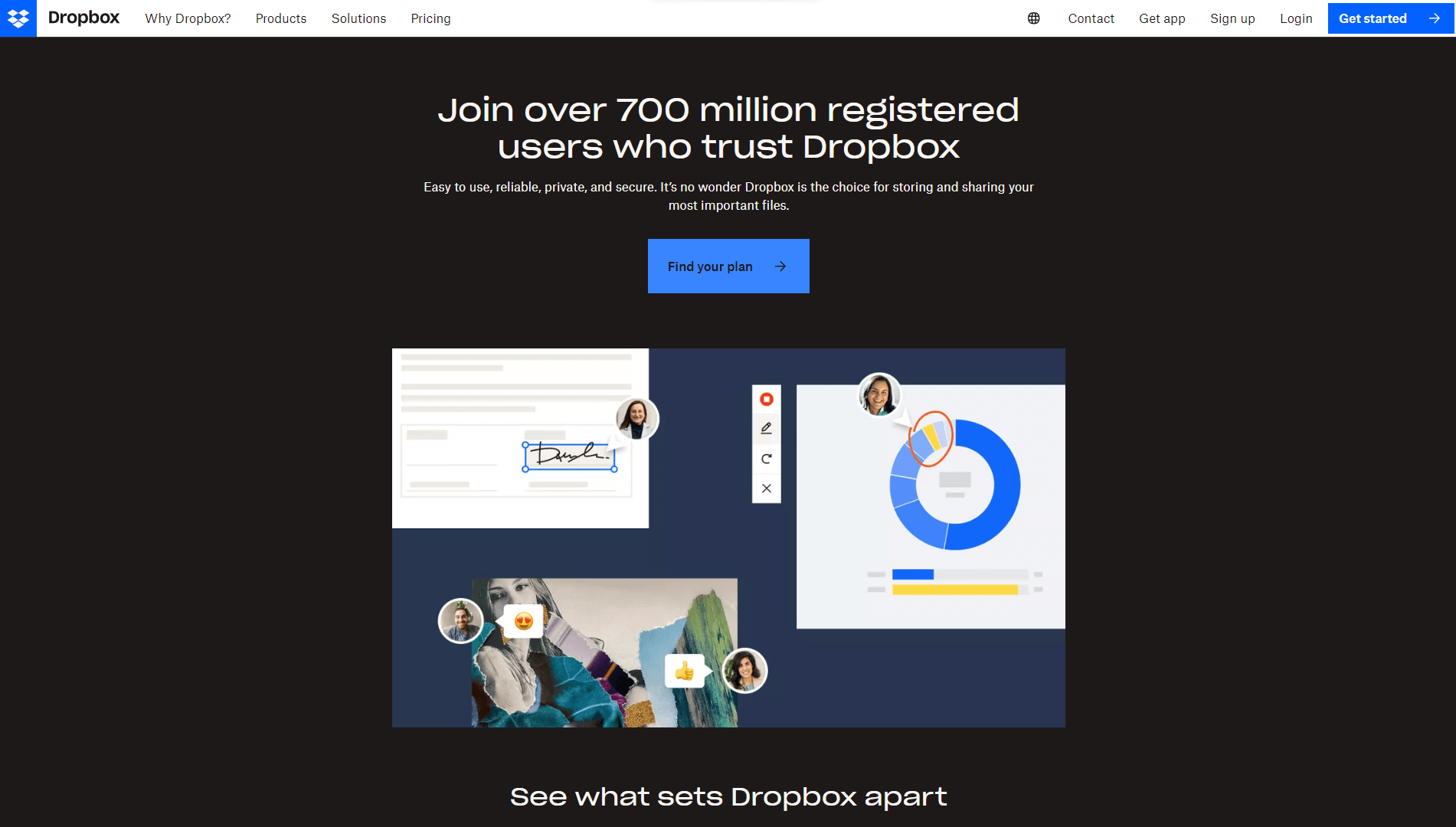 Dropbox is a file hosting application that offers features like cloud storage, file synchronization, and real-time document editing.
This platform allows users to store, access, and share files across devices and locations, making it easier for remote workers to collaborate.
Dropbox offers three plans to choose from: Standard ($18 per user per month), Advanced ($30 per user per month), and Enterprise. For the last option, users need to contact Dropbox's team for pricing.
Key Features:
Cloud Storage: At the core of Dropbox's offering is cloud storage, providing users with a secure and accessible space to store files without the constraints of physical hardware.
File Synchronization: Dropbox's synchronization feature ensures that changes made to files on one device are reflected across all linked devices, promoting real-time collaboration.
Sharing and Collaboration: Users can easily share files and folders with others, granting them varying levels of access.
Collaboration is further streamlined with features like commenting and editing in real-time.
Version History: Dropbox maintains a version history of files, allowing users to revert to previous versions and track changes made by collaborators.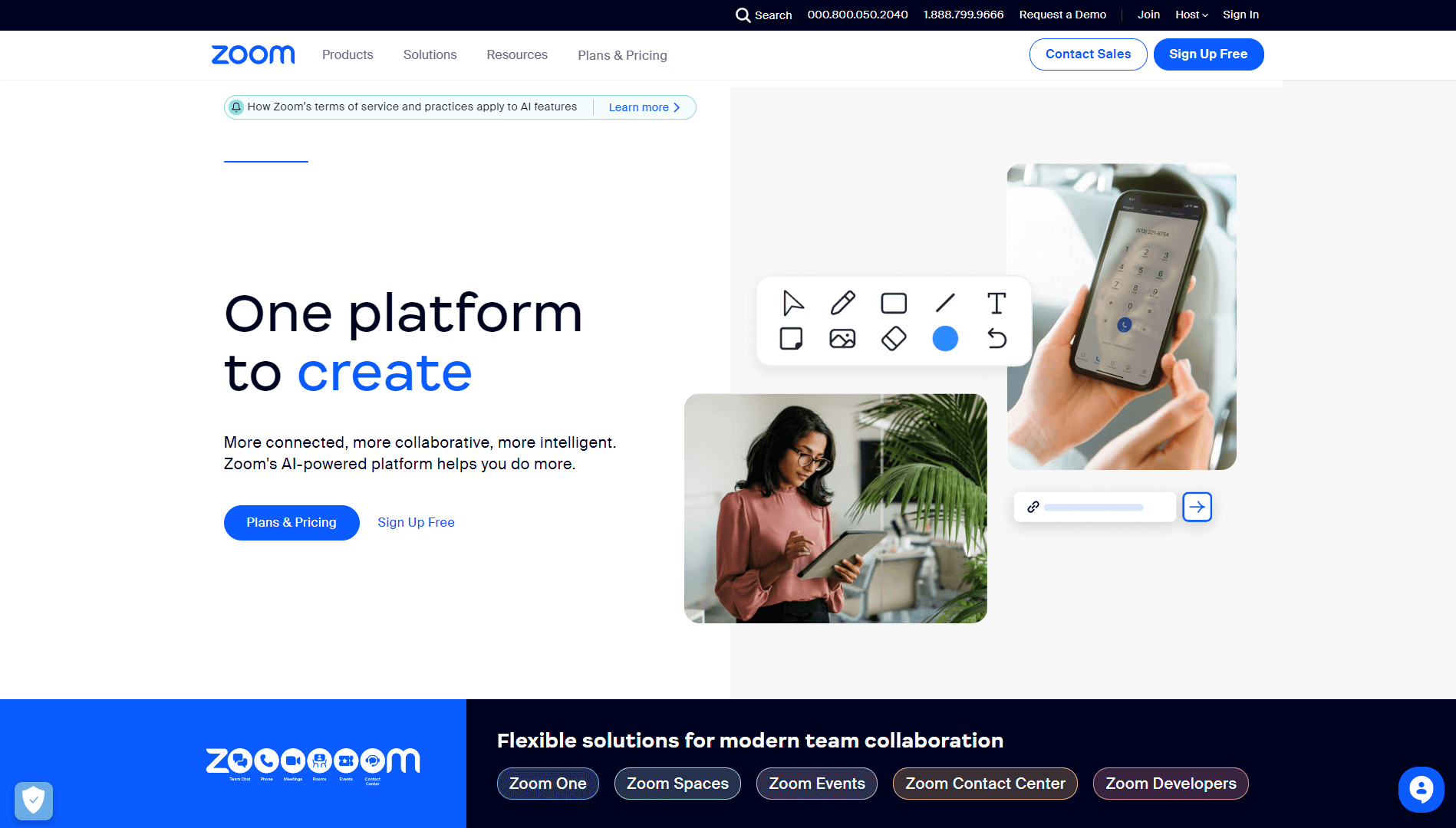 Zoom is a video conferencing platform that has gained massive popularity following the COVID-19 outbreak.
With its free plan, users can invite up to 100 participants in one call, with each lasting 40 minutes.
To set up bigger calls with 300 attendees and up to 30 hours in duration, purchasing the Business plan ($19.99 per user per month) is necessary.
Key Features:
Video Conferencing: Zoom's hallmark is its robust video conferencing capability, enabling seamless virtual face-to-face interactions among participants across the globe.
Screen Sharing and Collaboration: Users can share their screens with others, fostering collaborative discussions and presentations.
This feature is pivotal for remote teams working on joint projects.
Webinars and Events: Zoom extends beyond standard meetings, offering options for hosting webinars and virtual events with large audiences.
Recording and Playback: Meetings can be recorded and stored for future reference. This feature proves invaluable for individuals who might have missed the live session.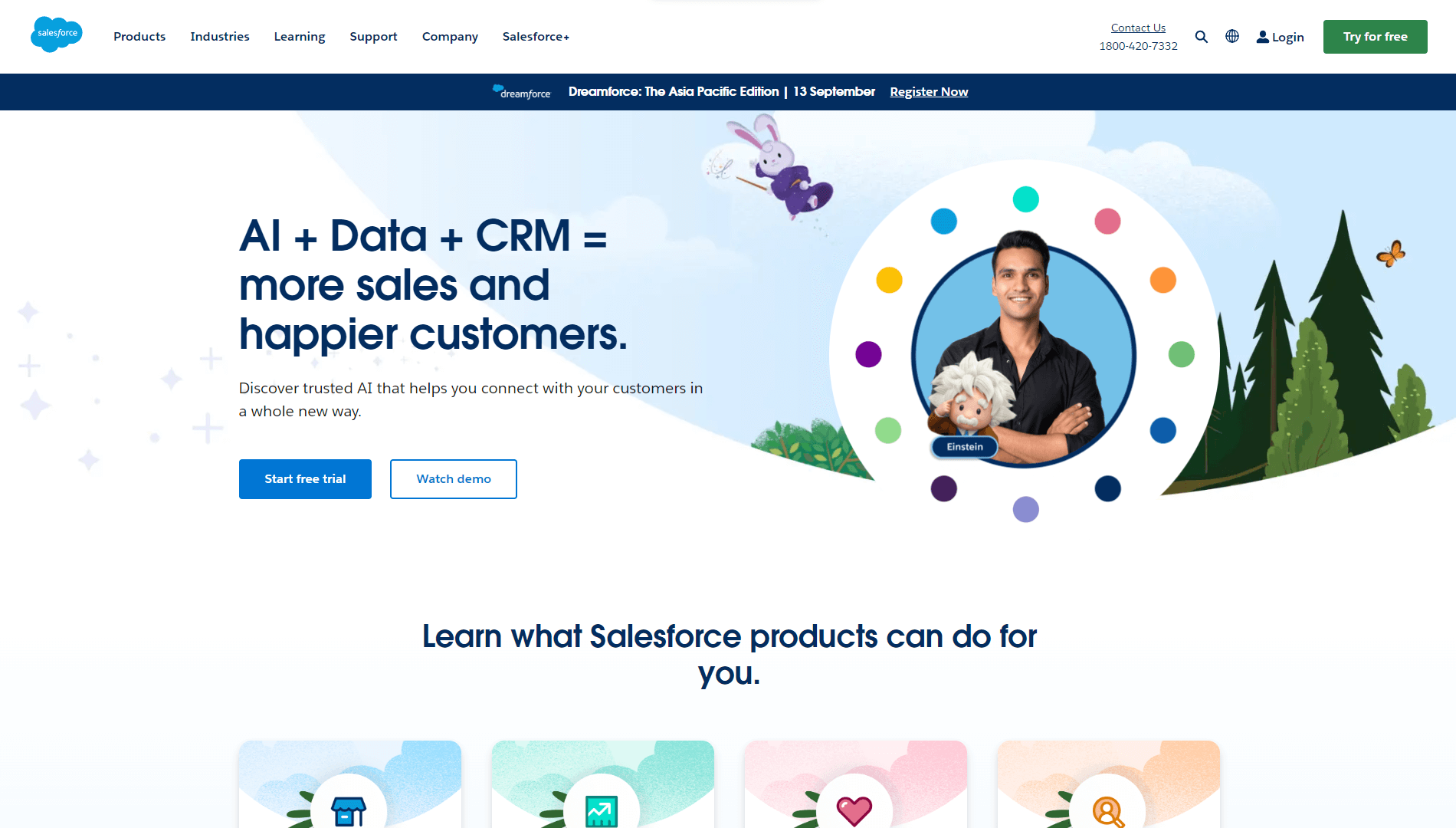 Salesforce is another example of SaaS that helps businesses improve customer relationships and teamwork.
With products like Marketing Cloud, Service Cloud, and AI Cloud, this platform provides tailored solutions for sales, customer service, and data-driven decision making.
Unlike many other SaaS examples in this list, Salesforce doesn't show its pricing plans on the website.
Users have to contact their team for a personalized experience.
Key Features:
360-Degree Customer View: Thanks to a comprehensive view of each client, businesses can enhance customer engagement and relationship-building.
Sales Automation: SalesForce streamlines sales processes through workflow automation, lead generation, and customer management in a centralized dashboard.
Marketing Automation: This platform offers robust marketing automation tools, facilitating personalized campaigns, lead nurturing, and effective tracking.
Customer Service Management: Salesforce allows businesses to manage customer inquiries, requests, and complaints efficiently, ensuring timely and effective resolutions.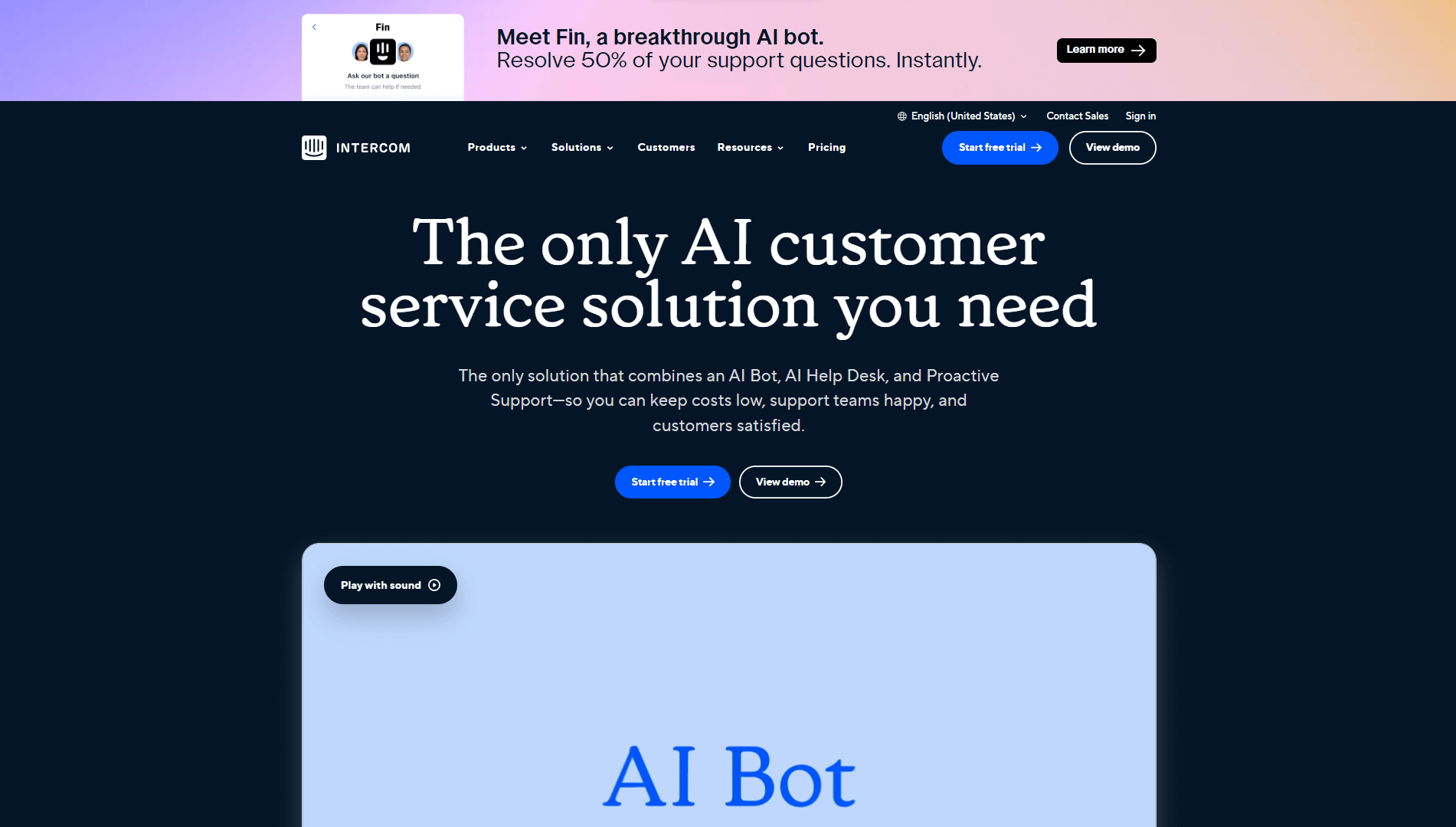 Intercom is a communication platform offering a range of features, such as real-time messaging, in-app communication, and personalized segmentation.
Through its intuitive interface and automation capabilities, this SaaS application enables companies to foster deeper connections and increase customer satisfaction.
Intercom offers two different pricing options: Starter (starting at $74 per month) and Pro (starting at $395 per month).
Key Features:
Customer Segmentation: Intercom empowers businesses to segment their customer base and tailor communications based on demographics, behavior, and preferences.
In-App Messaging: Enterprises can communicate with customers directly within their application, enhancing user experience and offering support without the need for external channels.
Lead Generation and Qualification: Another handy feature is the ability to generate and qualify leads through targeted messaging and automated responses.
Feedback Collection: Intercom includes tools for collecting customer feedback, enabling businesses to gain insights and iterate on their products and services.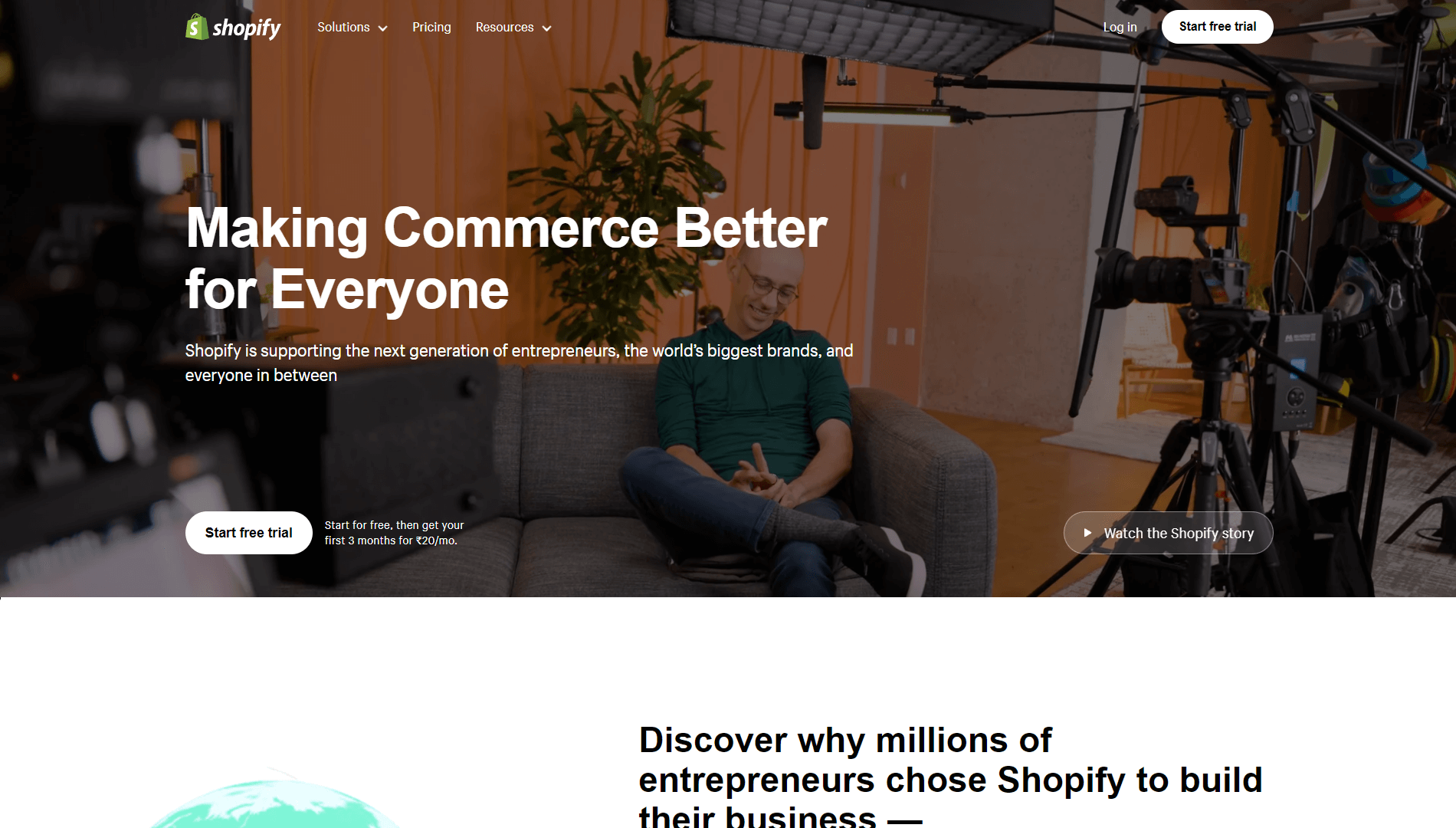 Shopify has emerged as a catalyst for businesses looking to establish an online presence and sell products effectively.
The Basic plan costs just $25 per month and includes everything users need to set up a store, ship products, and process payments.
To access more features like professional reporting capabilities, users have to upgrade to its Shopify ($65 per month) or Advanced ($399 per month) plans.
Key Features:
Store Creation: Shopify simplifies the process of setting up an online store, offering customizable templates, drag-and-drop builders, and the flexibility to tailor the store's design.
Product Management: Businesses can easily add, edit, and organize products on their Shopify store.
The platform supports variants, images, inventory tracking, and product categorization.
Payment Integration: Seamlessly integrate with various payment gateways to accept payments from multiple methods, including credit cards, digital wallets, and more.
Order Fulfillment: The platform streamlines order management, allowing businesses to process orders, generate shipping labels, and update customers on their order status.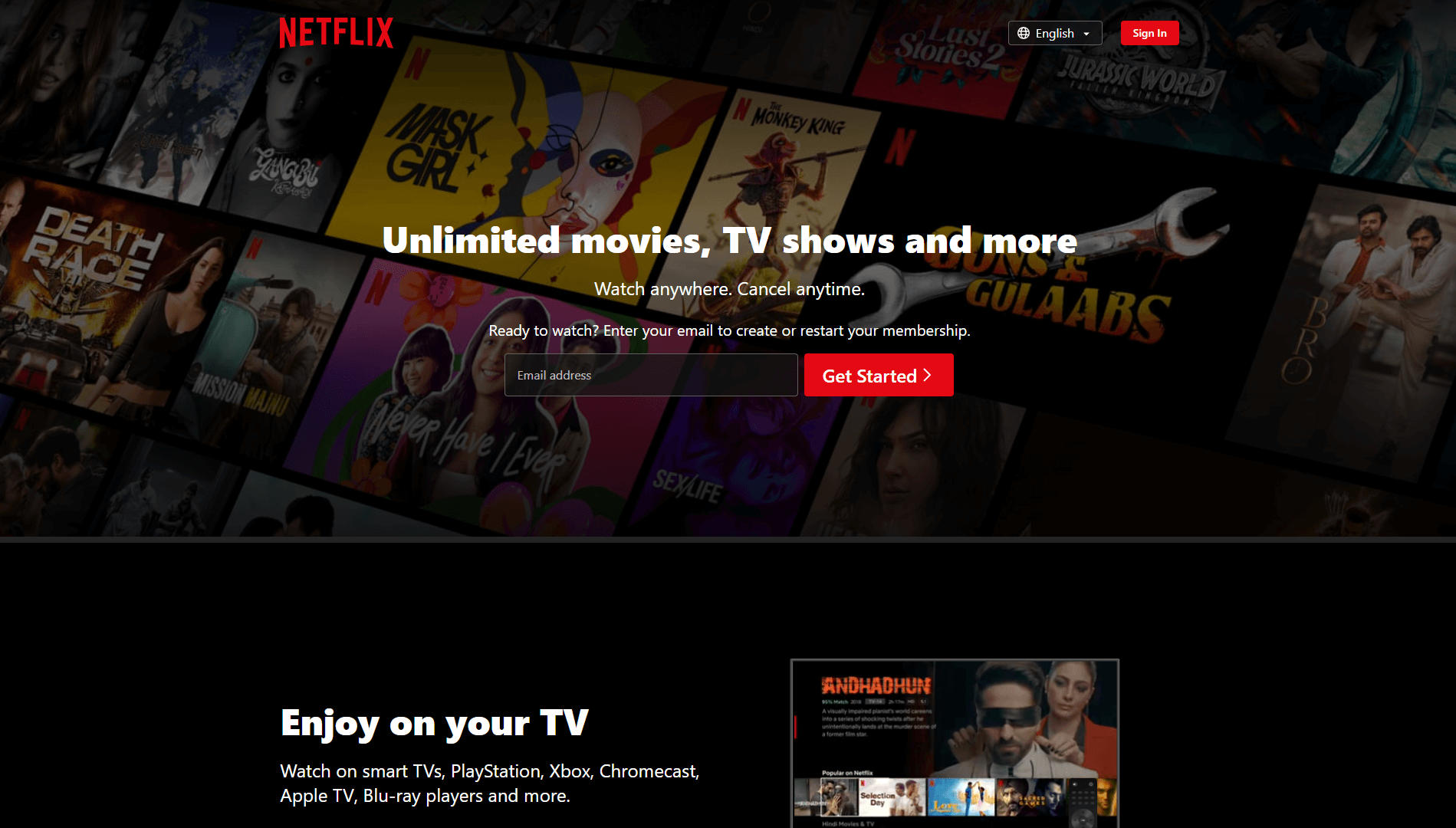 Netflix is a video on-demand platform with markets all around the world.
This platform's subscription-based model has revolutionized the entertainment industry, changing how audiences consume television shows and movies.
Users can enjoy Netflix's original content in multiple languages by signing up for its Standard plan, available for just $6.99 per month.
Key Features:
Subscription Model: Netflix operates on a subscription-based model, allowing users to access a vast library of content for a monthly fee.
This model grants viewers flexibility and unlimited streaming.
Personalized Recommendations: This video streaming app employs sophisticated algorithms to analyze user viewing habits and preferences, providing personalized content recommendations that cater to individual tastes.
Original Content: Netflix has invested heavily in producing original TV shows, movies, documentaries, and more.
This exclusive content has garnered critical acclaim and attracted a dedicated user base.
Multi-Device Compatibility: Users can access Netflix across a variety of devices, including smartphones, tablets, smart TVs, laptops, and gaming consoles.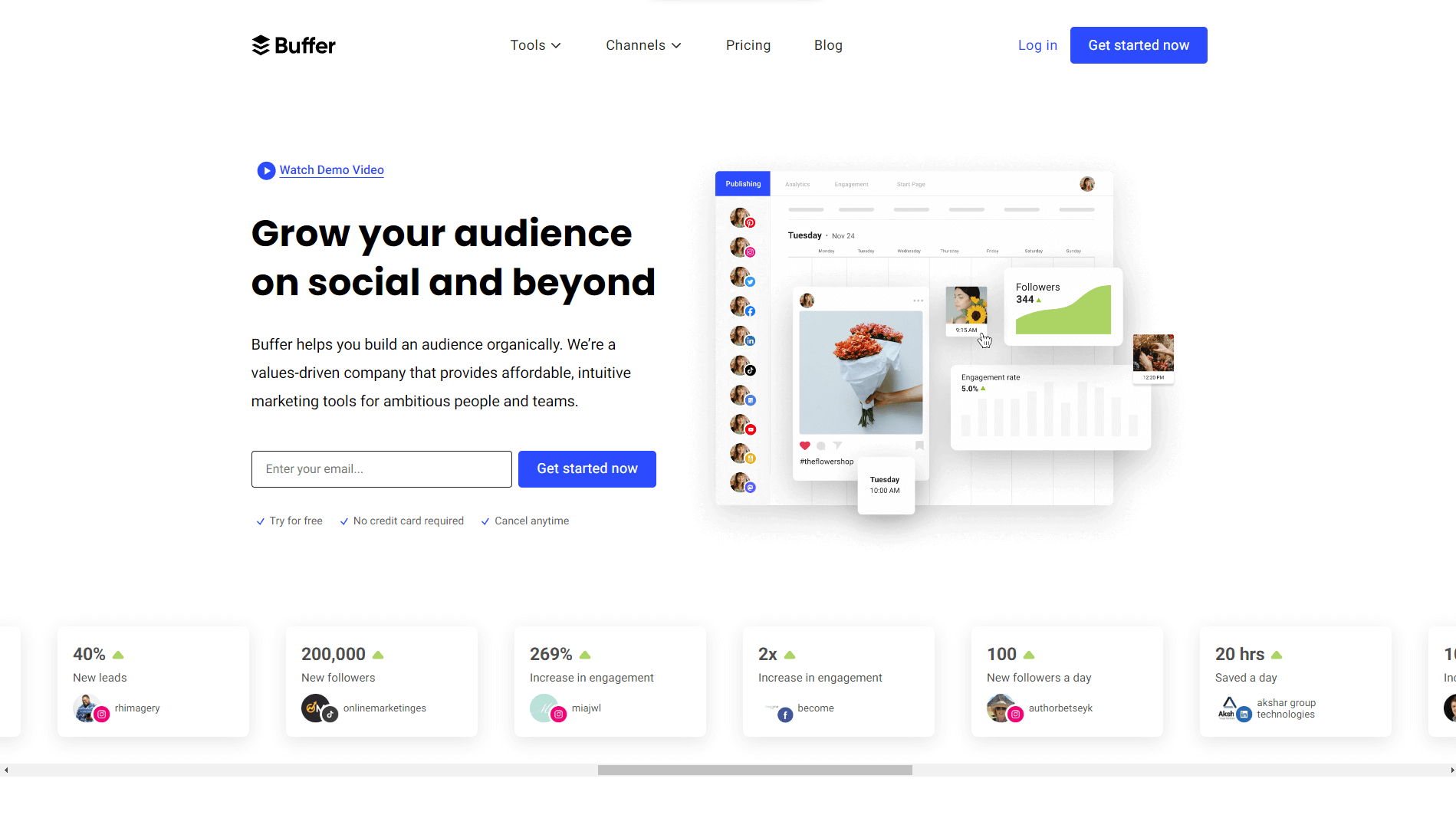 Buffer is a social media management tool with a mission to help SMEs build a considerable following organically.
Its user-friendly dashboard simplifies the process of planning and executing social media strategies.
Buffer offers a free version for individuals and small businesses who are just getting started, allowing them to integrate 3 social media channels.
For those looking to access its engagement tools, analytics reports, and other advanced features, purchase a pro plan which starts at $6 per month.
Key Features:
Content Scheduling: Buffer empowers users to schedule posts across multiple social media platforms, ensuring consistent and strategic content distribution.
Unified Dashboard: The platform provides a centralized dashboard where users can manage all their social media accounts, streamline workflows, and monitor interactions.
Content Recommendations: It offers content suggestions based on user preferences and industry trends, aiding in content curation and diversification.
Analytics and Insights: Users can access performance metrics, engagement data, and audience insights to refine their social media strategies.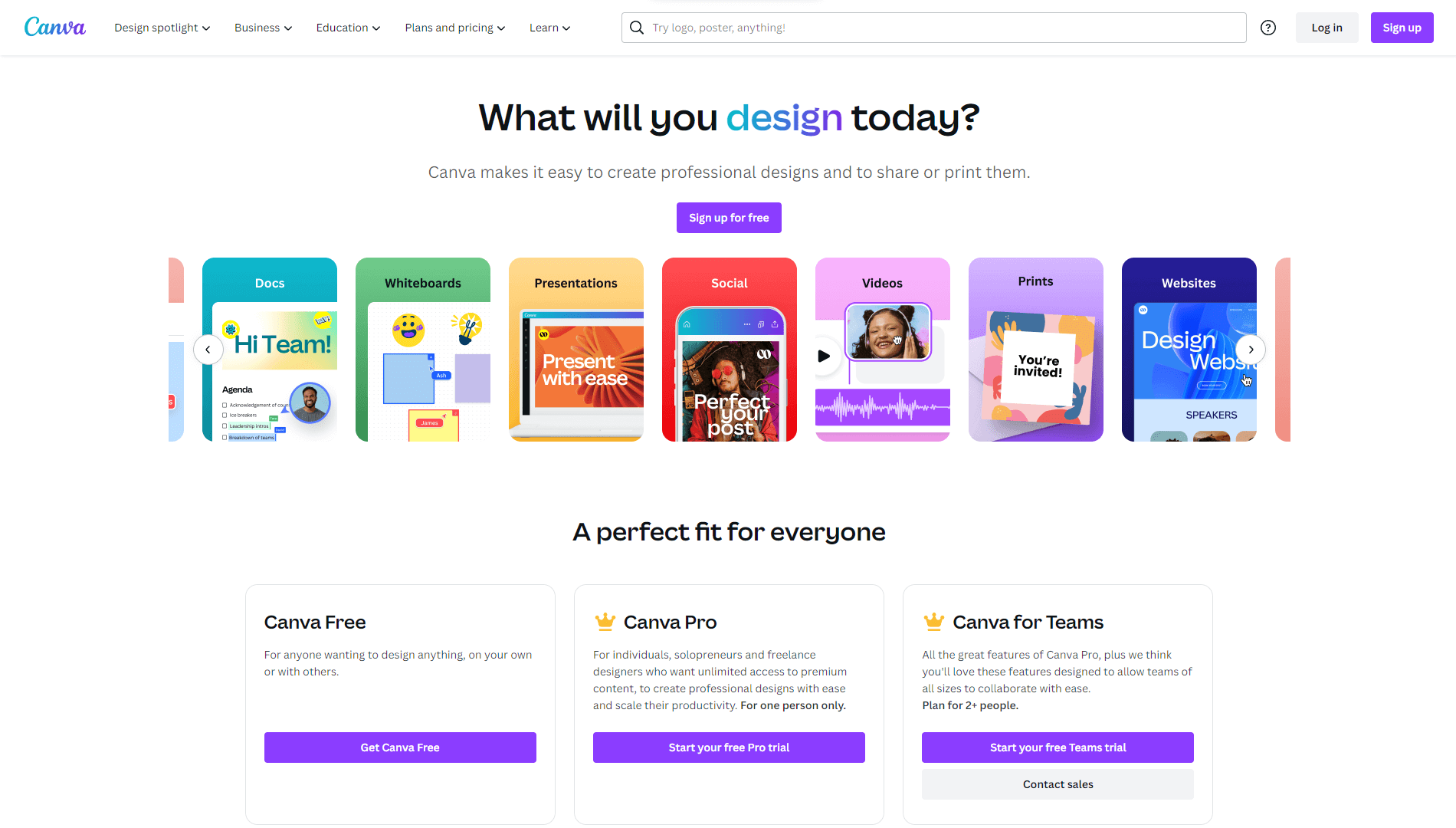 Canva allows businesses and individuals to create professional-level visuals without the need for a design background.
With a vast library of templates, graphics, and tools, users can easily design social media posts, company logos, resumes, and beyond.
And the best part is? Users can access all the features Canva has to offer for free, forever.
That said, some templates and icons are only available in Canva Pro, starting at a flat rate of $29.99 per month for up to 5 people.
Key Features:
User-Friendly Interface: With an intuitive drag-and-drop interface, users can effortlessly create designs for social media posts, presentations, posters, or logos.
Diverse Templates: Canva boasts an extensive library of professionally designed templates that cater to various purposes, industries, and styles.
Extensive Customization: Users can customize templates with their brand colors, fonts, and imagery, ensuring consistent visual identity across designs.
Image Library: Canva provides access to a vast library of stock photos, illustrations, icons, and graphics that users can incorporate into their designs.
Proven Strategies to Create a SaaS Application
Now that you have a better idea of what great SaaS applications look like, let's take a look at some strategies to develop your own software.
Step #1: Conduct Market Research and Idea Validation
Before embarking on your SaaS journey, start by identifying specific pain points your target users are facing.
This could be related to task management, collaboration, data analysis, or any other challenges they encounter.
Once you've pinpointed the problem, engage with potential users through surveys, interviews, and online forums to validate your idea.
Assess whether your solution resonates with their needs and whether they would be willing to adopt it.
Step #2: Set a Clear Pricing Structure
Another key step is to determine a pricing model that strikes a balance between value and affordability.
Options like subscription-based plans, freemium models with limited features, or tiered plans with scalable options can cater to different segments of your audience.
Set pricing tiers that reflect the value your SaaS application delivers to users while remaining competitive within the market.
Step #3: Choose a Reliable SaaS App Developer
After settling on a solid idea and pricing structure, the next step is to choose the right mobile app development agency.
This is a critical step to ensure a high-performing, bug-free mobile application that resonates with users.
While cost is a factor, prioritize value over the lowest price.
Consider the agency's expertise, reputation, and the quality of their work when evaluating the cost.
Here are some factors to consider when selecting a SaaS developer:
Experience: Look for an agency with a proven track record in developing mobile apps, particularly in your industry or niche.

Review their portfolio to see if they've worked on projects similar to your SaaS application.
Technical Expertise: Ensure the agency is well-versed in the technologies and platforms required for mobile app development.

They should be adept at building for iOS and Android platforms and have experience with relevant programming languages and frameworks.
Client References: Request references from past clients to get insights into their experience working with the agency.

This can give you a clear understanding of the agency's reliability, professionalism, and overall performance.
Design Capabilities: A visually appealing and user-friendly mobile app is essential for user engagement.

Assess the agency's design capabilities and check if they can translate your SaaS application's aesthetics to the mobile interface.
Quality Assurance: The agency should have a rigorous quality assurance process in place to identify and rectify bugs, glitches, and compatibility issues before launching the mobile app.
Post-Launch Support: A reliable agency offers post-launch support to address any issues that arise after the mobile app goes live.

Ensure that ongoing support is part of the package.
Step #4: Set Up Your Customer Support System
Launching your SaaS application is just the beginning.
To keep users engaged and loyal, establish multiple channels for customer support, including email, live chat, and a knowledge base.
Provide prompt responses to user inquiries or concerns, and guide them through any challenges they may encounter.
Furthermore, regularly gather user feedback to understand their evolving needs, and showcase how you're actively working to enhance their experience.
Step #5: Keep Making Improvements
The journey of creating a SaaS application is an ongoing one.
Stay alert about industry trends, technological advancements, and the evolving needs of your target market.
Continuously innovate by introducing new features, functionalities, and improvements to keep your application fresh and relevant.
Key Takeaways
To build a SaaS application that rivals some of the giants in this article, you need to focus on solving a specific problem and ensure your application is user-friendly, scalable, and secure.
It's also important to embrace feedback for iterative enhancement and maintain a strong marketing presence to attract users.
More importantly, collaborate with a reputable mobile app development agency like Intelivita to streamline the process and ensure the highest quality of your end product.
So, what are you waiting for?
Contact our experts today and let's build your dream SaaS application in no time!