Do you own a taxi startup or an established taxi business? Are you looking for ways to grow your business presence?
An online taxi booking app will solve all your needs.
Traditional taxi services are a thing of the past. With the success of companies like Uber, Ola and Lyft, taxi booking applications are ruling the market.
Businesses are moving their taxi services online by hiring a taxi booking app development company to create an efficient solution. A question that they are often concerned about is the cost to develop a taxi booking app.
This article aims to address the question and provide a cost breakdown for taxi app development.
Since it's helpful to gain an understanding of taxi application types, features, and development process before discussing the cost, we will also discuss those topics. But before that, we will give you an estimate of the taxi app development cost.
A simple taxi booking application with basic features will cost around $40,000 to $50,000. The cost may change depending on app complexity, features, developer location, and so on.
According to Statista, in the ride-hailing and taxi sector, the number of users is expected to amount to 1,665.3m by 2026! So investing in taxi applications now is a great move for the growth of your business.
Now, let's go ahead and learn about taxi booking app development and its cost in detail. Read on!
Types of Taxi Applications
One of the most fundamental things to establish when building a taxi booking app is the business model you wish to follow. The business model determines the app development process and directly impacts the cost of development.
Mainly, there are two types of taxi applications – dedicated taxi booking app and taxi aggregator app.
Dedicated taxi booking app
This model is suitable for businesses that already have an established taxi business. They would have a fleet of taxis and drivers. A taxi booking app enables them to take their business online, making it easy for their customers to access the taxi service.
Moreover, it opens the opportunity to reach a broader customer base.
Here, the dealings happen directly between customers and taxi service without any middleman. The customers input their pickup location, preferred car and other details. The taxi service dispatches a driver who drops them off at desired locations at predetermined fares.
Taxi aggregator app
This is the model popularised by taxi booking apps like Uber and Ola. Here, the app serves as a platform where taxi businesses or individual taxi owners can register their vehicles and offer services for passengers.
Taxi aggregators partner with taxi drivers to provide rides. Most times, the aggregators take a convenience fee for their service.
This model can be implemented in two ways – simple and on-demand
Simple taxi booking app: These apps do not require a server. There is only a single app where taxi drivers can enlist their services and required users can call and order the taxis directly from the app.
On-demand taxi booking app: This model requires a server. Two apps are needed here –one for passengers and one for drivers. It provides taxis on-demand and has many advanced features. This model requires higher investment compared to the other models.
The online taxi industry is booming with apps that adopt these various business models to scale up their taxi businesses.
It is expected that by 2025, the annual upturn of the global ride-hailing service market would be $126,521 million! It means, this is the right time to invest in the development of an online taxi solution.
Looking to develop a taxi booking app that matches your business model?
Share the details of your app ideas and you'll get a project estimate in the next 24 hours.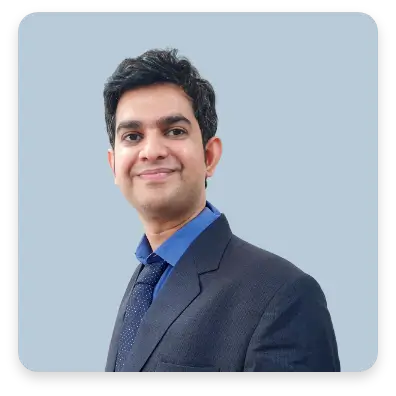 Features of Taxi App that Influences Cost of Development
For every application, the cost of development is directly influenced by the features that need to be implemented. The more the number of features and their complexity, the more will be the cost.
For determining the cost to develop a taxi booking app, we need to consider the three parts of the solution – an app for passengers, an app for drivers, and an admin panel.
Knowing these parts and their features will help you estimate the cost of apps like Uber. Let's take a look at them one by one.
App for Passengers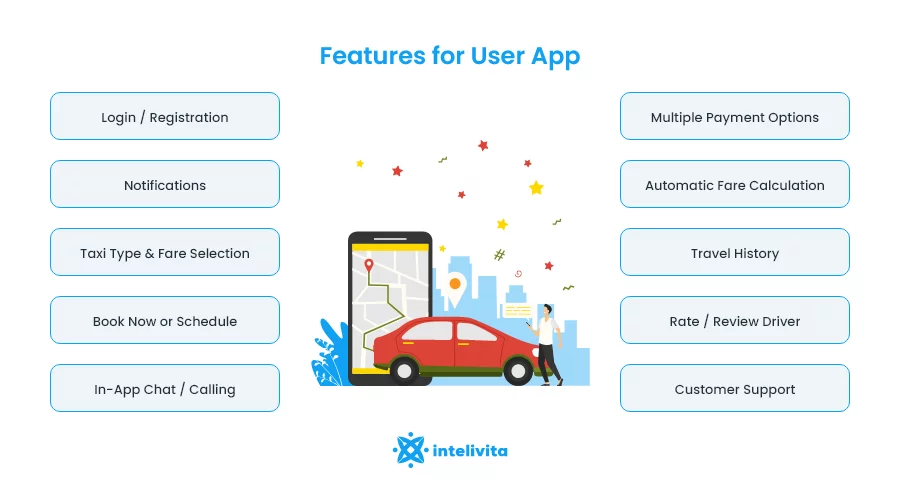 User sign up and user login for creating and accessing the user profiles.
Notifications for receiving updates in a timely manner. These can be push notifications, in-app messages, SMS, or email.
Taxi choosing preference according to taxi type, fare levels, etc.
Options for both on-demand booking and scheduled booking.
Vehicle tracking system to know the location of a taxi in real-time.
In-app calling and chat to communicate with drivers once a booking is completed.
Multiple payment options for passengers to choose from with the flexibility of changing payment mode whenever required.
Automatic taxi fare calculation upon booking depending on the passengers' pickup and drop-off locations.
Travel history
Option to review the driver and provide feedback on the experience.
Customer support in case of any concerns.
App for Drivers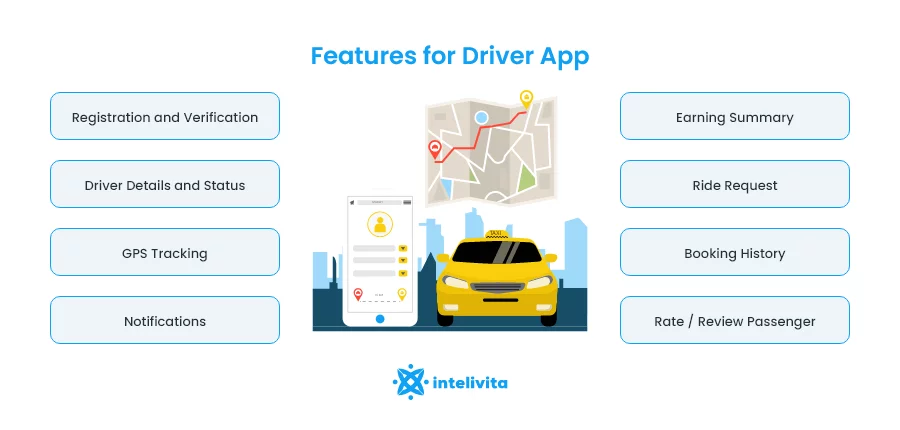 Driver registration to get the approval of the admin to offer their services on the platform.
Driver profile with details like name, phone number, license details, vehicle number, vehicle type, and current status.
GPS tracking to track the passengers location upon a ride request and reach them through the easiest route.
Notifications about new rides, features, or any related activities.
In-app calling and chat to connect with the passengers if required after a service is booked.
Earning tracker to track the drivers' daily and weekly trip summaries.
Ride request approve or reject option with appropriate confirmation.
Booking history tracker.
Passenger rating and review.
Admin Panel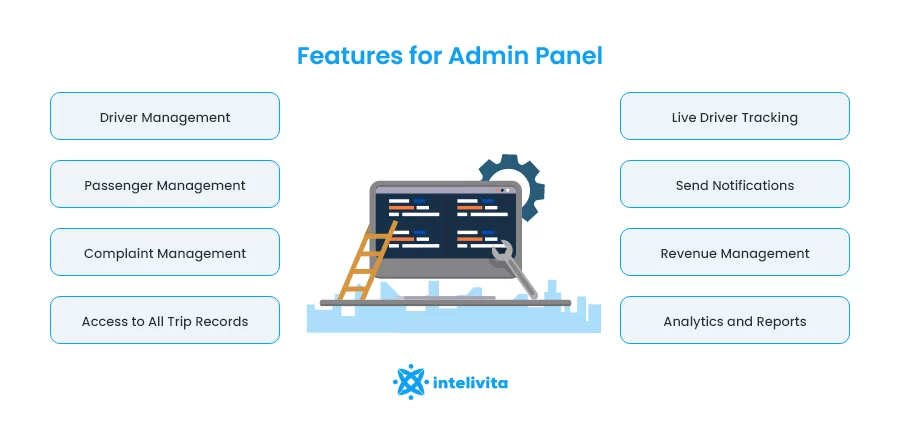 Driver management including driver verification, approval, deactivation, and blocking.
Passenger management to improve the user experience of passengers.
Complaint management in case of any concerns raised by passengers or drivers.
Option to access all trip details that are booked, active and completed.
A live map to let admin track the locations of vehicles, drivers and passengers.
Option to send notifications to drivers and passengers.
Revenue management to track and manage transactions and revenue.
Report tracking and analytics to track driver activities, revenue with real-time data.
Time Taken to Develop a Taxi App
Typically, an app development company will carry out a five-step development process for a taxi app development. These are UX UI design, native development, backend development, web development, and testing and quality assurance.
The cost to develop a taxi booking app is directly proportional to the time taken for development. A simple break-down of the time taken can be listed as follows: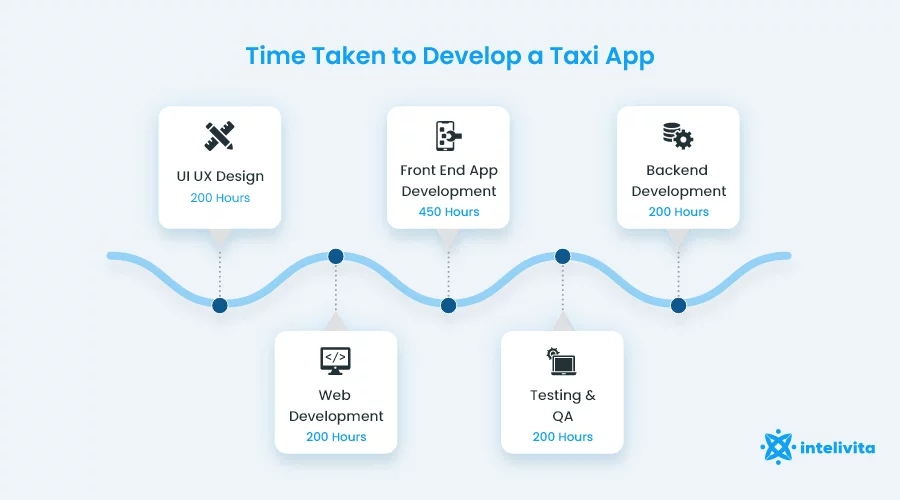 UX UI design: 200 hours

UX UI design is an integral part of the app development process. It is what makes an app easy to use and navigate. Users form a first impression about the app based on its design, hence investing in UX UI is crucial if you want to create an app that users will enjoy using.

Remember that people only continue interacting with those solutions that make their experience smooth.

Front-end app development – 450 hours

In the UX UI design stage, all the features of the app are designed keeping the user experience in mind. These features are implemented in the next step, which is front-end development.

Here, the design for features like user registration, notification, payment integration, vehicle tracking, fare calculation, and booking history is translated into a working solution.

Backend development – 200 hours

The backend development takes care of everything that happens behind the scenes. Unlike front-end development, users don't see it but that doesn't mean it's not important.

In fact, having a strong backend is crucial for a successful application as the backend takes care of things like database handling, data resources connection, payment platform

Web development – 200 hours

The admin panel is a web app that is responsible for the overall smooth functioning of the taxi booking application. It is the portal that administrators use for controlling, managing and monitoring the driver and passenger apps.

Testing & QA – 200 hours
Testing and QA is the final step in an app development process. Before an app launches, it should be tested for any bugs or performance-related issues that might make it unsuccessful.
A dedicated team of testers works closely with app developers and designers to troubleshoot any issues and prepare the app for the final launch to the market.
How Much Does it Cost to Build a Taxi App
Now to answer the important question – how much does it cost to build a taxi app.
As evident from what you read so far, a taxi booking app development cost depends on various factors. You must have already got an idea about how it varies depending on the business model and the features required.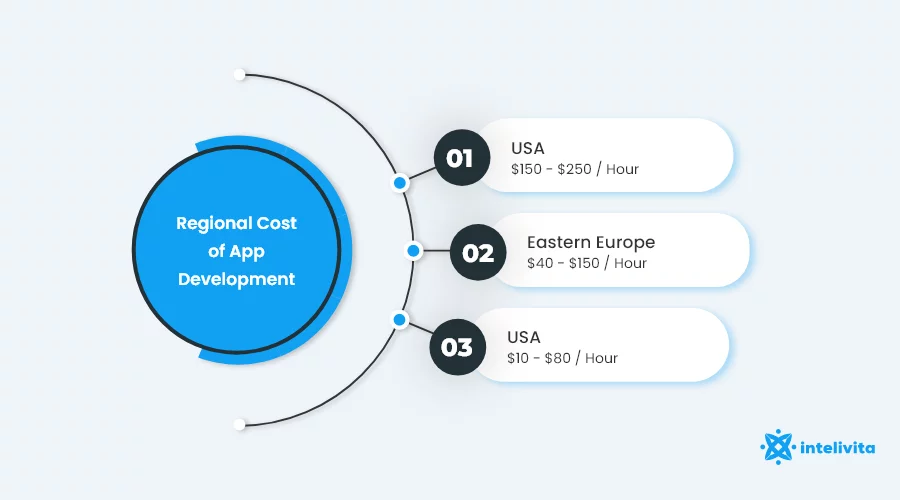 Another important factor that determines the app development cost is the geographical location. Depending on the region you choose, the development cost will differ.
In the US, the cost of development varies between $150 – $250 per hour
For the eastern European region, the developer charge is between $40 – $ 150 per hour
The developer rate in India is $10 – $80 per hour
On average, the total cost to develop a taxi booking app with basic features will come to around $40,000 to $50,000. The cost is subject to change when factoring in the geographical and other related aspects.
A breakdown of the taxi booking app development cost is as follows.
| | |
| --- | --- |
| Development Phase | Cost of Development |
| UI/UX design | $4,000 – $5,000 |
| Front end development | $13,000 – $15,000 |
| Back end development | $9,000 – $10,000 |
| Web development | $8,000 – $10,000 |
| Testing and QA | $8,000 – $10,000 |
On top of these, it's also a good idea to allocate some budget for marketing campaigns and other activities related to app promotions.
In the end, the aim of your business is to reach a wide audience and for that, you need to do promotions.
Tips to Build a Successful Taxi Booking App
The online taxi market is quite competitive today. How to create a taxi app that will stand out and be successful is a question that plagues many. The following tips can be helpful in figuring out some concerns.
Develop an MVP
An MVP (minimum viable product) is a basic version of the app with just essential functionalities. You can create an MVP and launch it into the market so that users can install and use it. It will help to improve your time to market.
Moreover, the user feedback will give you a good understanding of what's lacking in your app and how you can improve it. Thus, you can start building your final product that's tailored to the needs of your audience.
Keep it Simple
The most successful apps are not the ones that are saturated with features, but rather the ones that are simple and easy to use. Taxi apps like Uber are a good example of how simplicity is the best way to achieve success.
Have a Unique Vision
A unique value proposition is what will make your app stand out from the crowd. Think hard and fast about how to build a taxi app that's unique. What can you provide in your app that people will love and not get from anywhere else.
It could be affordable pricing, unique rewards, a ride within 5 minutes. Offer anything that you feel has a gap in the existing market and which you can cover with your services.
Find your Niche
Most people don't realise how there are multiple niches in the taxi industry. The electric taxis could be one niche which is suitable for people who prefer environment friendly means of transport.
Similarly, on-demand bike taxis can be another which might be preferred by individuals who feel hiring a cab is expensive. Another one is women-friendly taxis with women drivers. Think about different niches and choose one that will be successful in your target market.
Choose Monetization Scheme Wisely
You can choose several monetization schemes for your taxi booking app such as commission fee from passengers, service fee from taxi owners, third party promotion or advertisement charges.
Whichever method you choose, decide it before the development process begins. Also ensure that the monetization scheme doesn't adversely affect the user experience as it could lead people away from using your app.
Why Choose Intelivita for your Taxi App Development
Intelivita is an award-winning mobile app development company recognized by platforms such as Clutch, Goodfirms and Appfutura. We provide comprehensive mobile app solutions aimed to help businesses grow and expand.
Intelivita is leading mobile app development company based in USA & Canada. Check out our cooperation with Dorel Taxi, Intelivita developed ride-hailing app for Dorel Taxi, It allows users to schedule or instantly book the taxi or even go themselves on a drive and take others along.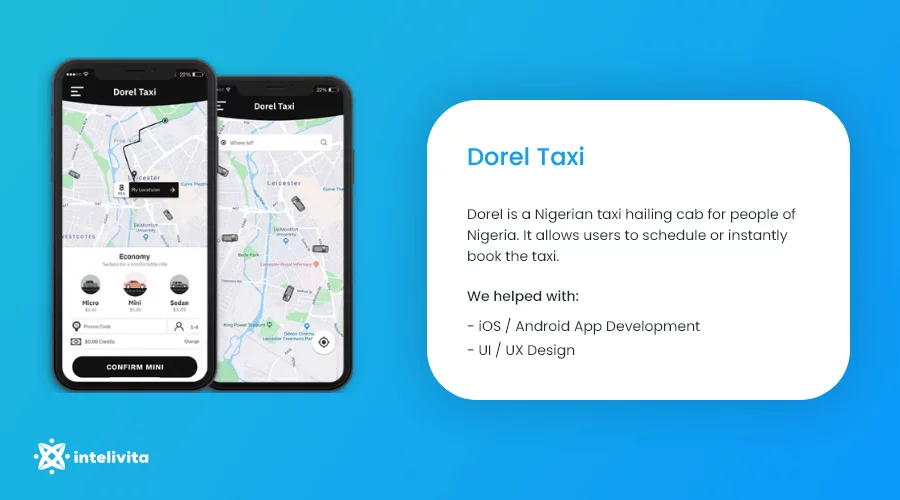 Whether you are a small business, startup, or large enterprise, we are the perfect mobile app development partner for you. Our expertise in blending technology and customer needs to deliver excellent results has landed us amazing clients who are satisfied with our partnership.
Taxi app development is one of our focus solutions. We are a top-rated taxi booking app development company and have partnered with clients across the globe to deploy successful online taxi solutions for their needs.
We help you develop a state of the art taxi-hailing app with exceptional features that meets all the user expectations.
We have a dedicated team of designers, developers, QA engineers and support staff who will help you throughout the taxi app development journey to ensure that you get a solution with perfect quality in your desired time frame.
Whether you want to know the cost of building a custom taxi solution or a cost estimation of apps like Uber, we can help you. Talk to our experts to know more.