Online food delivery services are one of the most lucrative business ideas with the highest chances of survival.
But, growing a successful food delivery business that matches the likes of Uber Eats and Grubhub isn't that simple.
Apart from choosing the right food delivery app development company, there are other essential strategies to get your own food delivery business off the ground.
If you have no idea where to start, this guide will walk you through the steps on how to start a food delivery business.
Why Start a Food Delivery Business?
You might assume that the food delivery business has slowed down as more customers are opting for offline dining.
Despite the change in customer behavior, the food delivery business is still growing strong and is here to stay.
As reported by Statista, the market is forecasted to experience a 15.1% increase in annual growth rate, accumulating to a volume as high as $473.50 billion in 2027.
Not sure whether starting a meal delivery service is the right move? A 29% revenue rise is expected from the industry in 2024 – so you're tapping into the right niche.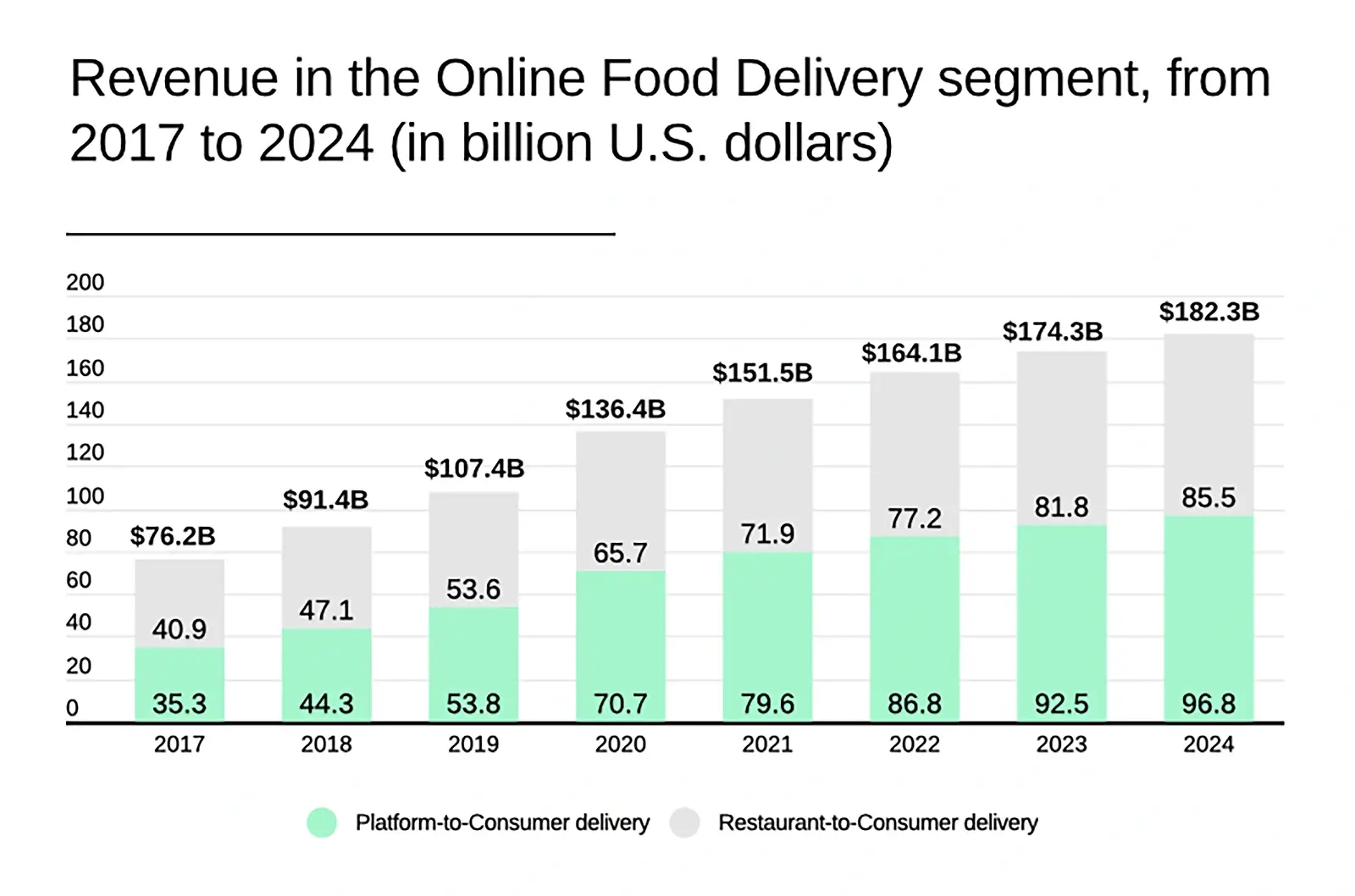 Source:
Exploding Topics
This consistent surge goes to show that now is the perfect time to act upon your business model. Make sure to seize this opportunity before it is too late!
7 Steps to Start a Food Delivery Service
Now that you know the potential of creating food delivery apps, let's find out the steps to bring your idea into reality.
1. Decide on the Right Business Model
Your business model decides the trajectory of your food delivery service toward success.
So, it's important to plan it out carefully and comprehensively.
In general, there are two types of food delivery businesses:
Restaurant Delivery
In this food delivery business model, you will deliver food from partner restaurants, which typically charge commission fees.
Also, customers may be subject to delivery and service costs.
While this solution promises a sizable market share, you will be competing against established names such as DoorDash and UpMenu.
So, come up with a unique selling proposition (USP) to set your business apart from the competition.
Meal Delivery
As opposed to a restaurant delivery, this business model focuses on delivering ready-to-eat meals or ingredients for homemade meals. As you'll need to prepare the food in-house, leasing a kitchen space will be a necessity.
Some companies that adopt this business model are HelloFresh and Mindful Chef. While the competition may be saturated, try offering a distinctive concept.
For instance, you can cater to a particular diet like vegetarianism, or a specific regional cuisine like Middle-Eastern food.
You can also tailor your business model based on the scope of the service you plan to provide:
Full service: As the name implies, the full-service model requires you to offer all ranges of services, including both restaurant and meal delivery. This business model will be ideal for those who want to capture customers across segments and scale their business in the long term.
Partial service: With this model, you can focus on either restaurant or meal delivery. If you're going with the latter, you can outsource the food delivery drivers.
On-demand service: Also dubbed as 15-minute delivery, the strength of this business model lies in how quickly you can deliver the food and how convenient the experience will be for customers.
2. Refine Your Plans and Secure Funding
Like any venture, you need capital to operate or even scale your business.
That's why it's important to create a clear food delivery business plan to secure funding from investors.
Here are several elements your business plan should have:
Persuasive Pitch Deck
Prepare a presentation that gives a quick and short overview of your business, including the problem you're solving, the customer segmentations you're targeting, and the features you're offering.
If you want to build an effective pitch deck, follow the guidelines from Y Combinator.
Minimum-Viable-Product (MVP)
An MVP is the pilot release of your product, consisting of basic, functional features.
The role of an MVP is to validate product ideas and generate early adopters.
Proof of Traction
Investors are more likely to fund a business if it shows promising growth.
Make sure to provide evidence that your business has paying customers, steady streams of income, and a low churn rate.
Financial Projections
Having detailed financial forecasts will give investors an idea of how you're planning to allocate resources.
It can even help raise the exact amount of capital your business needs.
It's essential to lay out:
In-depth quarterly projections for the next 3-5 years
Insights into key sources of income that will drive growth
Expenses and overhead
Risk management strategies
Future liabilities
3. Register Your Food Delivery Service
All businesses must register with the local authority if you don't want to risk getting legal penalties.
First, you'll need to select a business structure. A couple of options are available, such as:
Sole proprietorship – It refers to a business owned and run exclusively by one person.
Partnership – In contrast to sole proprietorship, the company is managed by multiple owners.
Limited liability corporation (LLC) – An extension of the partnership structure, an LLC separates the owner from the company.
Corporation – If you want to build a large business that shares its stocks to the public, opt for this option.
Depending on the nature of your business, you will also need to apply for specific permits and licenses.
For instance, you may need a food service license or a health inspection certification. Next, sign up for corporation tax.
For more information, visit irs.gov or contact the nearest agency for your legal requirements.
4. Set Up the Tech
Food delivery technologies are on the rise.
If you are not tapping into this advancement, you are missing out on a lot.
There are endless benefits to setting up a food delivery app for your business.
These include expanding customer reach, boosting order frequency, and maximizing your company's bottom line or revenue.
To build a food delivery app or platform, you can either hire an IT team or outsource the development to a trusted app development vendor like Intelivita.
There are several successful features of food delivery apps:
Order scheduling. Provide users the flexibility on when they can order food, whether it is the same day or the week before.
Delivery tracking. Give your customers insights into the real-time progress of their order – whether it's in the kitchen or on the way. Integration with Google Maps will also help customers monitor the location of the food.
Point of Sale (POS). A seamless check-out process that embeds a variety of payment options can help enhance conversions.
If you want your food ordering service to dominate the market share, pay attention to the following aspects:
User Interface (UI) and User Experience (UX). The UI/UX design should make it easy for the visitors to navigate through the app so they can instantly find what they need.
Gradual technological improvements. Collect feedback from your customers and release new features or optimizations that will excite them and bolster loyalty.
5. Come Up with Delivery Logistic Plans
As a food logistic service, your operation is the heart of your enterprise.
For a restaurant delivery business, partner up with as many restaurants to widen your reach.
If you run a meal delivery service, find a kitchen space suitable for food preparation, pick-ups, and storage.
Once the location is mapped, define the scope of territories you operate on.
The Food Institute reveals that most customers want their food to arrive in 40 minutes, so the ideal radius for a time-efficient delivery falls within 3.5 to 5 kilometers.
If you want to cover larger routes, set up delivery branches across several zones.
The next step is to organize food delivery drivers and vehicles.
Your business model determines whether you should build an in-house fleet or use a delivery partner.
If you hire drivers, you may need to provide transportation that comes equipped with thermal bags and an advanced routing system to optimize delivery speed.
And finally, protect your business assets to minimize financial loss in case unforeseeable accidents happen.
6. Assemble Your Menu
For restaurant delivery business, you just need to launch a food delivery app to display each restaurant's menu and fulfill customers' orders.
However, the process is a bit more complex if you're running a meal delivery service. Here are several factors that make a high-selling meal:
Good taste. Offer samples or discounts to customers so they're willing to try your dishes. Based on their feedback, you will know which aspects to improve from the food.
High-quality ingredients. You may source your food from local farmers if you are looking for organic materials, or local markets if you want to save your budget.
Well-packaged. How you present your food will affect customers' buying decisions.

Nowadays, customers are also aware of environmental causes, so resorting to eco-friendly packaging will present your business in a positive light.
More importantly, your menu should incorporate high-definition images, illustrative descriptions, and ratings or chefs' recommendations.
All of these elements will decide whether customers will make an order or close the app.
7. Promote Your Food Delivery Business
To attract more customers, promoting your food delivery app is a must.
But first, you have to know who exactly is your audience?
Let's say, you're targeting Gen Z.
In this case, find out where they mostly hang out and what marketing method works best for them.
Afterward, tailor your strategies accordingly.
Try out these proven methods to market your food delivery business:
App Store Optimization (ASO): Run paid app campaigns and follow the best ASO practices to increase traffic and downloads.
Digital Marketing: Increase your brand awareness through social media, paid advertising, search engine optimization (SEO), email marketing, and more.
Google My Business Optimization: Create a profile on Google My Business so that your business will show up on search, which will establish legitimacy in the eyes of customers.
Push Notifications: Engage customers with coupons and promotions and drive them toward a purchase.
It also pays to invest in a team of sales experts who will bring in more customers and partnerships for your business.
Ready to Launch Your Food Delivery Service?
The trends around food delivery are rapidly growing, and there's no better momentum to break into the market with your own business.
By following the guidelines in this article, from forming a business model to promoting your food delivery service, you are on the path toward profitability.
If you want to win the competition in this sector, it's important to provide customers with a robust food delivery app that can fulfill their needs.
Our team of tech experts at Intelivita is ready to help you build the food ordering solution of your dreams.
We wish your business the best of luck!