Introduction
The food delivery industry is undergoing phenomenal growth, especially post-COVID crisis. Post-pandemic, people choose to stay in the comfort of their own homes and order food online.
Online food delivery companies are well aware of this and choose various food delivery business models that ensure seamless and faster food delivery coupled with innovation in features and other services.
Convenience is one of the major factors in deciding on-demand food delivery business models as it can create an impact amongst the customers.
But, the rising competition with an increase in the number of food delivery apps would mean that there are all the reasons why you need a food delivery app by choosing from the range of food delivery business models.
According to figures, online meal delivery revenues are expected to reach $220 billion by the end of 2023.
This segment generates approximately 40% of all restaurant sales. Online meal delivery services took 13% of the U.S. restaurant business in Covid-19, according to Statista.
Transform your food delivery business with our innovative food ordering app development services.

Let us help you create an app that will wow your customers and drive sales. Book your free consultation now!
Few Stats on Food Delivery Business Model
At least twice a week, 60% of US customers place an online food order.
57% of millennials want meals delivered to their homes.
CAGR (2022-2026) revenue growth of 8.38 percent is estimated, culminating in a market volume of USD 474.30 billion by 2026.
For Platform-to-Consumer Delivery, the biggest sector, the market is expected to be worth $217.80 billion in 2022.
ARPU (average revenue per user) is expected to reach US$177.10 in 2022 in the Online Food Delivery sector.
By 2026, online food delivery consumers are estimated to reach 2,691.0 million.
Types of Food Delivery Business Models
In this post, we will look at all of the different types of food delivery business models available to your business.
As a food delivery startup, you need to know that each model has pros and cons. Choosing the right model would require knowing what works best per your business plan.
If you are looking to enter this market anytime soon, it is best to have a thorough grasp of its business strategy before you do so.
Looking to start your food delivery business but not sure of the model?
Check with our experts and we will help you get started.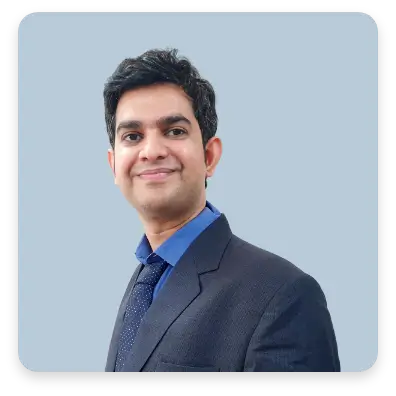 Let us check those out.
#1. Order Only Business Model OR Platform To Consumer
For new startups, this is an excellent business plan to follow. Here, the application business can link customers with various restaurants and cafes. App owners give a platform for eateries to list their food delivery services and connect with customers.
In turn, restaurant owners manage the delivery services themselves. Your on-demand food delivery app development is solely responsible for taking orders from customers and distributing those orders to the eateries.
However, this is a company strategy that relies only on orders. For consumers, delivery is a service provided by the restaurant or a third-party courier service.
Remember, the logistics are out of your hands as an app owner. Rather, your work involves being an intermediary between the restaurant owners and their customers through this application.
Consumers may then place an order with one of these partner restaurants, and the meal will be delivered by a rider employed by the restaurant or by a third party.
Typically, you can expect to get a 20% to 30% cut of the order value, on top of any shipping costs that may be incurred.
A typical order workflow in this model will be as follows:
Customers can leverage your apps or a website to place an order.
Further, you would place an order by sending it to the nearest restaurants via an app notification.
Once the restaurant gets the order, it will confirm the same, and consumers will be notified.
It is possible to print orders to the kitchens via a POS system and attach them to the order box.
Once ready, the delivery person assigned to the order will come to pick up the order at a restaurant.
Pros
Cons
1. The low share portion of the aggregator reduces the cost for customers.
1. This business model offers few food selections as an app can only list restaurant-prepared items.
2. Such a mechanism for a mobile app offers faster e-solution for small restaurants and takeout kitchens to make them more scalable.
2. You have little to no control over the food's quality or packaging.

---

3. If consumers are unhappy with the food quality, your business brand may get affected negatively.
👉 Challenges
The major challenge is to overcome the competition. Therefore adding more restaurants to your portfolio may be difficult. Also, you cannot jeopardize your brand by adding less well-known restaurants.
You will need resources to create effective sales presentations for onboarding restaurant chains. So, a lot will depend on how you present rather than the business idea itself, operating in a competitive market.
Here, the challenge involves finding the right USPs of your app to onboard more restaurant owners.
💰 Monetization Options
For starters, you can employ a model based on commission. Here, you can set a price for restaurant owners and charge them for each order made via your app.
And then, you have the option to go with a feature-listing approach where restaurants pay a fee to have their businesses listed in the top-feature list.
Examples – Grubhub, Seamless, Foodpanda, etc.
#2. Order With Delivery Business Model OR Delivery Service Aggregators
In this food delivery business model, the logistics are handled the same way as in the previous business model. As a result, the app owner accepts and delivers meal orders from the app's users.
In this arrangement, restaurants don't have to worry about maintaining their fleet of vehicles. Because the app already has a large client base, it may also reap the benefits of that customer base.
Delivery of meals to customers' homes is handled by a single app developer working with a number of different third-party delivery services.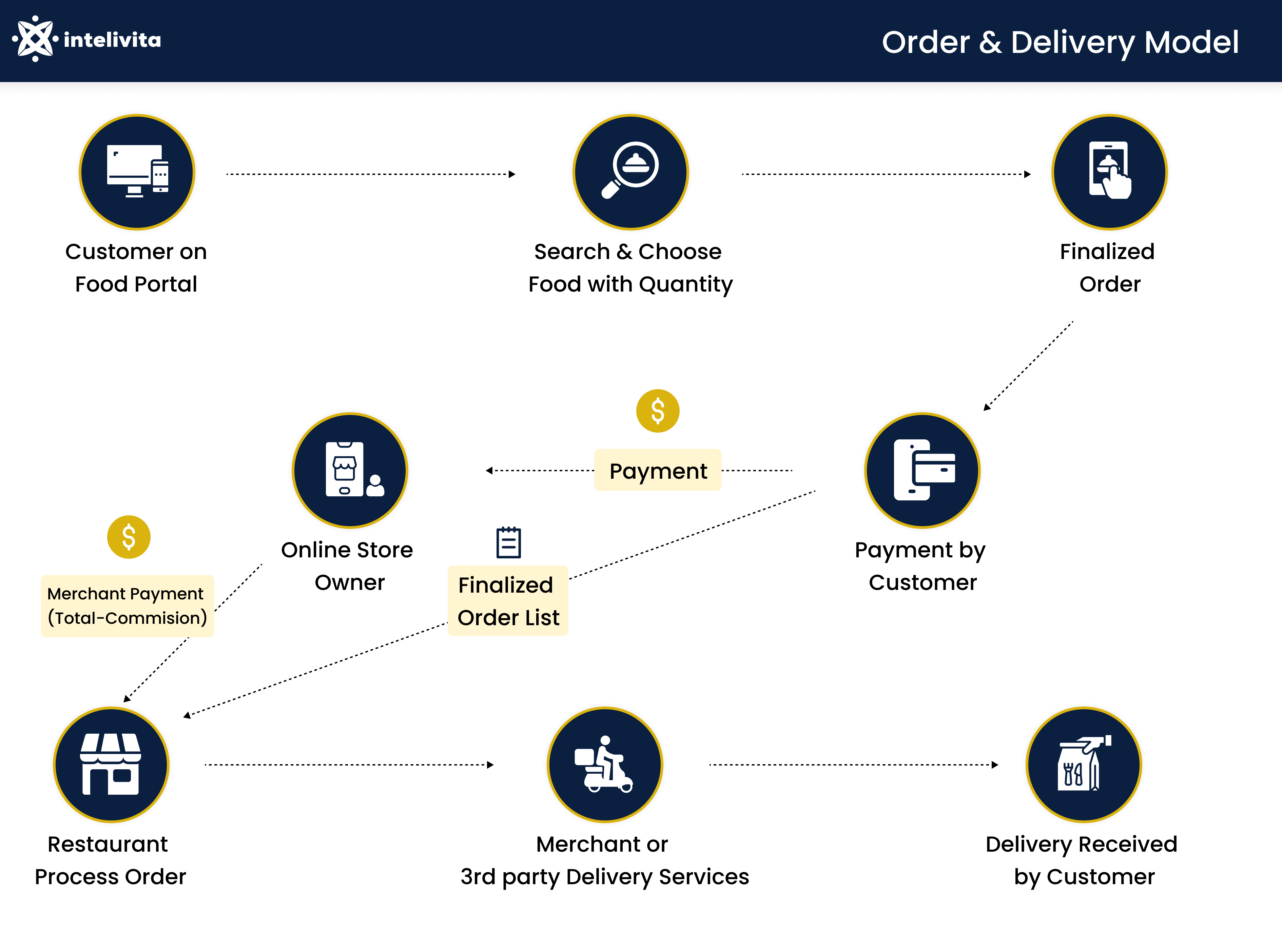 You can also include delivery modes as a part of this process. It can be point-to-point or milk-run delivery.
A. Point-to-point: The rider picks up one order from one restaurant and brings it to one customer.
B. Milk Run: Numerous orders are collected from a single location and delivered to multiple consumers by a rider in this model. Here, you create a delivery person for frequent deliveries. Each delivery partner has a predetermined path that they must follow to make all of their deliveries on time.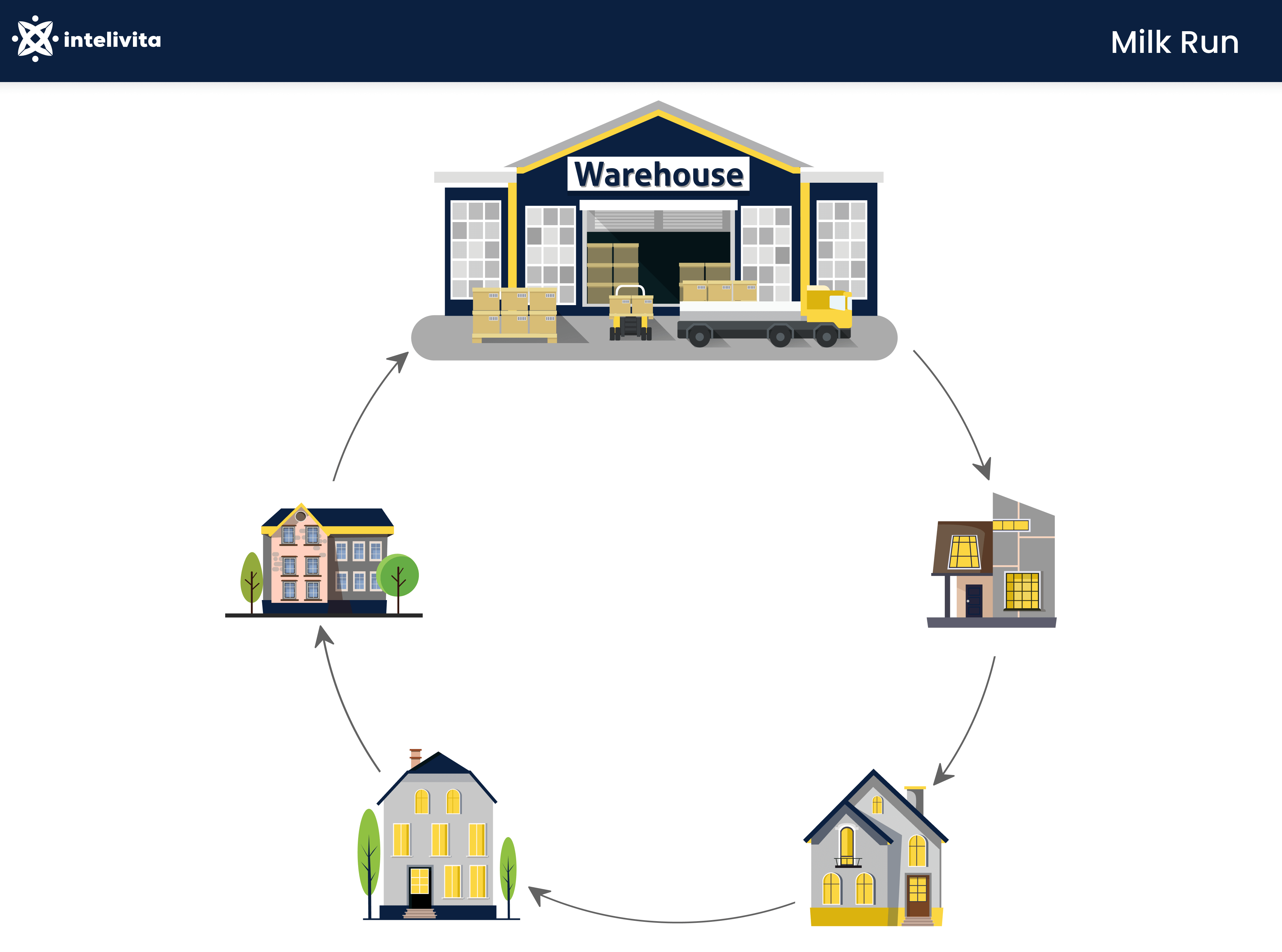 A typical workflow under this model involves
Customers browse the menu and place their orders using an app.
Customers get the notifications via email or text message whenever there is an order update.
As soon as the order is ready, the restaurant will send a message out to its network of messengers, including the rider, customer, and your business admins.
The delivery will be picked up by a nearby rider who has accepted the order.
Here, customers will be charged a delivery cost depending on their location.
| Pros | Cons |
| --- | --- |
| 1. The range of offerings and an integrated delivery mechanism are better than the ordering-only platforms. | 1. You rely more on the delivery partner than the restaurants. Here, they need to be well-trained and ensure top hygiene as delays or mismanagement with the packing may – detract from the user experience, leading to dissatisfied customers. |
| 2. An integrated ordering and delivery mechanism in their control allows you to maintain quality and delivery timelines. | 2. You will need to hire additional delivery persons during peak lunch hours to ensure covering a greater distance with faster deliveries. |
👉 Challenges
It becomes more difficult for you to locate resources and form your own logistics team. If you do this incorrectly, you may hire inept leaders who will not be able to keep up with the delivery pace.
The brand's reputation is tarnished if the stated delivery time is not met. As a result, this is the biggest and most significant challenge that you need to overcome.
💰 Monetization Options
First, you can charge registration amounts to customers who want to sign up for your app under this on-demand delivery model. Alternatively, you can offer them free delivery.
Secondly, you may charge clients for delivery costs (especially those who are not premium users).
The third option is to implement a subscription model in which you give clients free delivery and exclusive discounts in exchange for a membership.
You might provide feature listing bargains as an incentive when it comes to restaurants.
Examples: UberEats, Swiggy, etc.
#3. Full-Stack Model
A business opting for a full-stack food delivery model performs everything on-site. To do this, you'll need to do more than just creating an app or hiring delivery drivers.
Often, you will have ghost or cloud kitchens cooking the meals. The primary aim of these facilities is to prepare meals for delivery and not facilitate dine-in. It is possible to create meals at lower-cost locations while merely paying for the kitchen in these "cloud kitchens."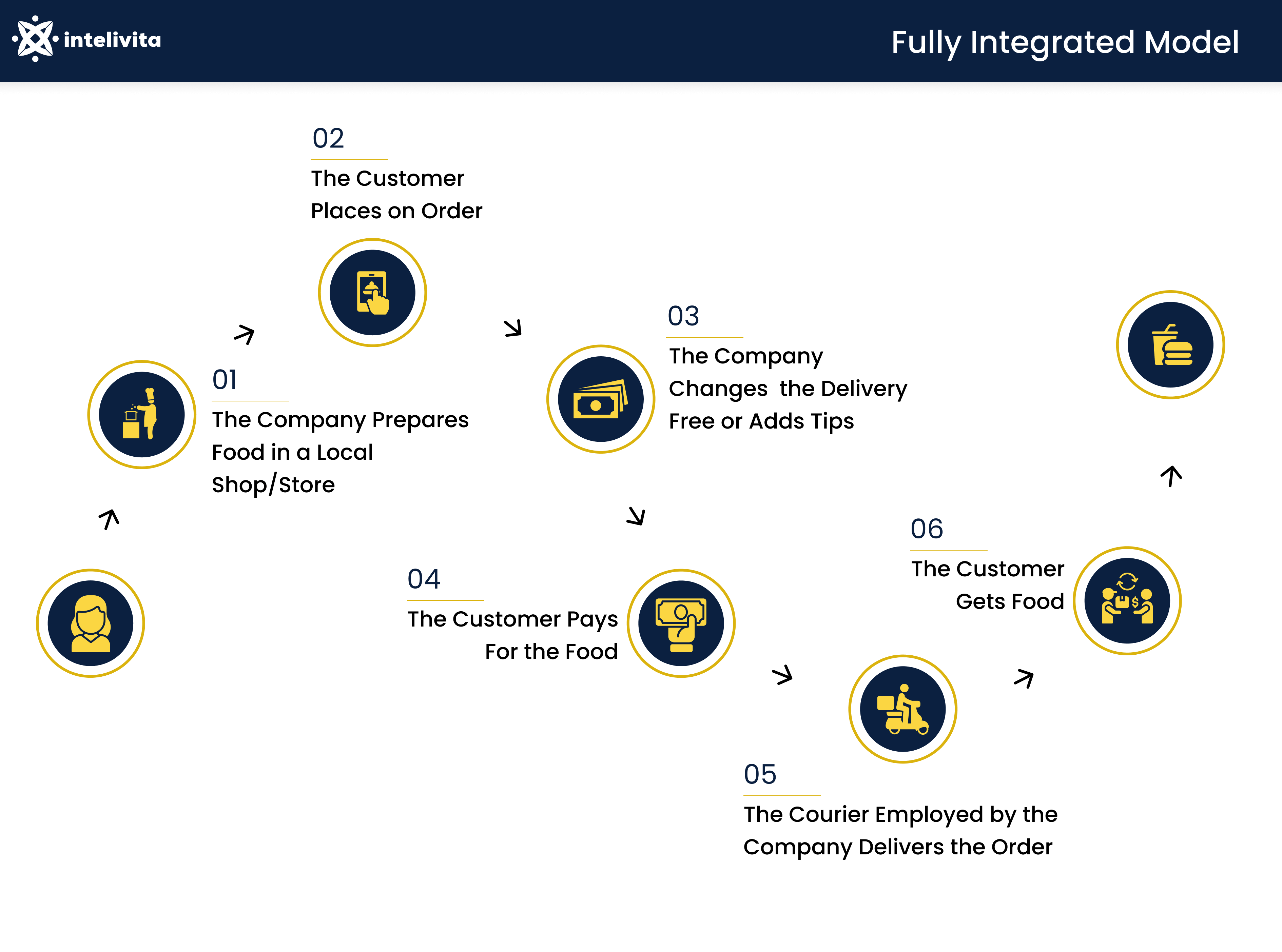 Individual customers and business clients, both, can adopt this platform. This model offers customers a higher degree of customization as they can create metabolic meals, run special corporate meal programs, and deliver nutritious treats straight to workplaces.
In contrast to the other two business models, the admin is the only owner of the cloud restaurant, which employs a staff of cooks and delivery drivers. This means that a restaurant owner's on-demand food delivery app will have all the admin functions built right in.
How Do Such Apps Work?
Provide in-app food menus to customers to decide on their orders.
Once an order is placed, a notice is sent to the cloud kitchen.
Once the order is complete, the restaurant's courier brings the meal to the customer's door.
Pros
Cons
1. When you have a single entity taking care of everything from ordering to cooking to delivering the food, it is easier to find bottlenecks and address them swiftly.
1. Since the restaurant retains complete control over its menu and pricing, it may make changes.
2. There is no need to rely on a third party to enhance the user experience while using this approach. Your business runs everything in this startup food delivery service.
2. This model requires a high setup cost as one service provider has to take care of all the food preparation and delivery.

---

3. Lastly, because courier costs are so high, this business model makes it hard for many businesses to make money.
Ideally, you can look to find the right investors to ensure cost-effectively providing uncompromised services.
👉 Challenges
You will have a tough time finding investors to help you get your firm off the ground. As a startup, you risk failing if you don't have the money upfront.
You'd have difficulty luring consumers to your app without marketing efforts. Therefore, consider having a separate marketing budget initially when you start with this option.
💰 Monetization Options
Depending on your company strategy, you may choose your delivery price. Both restaurant owners and your business share the profit margin. This is something that you can choose to split into the desired ratio.
Create premium features like diet customization, pre-scheduled delivery, etc., to make your app more appealing to your customers.
Examples – SpoonRocket, Doordash, etc.
Which Food Delivery Business Model To Go For?
It is important not to get confused with all three models. The first model will have a restaurant with its delivery boy. The second model will have delivery persons, restaurants, and app owners working individually.
This means the order will go to the restaurant, and the delivery person will bring it to the customer. The owner of the business model, i.e., the app owner, will get a cut of the money.
For the third model, the owner will run everything from a restaurant to a delivery boy. Here, you will be responsible for everything, from cooking the food to delivering it.
The delivery-only platform is more advantageous in terms of money generated for the app's creators.
Choosing this from different types of food delivery business models is ideal as it is simple to charge the restaurant partners a fixed fee to process each order submitted via the app. Alternatively, customers may be charged a delivery cost based on their location.
On the other hand, some restaurants favor this business model since it eliminates the need for logistics. The app owner handles all of the delivery services in this scenario.
As a result, restaurants just have to worry about preparing their food, and the rest is taken care of by a third party.
As discussed above, all three ways to run a business that delivers food have their own pros and cons. Do a lot of research on your business idea and choose the one that will work best for your new food delivery business idea.
However, it is crucial to work with a mobile app development business with a proven track record of success.
Also, it helps identify the most effective business strategy, especially when you have a trusted food delivery app development company that helps your business stand out from the crowd.
Want to build your own Food Delivery Business?
Think of creating a food delivery application that provides end-users with an effortless navigation experience. Therefore, you need to follow all the necessary elements of the on-demand food delivery app and follow the ideas of some of the top food delivery apps in the market.
In terms of hiring an app development company for your food delivery business, check for those who have experience doing so.
This will provide your app with seamless UI and the desired UX that increases usability, helping you to take advantage of your preferred food delivery app model.
Before settling on a business model and a meal delivery service, consider things like consumer convenience, alignment with your company's aims, and the extent of technology improvements.
Therefore, if you are still struggling to pick the right model, speak to our on-demand food delivery app experts at Intelivita. We have a wide array of technology stacks coupled with an experienced team to get you started on the project.
When you speak to us, we ensure an NDA is in place that guarantees your business ideas remain intact with us. Our experts will help you figure out the best ways to start a food business online. So, let's connect!