Are you a startup founder, serial entrepreneur, product manager, or technical co-founder wondering how much software development costs?
If yes, then continue this article as we'll discuss the different ways of costing your software. Depending on the complexity, here's how much we'll create your solution:
Basic complexity: $10,000-$40,000
Average complexity: $45,000-$60,000
Advanced complexity: $75,000-$180,000
However, there's more; these software development prices are not finite, as numerous factors affect them.
This article will discuss the complexities of custom software development costs.
Other points we'll discuss here are:
What is software development?
How much does custom software solution cost?
Factors affecting custom software development pricing
Hidden bespoke software development cost to consider
And more.
Perhaps you have a preference for pictorial description over text, then check out our infographic section for images on the cost of software development.
Let's discuss the subject matter in detail without further ado:
What is Software Development?
Software development is creating a business hypothesis, identifying technical needs, designing, coding, testing, and launching applications to power a specific system for that problem.
In planner terms, it entails the creation of a web app, mobile application, or any computer system.
Before we detail development costs, it's imperative first to know the types of software to categorize your needs appropriately:
Types of Software
The widely available mobile software are split into three categories:
Each software type is distinct from the others. Let's break down what each one entails:
These are applications tailored to work primarily on a specified operating system.
For example, software that works primarily on the Android or iOS operating system. Most in-house enterprise software fits here.
This is mobile software created via a single codebase and usable across multiple operating systems.
Quite often, this hybrid mobile software is built by JavaScript frameworks like react native and are known to minimize cost for those aiming to launch on two or more operating systems.
Our app development services use react, and angular to guarantee a resilient and robust framework.
These are web applications, and they're accessible via a web browser with an internet-connected device. HTML, CSS, and JavaScript are the primary tech stack used to create web apps.
Intelivita is a leading software development firm that helps you align your software infrastructure with the latest trends using the best modernization approach.

Book a 30-minute FREE consultation with us to give a digital upgrade to your software project.
Now that you know the types out there let's discuss the average cost of custom software development:
How Much Does Custom Software Development Cost?
The cost of developing custom software ranges between $40,000 and $160,000.
As opined earlier, this cost is concise and only provides a range for software development price.
The actual development cost depends on the development agency's pricing structure, which the common ones are:
The complexity of the solution
The type of app
The software development team type
The location of the development team.
Let's briefly break things down:
Cost Defined By the Software Complexity
The complexity of software is its specific characteristics, and how it interacts with other components within the product. In planner terms, it's how sophisticated your software is.
For example, the Grammarly software is more complex than the Online Calculator software as Grammarly has complex algorithms cross-checking user data with multiple server-side information. Online Calculator is a software executing basic arithmetic functions.
Based on complexity, building a mobile app is undoubtedly more expensive than a simple blog. Here's a software development cost breakdown per complexity:
| | | |
| --- | --- | --- |
| Product Complexity | Estimate Cost | Example |
| Basic | $30,000 | Online calculator |
| Average | $100,000 | Uber |
| Advanced | $200,000 | Grammarly, Salesforce, etc. |
Another model of costing software price is the team type. Let's discuss:
Cost of Software Development Defined by Team Type
Another software building costing model is based on the development team. The table below will provide a cost comparison based on 4 team types.
For illustration, we'll assume that you're creating software of average complexity:
| | |
| --- | --- |
| Team Type | Cost |
| Local development company, US | $200,000 |
| In-house developers, US | $220,000 |
| Freelance developers | $150,000 |
| Offshore software development agency, India | $100,000 |
Wondering what each team type entails? Let's break it into detail.
In-House Development Team
An in-house team is an employment model where your company directly recruits needed talents via corporate hiring means and maintains them as full-time employees.
Here are the pros and cons of this hiring model:
Pros
Cons

In-house teams are readily available to work on modifications, upgrades, and revamps.
These development teams have a better understanding of the startup needs.

Hiring in-house teams for software application development has lots of hidden costs.For example, you'll buy equipment, maintain your office, pay bonuses, Taxes, etc.
Average recruitment cost is 20-25% of the first-year salary. However, it can range to 40% in a few cases.
You'll pay for unproductive hours.
Local Development Team (US)
A local development team is a software development firm located in your host country.
That is, a startup in the USA, outsourcing to a vendor in the same nation. This option is often the first choice for most startups due to its nearness. However, there's more to this option, as its cons as equally noteworthy.
Here are the pros and cons of hiring a local development agency:
Pros
Cons

The development team has cultural and language similarities with the startup's workforce.
Same legal jurisdiction makes it easier to pursue a breach of contract.

It's costly, especially for startups in the UK, US, Canada, and Australia.
Freelance Software Developers
This type of developer works independently on different projects on contract.
They're not employees of any organization and can ditch your task mid-way at their earliest inconvenience.
Here are the merits and demerits of hiring freelance programmers:
Pros
Cons

They're relatively cheap to hire.
You'll have an option of hiring from a global talent pool.
They offer top-notch flexibility.

They can ditch your project without prior notice.
They can be unprofessional with their approach, deadlines, etc.,
They can divulge sensitive information about your business model to a competitor.
Offshore Software Development Agency
This is a software development firm located in another country with expertise in creating web and mobile apps for investment-backed startups around the globe.
These firms have a pool of rare and experienced talents and can offer important insights.
Here are the pros and cons of offshore software development agencies:
Pros
Cons

They're the most cost-effective option, as they offer a perfect mix of cost and quality.
They have a large talent pool and can provide developers at prompt.
It eliminates recruitment costs.
They offer flexible contracts, e.g., monthly fees, little upfront payments, etc.
They offer affordable access to programmers with rare coding skills.
They've worked with startups in multiple niches and can offer deep insight into development processes.

Time zones and cultural differences can make communication restricted.
Lack of legal jurisdiction makes it difficult to sue for a contract breach.
Now that you know the types of engagement models that are available, which is the best?
Verdict-Which Software Development Hiring Model is the Best?
Although every option above has its pros and cons, an ideal choice, especially for startups in high-income nations, is opting for an offshore software development agency.
But ensure you both agree to a well-laid-out communication model and opt for a vendor with a track record of delivering completed projects.
📊 Here are some statistics that support our stance:
For top-notch cost-effectiveness, it's best to opt for a software development company in India for the following reasons:
From the price per country table above, it's undoubtedly that software development cost in India is lower than most countries, this makes it the most prudent choice.
Now that you know the options available let's discuss the factors that might affect how to calculate software development cost estimate:
What Factors Affect Software Development Cost?
The prices above aren't finite, as certain factors may still influence the total cost. These factors are:
The complexity of the software
The seniority of team members involved in the software creation process.
Let's break each point down:
Factors That Affect Cost of Software Development
Your software development cost estimate may differ widely based on several factors. Some of these are:
Product complexity
Software size
Seniority of developers
Level of technology
Reliability level.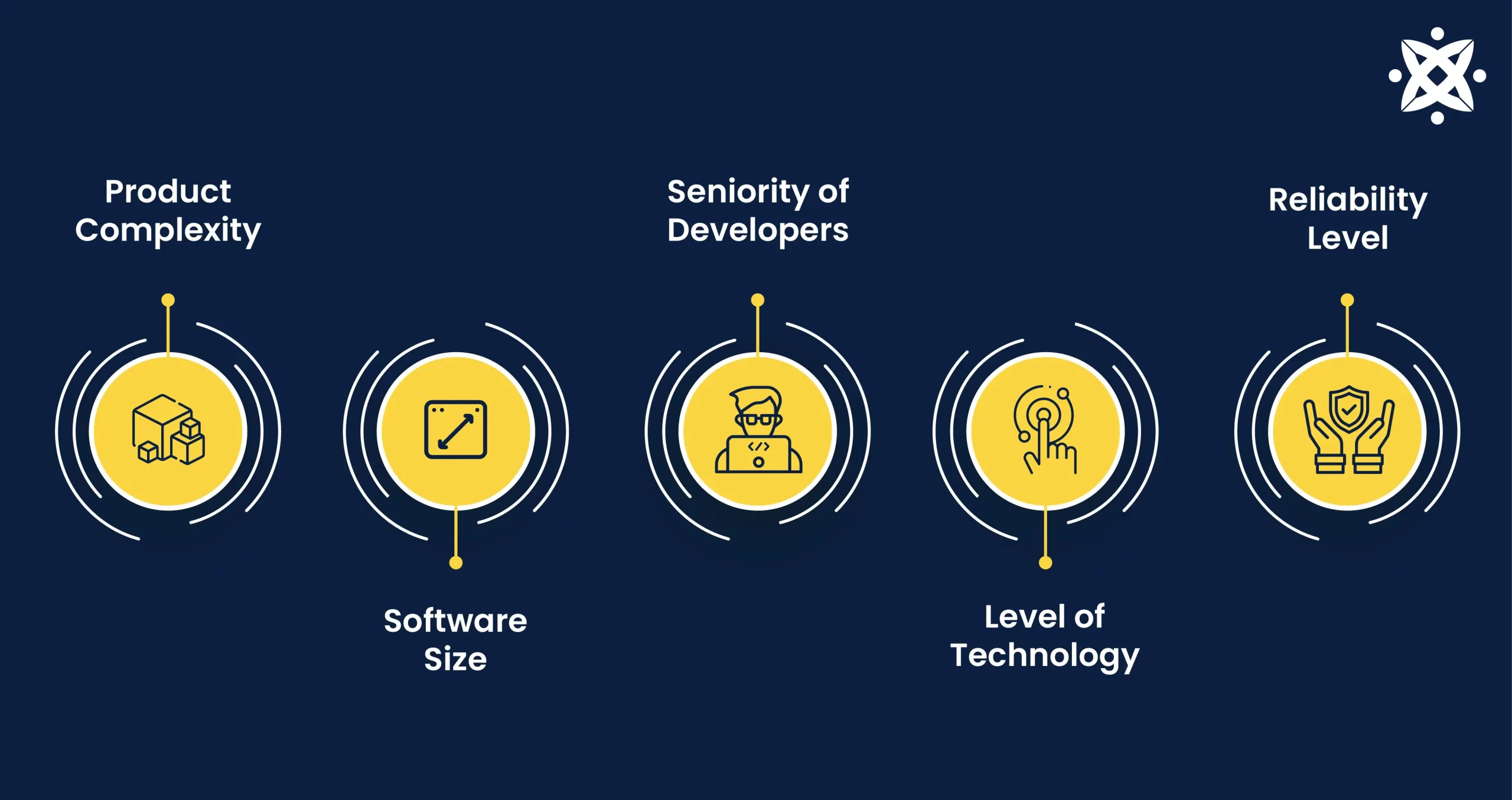 Confused? Here's how they impact software development prices:
Factors
How they Impact Final Cost
Complexity
As explained earlier, complexity is the number of user roles, entities, components, external APIs, rate of data migration between server and software, and functionalities within a software.

Complexity affects software creation prices by increasing the timeline, the number of developers required, the team composition, and the number of compliance laws needed to be adhered to.

For example, a complex SaaS software solution like Grammarly costs over $300,000 to create, while a basic CRM SaaS solution costs just $35,000.

Size
This refers to features, functionalities, and pages in the software. For example, software with over 50 unique pages costs more than one with a meager ten pages.

This is because the software development project cost of making creative design for 50 pages is more, because time must be spent coding every page's character.

Developers' seniority
Here's how the cost of hiring a software developer differs per country:

Senior developer–$120/hr
Mid-level developer–$80/hr
Junior developer–$40/hr

As you can see, hourly rates differ per seniority. Thus, a team with composition of only senior programmers will cost more than one will all.

Level of technology
Technology costs refers to the expenses incurred using specific stacks or hiring experts in a tool used in analyzing, designing, coding, testing, deploying, and monitoring software.

For example, using blockchain technology in software development costs a lot due to the rarity of experience in this stack. As such, you'll have to pay extra to hire a professional in solidity programming language.

Also, cloud hosting costs more than traditional server hosting due to the exorbitant AWS, Azure etc., fees involved.

Deployment on multiple operating systems will also sharply affect cost.

Reliability level
Reliability entails how valid codes are written, their robustness, features completeness, UI/UX design, consistency etc.

A highly reliable new software requires more cost and effort; development agencies charging a meager fee are likely developing inconsistently.
How much these factors will influence your product cost are somewhat difficult to estimate.

As such, you should click here to speak to our sales department and get a free precise cost estimate.

We offer software development services to help bring your idea to life.
Key Tips to Accurately Estimating Custom Software Development Costs
Tip 1: Breakdown the Task
Dissecting tasks into smaller bits helps give a better overview of the software project requirements. It gives you an understanding of what questions to ask your development team.
Assuming you want to create a landing page, and you're making a rough estimate of an 8 hours development timeframe.
Chances are high that you're wrong, as the only way to accurately know your developmental time frame is by breaking down the task.
Here's an example of how to break down tasks for better software development price estimates:
| | |
| --- | --- |
| Tasks | Timeframe (Hours) |
| Create a CTA section | 4 |
| About us section | 2 |
| Services section | 4 |
| Contact us form | 4 |
| Total Hours | 14 |
As you can see, your initial custom software creation price estimate of 8 hours is not correct as more time is needed to develop your solution than you initially allocated.
However, if you don't know the steps required to create your solution, then to get answers to the question of "how much does software development cost," you may have seek clarification from technical experts.
Tip 2: Ask Questions When Confused
Having a proper understanding of the development process is vital to having an accurate software development estimate.
Seek clarity to any confusing development aspect, and you'll be better acquainted with how the cost of software development is justified.
Tip 3: Confine With the Software Development Team
Hold meetings with the in-house technical team for a better understanding of complex procedures in your software development task. They'll provide insight into potential pain points, features, functionalities, and other intricacies.
Without an in-house technical expert, hire a CTO on demand for guidance. As long as you've chosen a seasoned software development team with a robust portfolio, believe that you'll be provided with the best quality solution using the best tech stack possible.
For more in-depth knowledge, you should first find out the following:
Is the project a new idea that requires a top-notch logic pattern and advanced technologies?
Are all requisite tools available, or they'll need to subscribe for paid stacks, e.g. Azure, AWS?
Do team members have a proper understanding of expected requirements?
Tip 4: Keep Tabs on Extra Software Prices
It's imperative to have the actual development process in mind for precise custom software cost estimation. These extra payments include:
Pre-development expenses
Revisions
Bug fixes
Deployment fees
Testing.
These processes are unavoidable when carrying out a custom software development price estimate.
Steps to Developing Custom Software
The steps involved in creating custom software vary per the software complexity, requisite compliance laws, and preferences of the software developers:
Ideally, the generic steps to software development are:
Research your business needs
Outline technical requirements
Create wireframes and mockups
Write codes using requisite tech stacks
Perform QA tests
Launch the software.
Let's discuss these steps:
Steps
Description
Research Phase
Here, the development team holds briefs with idea owners or startup founders.

The project manager coordinates meetings to identify the business and technical requirements to create the desired business model.

For optimum results, this phase should entail:

Understanding the software idea
Identifying prospective users
Creating a project workflow.

Creating Blueprint outline
A blueprint is a technical document detailing the requirements to create the desired software. It contains features, milestones, functionalities, and deadlines.

Consider the blueprint an actionable guide for developers and QA testers.

It also outlines compliance laws for the product.

UI/UX design
The UI/UX design phase is where a designer uses deliverables from the discovery step to create a pictorial view of the interface.

The design here depicts every image, icon, button, navigation, and feature in the software. It guides the coding process–particularly the frontend developer.
Once concluded, the next phase of software creation can then start.

The deliverable for the next step is the wireframe showing the aesthetics of the software, and the interactable prototype to detail real-life user experience.

Having a prototype helps to highlight compliance, physical, and technical constraints, making the product more usable, efficient, and responsive.

Below is a list of activities here, and the required hours for creating a software design:

Mindmaps–20 hours
UX design–60 hours
UI design–40 hours
Total design hours–120 hours.

Coding phase
This is the most technical aspect of the software creation process. We'll avoid the technicalities of this aspect as your development team will take care of its intricacies.

The factors determining the ideal deliverable here are the tech stacks, UI/UX design, developer skills, and business needs.

The deliverable here is either an MVP or a full-scaled product.
The activities and required hours for software of average complexity are:

Software architecture–25 hrs
Backend–175 hrs
Frontend–200 hrs
Debugging–30 hrs.

QA tests
QA testing is verifying a solution's scalability, security, performance, and usability overall deliverable to ascertain its best quality.

Performance testing
Functional testing
Regression testing
Acceptance testing
End-to-end testing
Unit testing
Integration testing.
Beyond the core development process, there are other costs to consider. These costs, if underrated, may impact your products' reliability and existence.
Let's discuss them in detail:
Hidden costs in software development refer to fees and expenses not typically calculated in the initial building price.
The most popular ones are:
Maintenance cost refers to expenses to keep the software running, fully functional, and in tune with technological improvements.
Your budget for software maintenance should be 2x your development cost.
The bulk of the cost will be on:
Web hosting services
Domain name and SSL certificate (for Web and SaaS)
Email subscription
User experience modifications
Tech support from frontend developers, backend programmers, and DevOps.
This is the average cost of propagating your software so it reaches desired users.
For top-notch effectiveness, it's best to have a software marketing that 2x-3x your initial development cost. I.e., if the cost of custom software development is $100,000, then yearly marketing budget should range between $200,000 to $300,000.
This can even be higher, PayPal for example, spent over $2.4 billion on marketing alone.
Marketing cost will be spent on:
Off-site, and on-site search engine optimization
Social media marketing
Information architecture
Email marketing
Content sales funnels
PRs
Marketing team expenses.
Both costs are easily underrated, but can make or mar your business. As such, it's best to include their budget in your overall software development cost.
Tips for Minimizing Software Development Costs
Perhaps you've estimated software development cost for your idea, and it seems unrealistic, here are tips for reducing the price to the barest minimum:
Tip #1: Use a Full-service Offshore Software Development Agency
A full-service software development firm has offerings to assist in testing the viability of your idea, verifying its acceptability with your target market, and providing in-depth insight on risks.
By going offshore to hire one, you'll be accessing a talented team at a cost-effective price. For example, hiring from India lets you access a global pool of expertise at half the software development cost per hour of US developers.
Tip #2: Prioritize Discovery Phase
Your discovery phase, also called the research stage, is where you research the business model, estimate its cost implication, and understand its technical requirements.
This reduces software development time and costs expended in creating features and functionalities.
Tip #3: Create an MVP
An MVP is a test product built to understudy an idea's acceptability within a target audience, the business model's viability, and its overall success per requisite KPIs.
MVPs help you with real-time user feedback; you can create a full-service solution with all features and functionalities you plan to offer prospective use.
Tip #4: Hire Dedicated Developers
Alternatively, if you'd rather opt for the in-house option, then it's best to hire dedicated app developers from an offshore vendor. They'll provide you with top-notch talent, at a cost-effective price.
For those wondering how much does it cost to develop a custom software, we're pretty sure we've answered your question.
Custom Software Development Cost at Intelivita
Want to cut down to the chase and get a precise cost estimation for your idea?
Reach out to our sales representatives.
We're a full-service software development company with numerous positive testimonies as proof. Through agile methodology, we'll develop a solution that meets your business needs in a cost effective manner.
Doubt our pedigree? Then check out our page on Clutch, our portfolio, and case studies of past projects.
Bonus Infographic
Here you'll find highlights of our in-depth guide to the "Software Development Cost" in a visual depiction.

Hire dedicated software developers at half the price of programmers in your country.

Our developers are seasoned, and can offer insights to improve your workflow and architecture.