Are you in search of optimizing your current software infrastructure?
Or do you find yourself struggling to define your software-related problems or needs? – If yes, then you are in need of software consulting services.
Considering your requirement in this blog we discuss the following aspects:
What are software consulting services?
The role of software consulting companies.
What are the benefits of software consulting?
Tips to hire software consulting companies.
So, if you are an entrepreneur, IT manager, CTO, or project manager looking for advice, support, or guidance in various aspects of software consulting services, then stay tuned and keep reading this blog.
Let's get started.
What is Software Consulting Services?
Software consulting services is often referred to as an expert guidance, advice, and support related to software development, technology, and IT solutions to the organizations looking for digital transformation.
These services are typically offered by specialized firms or individuals with extensive knowledge and experience in software and technology.
The popular examples of software consulting services providing companies are IBM, Deloitte, and Intelivita.
So, after knowing the definition let us move to the next section that provides insights on the role of software development consultancy.
The Role of Software Development Consultancy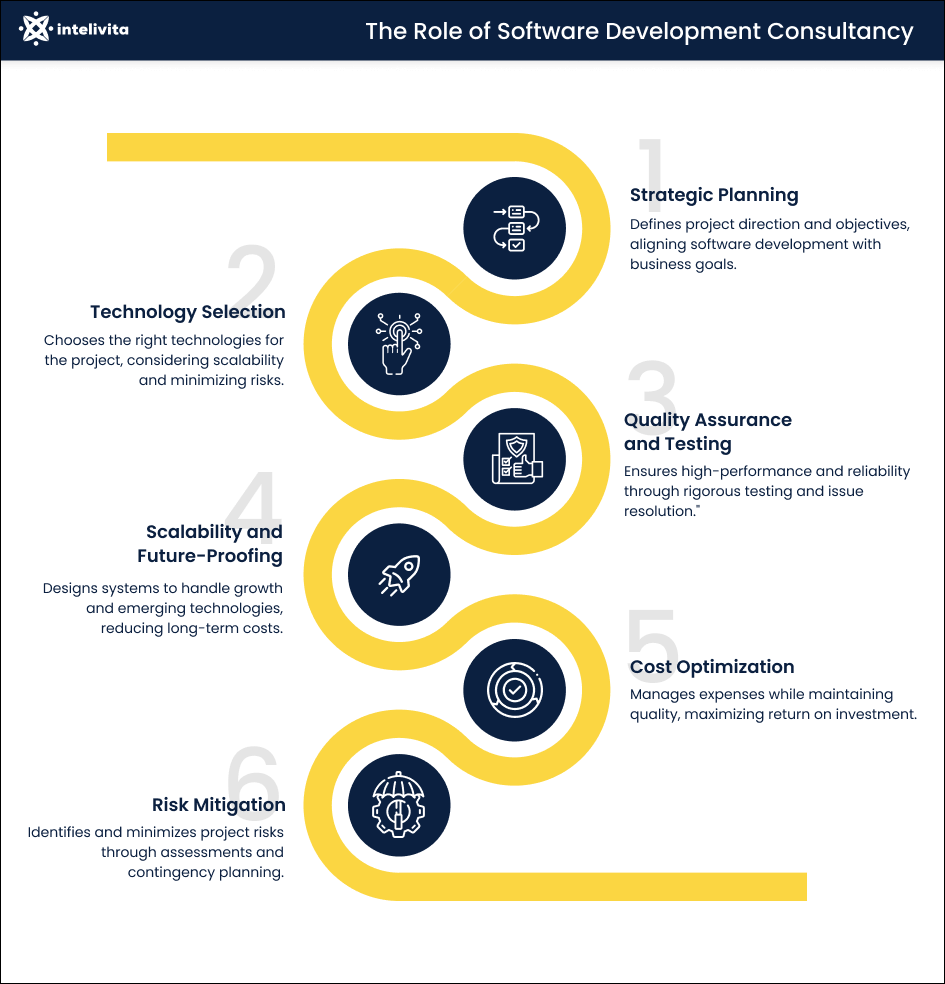 Software development consulting services play a crucial role in guiding businesses and organizations through the complex world of technology and software.
Here are the roles of software development consultant that help businesses to embark on technology swiftly:
Strategic Planning
Software development consultants assist in defining technology strategies aligned with business goals.
The software development team roles and responsibilities is to plan a strategic roadmap for the organization that streamline business technology adoption or help business to transform quickly.
Technology Selection
Software consultants help organizations to choose the right tech stack and development methodologies for the projects.
Choosing the right tech stack makes your software development life cycle more efficient, cost-effective, and better aligned with your project's specific requirements.
Quality Assurance and Testing
Ensuring the quality and reliability of your software is paramount.
Software development consultants can assist in defining robust testing strategies and implementing rigorous quality assurance processes.
This minimizes the risk of bugs and issues arising post-launch, saving your business time and resources.
Scalability and Future-Proofing
As your business grows, your software needs to scale with it. Software development consultants design solutions with scalability in mind, allowing your software to adapt to increased user loads and evolving requirements.
Software engineers also help future-proof your software by recommending technologies and architectures that remain relevant over time.
Cost Optimization
Software development can be costly, but software development consultancies are skilled at optimizing costs.
They can help you make informed decisions about resource allocation, technology choices, and development methodologies to maximize efficiency and minimize expenses.
Risk Mitigation
QA engineers skilfully identifying potential project risks and proactively implementing strategies to manage and mitigate these risks.
The team ensures the smooth progression of the project and minimizes the likelihood of unforeseen issues that could derail its success.
So, knowing the roles of software consultant service providers lets us understand the benefits of software consulting services in the following section.
Want to Develop a Software?
Hire software developers from Intelivita. Our team of 50+ software developers helps you craft software tailored for your specific need.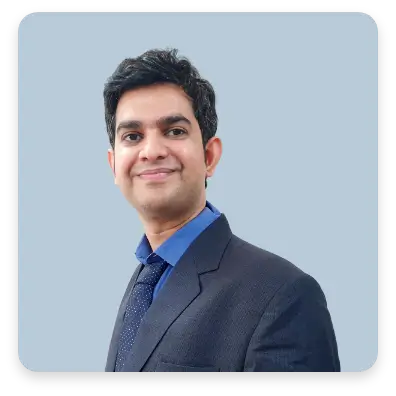 What are the Benefits of Software Development Consulting Services for Business?
The benefits of software development consulting services empower businesses with efficiency that provides competitive edge to businesses in the complex world of technology.
The benefits of software development consulting services are as follows:
Consultants provide expert knowledge and insights, helping businesses make informed decisions about technology and software strategies.
By optimizing processes, technology selection, and development methodologies, consultants can help reduce unnecessary expenses and improve cost-effectiveness.
Consultants can develop tailor-made software solutions that precisely meet the unique needs and objectives of the business.
Identifying and managing potential risks early in the project reduces the likelihood of costly setbacks or project failures.
Software consultants can streamline business operations, automate repetitive tasks, and improve overall productivity.
Consultants ensure that software meets high-quality standards through rigorous testing and verification processes.
Software development engineers help design software with scalability in mind, allowing businesses to expand and adapt their technology as they grow.
With their expertise, consultants can expedite project development and deployment, reducing time-to-market.
Consultants ensure that software systems are secure and compliant with industry regulations, protecting businesses from potential legal and security issues.
Leveraging the latest technology and best practices through consultants can make businesses more competitive in their respective markets.
Thus, after we conclude benefits let us discuss a few tips to consider while hiring a software consulting service provider.
Tips to Hire a Software Development Consulting Service Provider
Software consulting services are booming due to significant use of mobile applications, advancement in technology, and increasing use of technology in day-to-day life.
According to Statista, the global revenue of IT consulting and implementation is expected to reach US $87.03bn by 2028.
Despite that with a wide variety of options available in the market choosing the right software development consulting company is complex.
To make your complex task easily you should consider the following tips while hiring software development consulting service provider:
Clearly outline your project's goals, objectives, and requirements before seeking a consultant. This will help you communicate your needs effectively.
Look for consultants with a proven track record in the specific area of software development you need. Check their portfolio and client references.
Ensure the consultant has expertise in the programming languages, tools, and technologies relevant to your project.
Choose a consultant who understands the unique challenges and requirements of your industry.
Inquire about the consultant's development methodologies (Agile, Waterfall, etc.) and see if they align with your project's needs.
Ensure the consultant can adapt to changing project requirements and timelines.
Assess the consultant's ability to identify and resolve challenges that may arise during the project.
Read client reviews and testimonials to get an idea of the consultant's reputation and client satisfaction.
Discuss post-project support and maintenance to ensure your software remains reliable and up to date.
Include an exit strategy in the contract, detailing how the project concludes and how to transfer knowledge if needed.
Ensure the consultant can commit to realistic project timelines that meet your business needs.
Ultimately, trust your instincts and choose a consultant with whom you have good rapport and a strong working relationship.
Want to Hire a Software Developer?
Intelivita is a decade old software development company helping businesses to reshape their infrastructure using the latest technologies.
Our skilled software developers assist you to develop software within your current infrastructure or build a completely new software that precisely meets your unique business needs and objectives.
Connect with our software development experts today and start developing your software today.