Do you know?
According to one report, by 2027, over 3.8 billion individuals are expected to utilize online food delivery services.
So, with such a high potential future of the food delivery market, it is essential to promote your food delivery app effectively to attract a large user base and enhance its visibility across online platforms.
Thus, in this blog, we discuss tips on food delivery app marketing and a few strategies to enhance your food delivery app presence on online platforms.
The objective of providing tips on marketing a food delivery app is to make your app successful in the digital world.
As a leading food delivery mobile app development company we know the importance of marketing and features that are required to enhance your app presence online.
So, if you are a food delivery business owner, entrepreneur, or digital marketer, continue reading his blog and get all your online food delivery marketing insights.
Let's get started.
7 Useful Tips on Digital Marketing for Food Delivery Apps
Here are the most practical tips that you should follow to enhance your digital marketing for food delivery apps: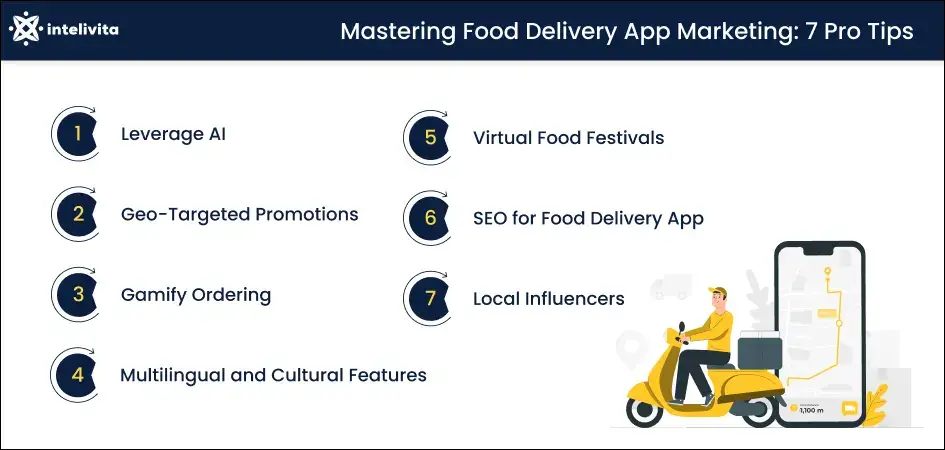 Now, let us discuss all 7 tips in detail.
#1. Leverage the Power of AI to Personalized Marketing
AI is one of the most trending tech that helps you empower your digital marketing for food app with its significant capabilities that includes:
Personalized content recommendation
Predictive analytics for user behavior
Chat-bot driven customer support
AI-based marketing campaigns
AI-driven marketing trends
Efficient ad targeting
Leveraging the power of AI tools assists your digital marketing for food delivery with improved user engagement, higher conversion rates, and enhanced customer satisfaction.
#2. Make Geo-Targeted Promotions
Geo-targeted promotion is one of the most effective ways to promote your food delivery app. Such marketing strategies use geo-fencing technology to promote your food app.
For example, when a user is within a certain radius of a partnering restaurant, your app can send them a real-time notification.
Offering a time-limited discount or showcasing the restaurant's latest offerings if they order through your app.
That creates a sense of urgency and relevance, often increasing orders and customer engagement.
Such Geo-targeted marketing benefits users and food delivery app partners in the following ways:
| | |
| --- | --- |
| Benefits for Customers | Benefits for Food Delivery Partner |
| Provides attractive discounts | Increase Engagement |
| Fulfil cravings within a few clicks | Enhance Sales |
| Enhance convenience | Elevate loyalty |
| Provides timely offers | Provides competitive advantages |
Have a Food Delivery App Idea?
Connect to our experts and get your food delivery app idea converted into reality. We help you develop online food ordering apps tailored to business needs and requirements.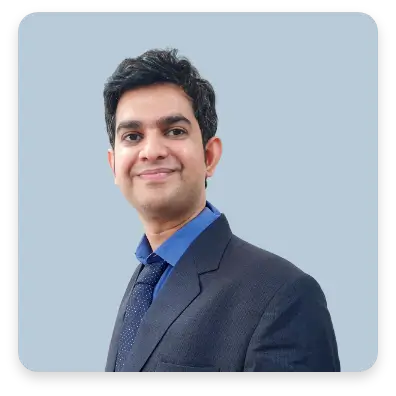 #3. Gamify the Ordering Process
Gamifying the ordering process is one of the perfect tips for marketing your food app to keep users connected and engaging with your brand or app.
Gamifying the ordering process is a strategy used by food delivery apps to make the experience of ordering food more engaging, fun, and rewarding for users.
It incorporates game-like elements into the app to motivate users to place orders more frequently.
Such gamified ordering processes also help food delivery app owners in customer retention strategies and acquisition programs.
Further, you should include the following gaming-like features in your food app to enhance sales and attract more users:
Introduce a point system where users earn points for each order they place.
Provide badges or achievements for reaching specific milestones or completing certain actions.
Let users track their progress in real-time, seeing how close they are to earning the next reward or achieving the next level.
Let users share their achievements and progress on social media platforms, encouraging their friends and contacts to join.
Provide personalized awards based on a user's preferences and ordering history.
#4. Collaborate With Local Influencers
Suppose your target audience is local individuals or in search of expanding your reach to small towns and larger audiences.
In that case, collaborating with local influencers is the best tip for your food app marketing.
Here's a detailed explanation of how this strategy works:
The first step is identifying local influencers whose content aligns with your app's niche.
Look for influencers with a substantial and engaged following, especially those focusing on food, restaurants, or local lifestyle topics.
Reach out to these influencers and establish relationships. That involves direct messaging on social media, email, or attending local events and gatherings.
You can offer incentives such as free meals, discounts, or even monetary compensation to motivate influencers to promote your app.
Work with the influencers to create engaging content highlighting your app's benefits and features.
Make sure influencers provide authentic reviews and endorsements. Their content should be transparent, clearly stating the nature of the collaboration.
Once the content is created, it's shared on the influencer's social media channels or blog.
Be actively engaged with the influencer's content. Respond to comments and feedback to address any questions or concerns from the audience.
Building long-term relationships with local influencers can lead to ongoing promotion and advocacy for your app.
Use tracking and analytics tools to measure influencer collaborations' return on investment (ROI).
#5. Celebrate Virtual Food Festivals
Celebrating virtual food festivals enhances user engagement and creates a unique selling point for your food delivery app.
One of the most scintillating tips to increase your connectivity and sales during the festive season is celebrating festivals virtually with your audience.
To celebrate the virtual food festival, you include the following features to attract your audience:
Create special promotions, discounts, or themed menus that align with the festival's theme.
Partner with local restaurants and eateries to feature their festival-related dishes on your app.
Create a dedicated section within your app for the festival that assists users in exploring festival-related offerings.
Develop content, such as articles, videos, and social media posts, that educate users about the festival, its history, and the dishes' significance.
Run interactive challenges or contests related to the festival.
Offer festival-specific rewards or loyalty points for orders placed during the festival period.
#6. SEO for Food Delivery App
SEO is essential to digital marketing for food apps for any social media platform or for organic traffic on your food delivery app or website.
Promoting your food delivery business by leveraging the assistance of SEO helps you get recognition on online platforms and Google searches.
Here is how SEO helps you improve your food-delivery app marketing:
Increases Visibility: By optimizing your website or landing pages for relevant keywords, you can improve your app's visibility in search engine results pages (SERPs).
Generates Organic Traffic: SEO helps drive organic (unpaid) traffic to your app's website or promotional content. This traffic is often more valuable as it's caused by users actively searching for food delivery services.
Optimizes Keyword Targeting: SEO allows you to target specific keywords and phrases relevant to your app and its features. That ensures that your content reaches users actively seeking food delivery solutions.
Enhances Local SEO: For food delivery apps, local SEO is crucial. Optimizing for local keywords, such as "food delivery near me," helps your app appear in local search results, attracting users in your delivery areas.
Create User Intent: SEO focuses on understanding user intent. Creating content that addresses users' questions, needs, and preferences can attract more qualified users who are likely to convert into app users.
#7. Integrate and Promote Multilingual and Cultural Features
Integrating multilingual and cultural features can benefit you with high ROI and more loyalty if you are searching to enhance your customer loyalty.
To promote your meal delivery app in a culturally diverse region or to reach users with limited tech knowledge and English proficiency, incorporating multilingual capabilities is essential for better connectivity and user engagement.
Multilingual and Cultural Integration in a food delivery app context involves acknowledging and accommodating.
The cultural diversity of your user base, especially in regions with various languages, traditions, and cultural celebrations.
Here are the benefits of multilingual features in your food delivery app.
| | |
| --- | --- |
| Benefits for App Users | Benefits for Food Delivery App Partners |
| Users can interact with the app in their native language, improving understanding and usability. | Attracts a wider and more diverse user base from various cultural backgrounds and language preferences. |
| Users feel included and valued as the app caters to their cultural preferences and celebrates their cultural holidays. | Fosters loyalty among users who appreciate the app's cultural sensitivity and inclusivity, leading to increased user retention. |
| Users with limited tech knowledge can navigate the app more comfortably in their preferred language. | Increases user engagement and satisfaction, which can result in higher order frequency and positive reviews. |
| Users can enjoy exclusive promotions and menu items related to their cultural festivals and traditions | Sets the app apart in a competitive market and positions it as a culturally aware and user-centric platform. |
| Users can explore and appreciate a variety of cuisines and dishes from different cultures, broadening their culinary horizons. | Builds a positive reputation and word-of-mouth marketing as users share their experiences with others, further increasing app downloads. |
So, here we conclude food delivery mobile app promotion tips; in the next section, let us go through a few strategies for marketing your online food ordering app.
9 Food Delivery Marketing Strategies
Here are the 9 valuable strategies that you should implement to enhance your food delivery app marketing:
Collaborate with local chefs for exclusive menu items and promotions.
Create interactive food challenges for users to win rewards.
Offer late-night delivery deals to capture the nocturnal audience.
Promote sustainability with eco-friendly packaging and green delivery options.
Introduce personalized healthy meal plans for fitness enthusiasts.
Highlight a specific cuisine each week with discounts and promotions.
Host virtual tastings featuring local restaurant dishes.
Specialize in dessert delivery for those with a sweet tooth.
Provide cost-effective family meal bundles for larger households.
Need an App Development Partner Who Can Integrate Marketing Features?
Connect with Intelivita. We are a decade-old software development company crafting solutions for various industries tailored to their business needs.
If you want to integrate features such as geo-fencing technologies, AI, and ML capabilities across your food delivery app, then our experienced developer can help you.
We have assisted many food delivery companies like UK Eats and SN Lyft with our solutions that help them evolve and drive growth across their businesses.
Book your consultation today and integrate advanced technology within your food delivery app that brings efficiency, profitability, and brand recognition.