One thing that stayed during the Covid-19 pandemic was ordering one's favourite food. The place changed, but the craving did not change. People would earlier visit a restaurant. With stricter guidelines asking people to stay indoors, they started opting for an online food delivery service.
Whether you look at this from a user's perspective or a developer's perspective, you learn that convenience and grabbing an opportunity matter greatly. This is subjected to conditions like being careful with the offered features and the kind of services deployed in the market.
Many food delivery apps in Toronto have become players around which a case study can be structured. The reason is that they evolved with time, setting an example even for those who are looking to come up with their food delivery mobile application.
This article has been curated keeping both sides in mind – a customer and a developer. We will review the reason behind the success of the best online food delivery apps. This will be followed by a discussion about the benefits of owning your food delivery app.
Let's dig in!
The Staggering Rise Of Food Delivery Apps
One sector that grew exponentially despite heavy pandemic restriction was online food delivery. It has no intention of stopping at that stage. Estimates say that the growth will continue to accelerate in the coming future.
This is one of the benefits you get when you chase a permanent problem. Customers love food. While some of them enjoy going out, most love to stay put, cuddled in their blankets in front of the television and have a bowl of noodles or a pizza box.
Convenience matters to the majority of the customers. Figures make this evident. The year 2019 experienced the generation of total revenue of $2.004 billion. This is estimated to grow at the rate of 10.2% for the next two years.
The online food delivery segment is ruled by one category: Restaurant to Consumer delivery. With every customer spending around $32 on every order, the category is projected to touch the valuation of $2,959 million in 2025.
Even though studies show that 45.7% of users hesitate to place their orders due to service fees, 49.4% would continue to order at least once a week. These figures remained strong when customers were asked about their opinion of online food ordering after the Covid-19 pandemic.
Let us now have a brief idea about the top five online food delivery mobile apps.
| App Name | Rating | Downloads | Best Known For | App Store Link | Play Store Link |
| --- | --- | --- | --- | --- | --- |
| SkipTheDishes | 3.8 | 100k+ | Pre-order for later | iOS | Android |
| Tim Hortons | 4.1 | 100k+ | Customise favourite items | iOS | Android |
| DoorDash | 4.8 | 100k+ | Healthy options | iOS | Android |
| InstaCart | 4.8 | 100k+ | Incentives and promotions | iOS | Android |
| UberEats | 4.8 | 100k+ | Uber One subscription | iOS | Android |
Looking to create your mobile application in Canada?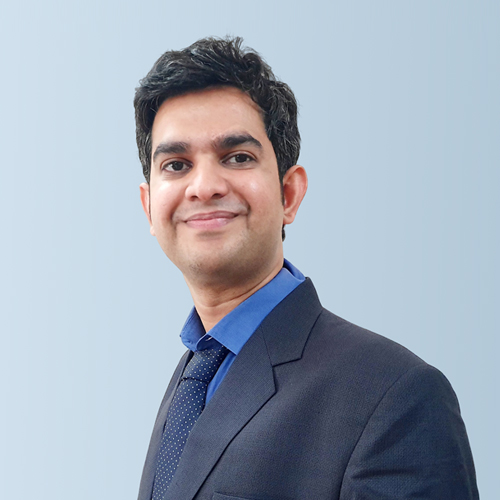 Speak to our experts who can help you get started in the right direction.
Top 5 Food Delivery Apps In Canada
Some of the app developers in Toronto can do wonders for you if you plan to launch your online food delivery mobile application. The concept has worked for SkipTheDishes, Tim Hortons, DoorDash, InstaCart, and UberEats.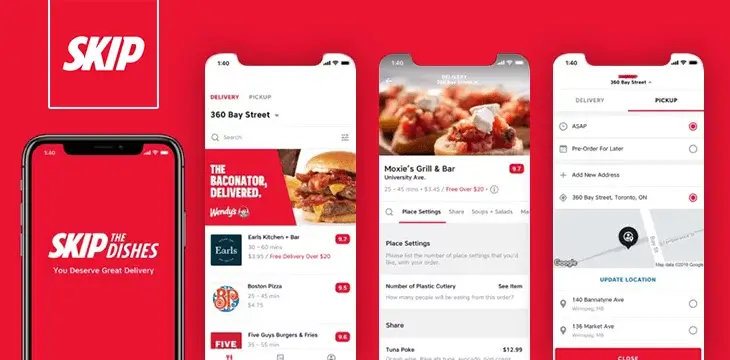 Source: SkipTheDishes app
Launched in 2012, SkipTheDishes has come a long way. It has, since its launch, gathered total funding of $8.5 million.
Services of SkipTheDishes were earlier limited to only certain cities of Canada. With time, it has expanded to other major cities and countries like the United States of America. It now has 16,000 restaurants in its network and a strength of 2,000 employees plus delivery executives.
| Pros | Cons |
| --- | --- |
| It enables users to filter their options based on delivery fee. | The app lacks the provision to add multiple addresses. |
| Customers can check the status of their order through GPS tracking. | Issues pertaining to checkout and payment gateway exist. |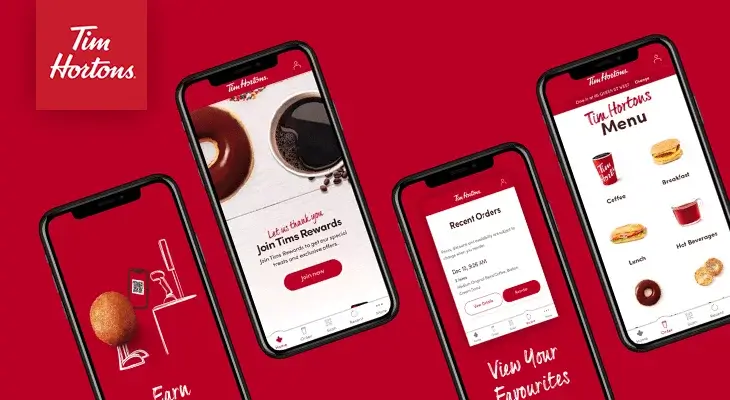 Source: Tim Horton App
Tim Hortons has blended with the modern demands pretty well. It was founded in 1964 and went digital in 2017 who pretty well leveraged the app developers in Toronto.
The platform is available in 4,500 locations. Tim Hortons started with serving only donuts and coffee. It now generates an easy revenue of around $3.29 billion. Delivery services of the mobile app can be availed of in all the major and small cities of Canada.
| Pros | Cons |
| --- | --- |
| It allows you to choose your preferred delivery or pick-up method. | User interface of Tim Horton's mobile app is not as intuitive as one expects it to be. |
| Customers can earn rewards through its digital loyalty card. | Customers have reported many errors in online payment. |
DoorDash is an American company launched in 2013 that made its way into Canada. It is based in San Francisco.
Known for its quick delivery services, DoorDash has raised over $2.1 billion in different funding rounds. The company houses around 6,900 employees and delivery executives.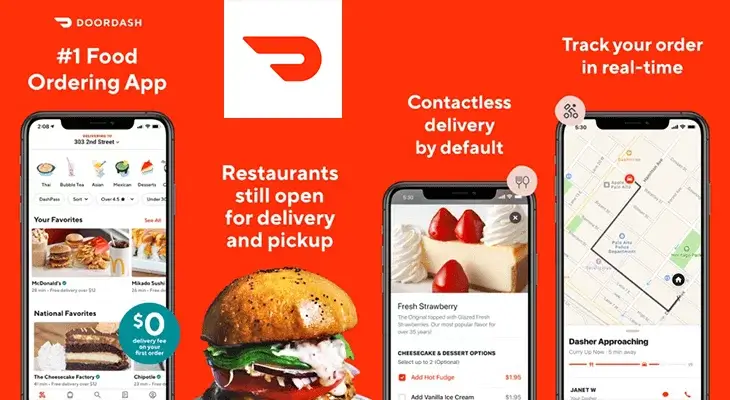 Source: DoorDash App
| Pros | Cons |
| --- | --- |
| Users can opt for no-contact delivery during the Covid-19 pandemic. | The mobile app is known to take a lot of time to load. |
| Subscription to DashPass gets food to a customer with no delivery fee. | Its payment features experience glitches frequently. |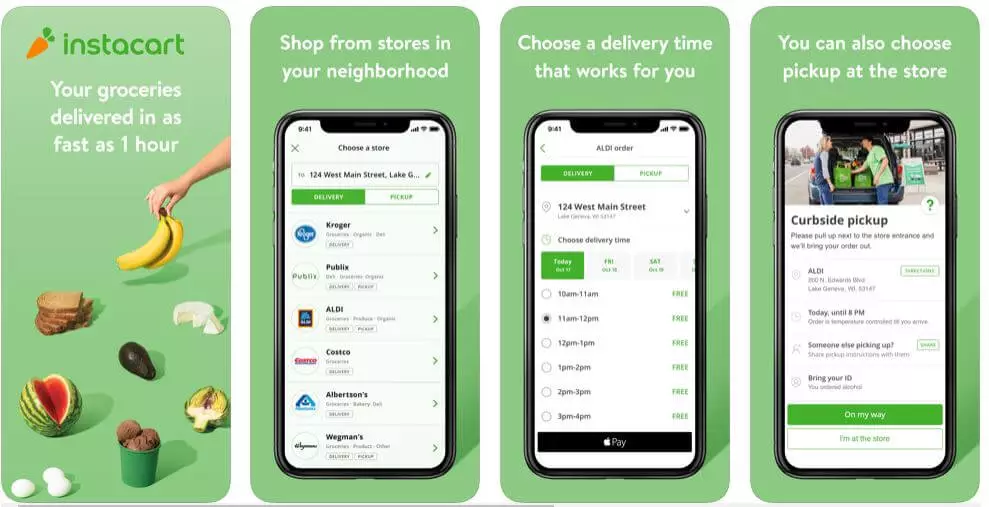 Source: Instacart App
InstaCart stands out in the list of online food delivery mobile apps. It enables the customers to shop for groceries as well. InstaCart is basically a third-party service provider that delivers items to its customers.
Some of its major partners include Walmart and Loblaws. Customers are required to add a minimum order of $35 to be eligible for the services. One can try its Express Membership for 2 weeks before making payment for it.
| Pros | Cons |
| --- | --- |
| It has a faster delivery time. | Options for online ordering are very limited. |
| Customers can choose the option of contactless delivery. | It automatically includes a mandatory tip of 5% at the checkout. |
UberEats is now a well-known brand across the globe. It has made its mark in the market with a shorter delivery time and 24 hours availability throughout the week.
Customers can choose to pick up their orders to avoid paying a delivery fee which generally ranges based on the restaurant and the distance.
| Pros | Cons |
| --- | --- |
| It is easier to place your order on UberEats. | UberEats is comparatively expensive. |
| A subscription to Uber One makes the user eligible for a $0 delivery fee. | The company places an additional surcharge over the total cost of the order. |
Benefits Of Developing A Food Delivery App For Your Restaurant Business
It is important to know that everything has its pros and cons to get things started. In the case of the online food ordering segment, pros weigh more than cons. It needs you to undergo the whole process of on-demand food delivery app development and still keep the app updated. This is a never-ending task but it comes with success that follows by improving apps to meet the industry standards and customers' expectations.
Some of the benefits of developing a food delivery app for your restaurant business are mentioned below.
Easy Order Management
A food delivery app for your restaurant business can help to put everything under one perspective. It is trouble-free to manage your orders. You no longer have to rely on your written notes or messages.
Customers mentioning their address and contact details make it easier. They can be allowed to leave special delivery or cooking instructions as well.
Offer A Better Customer Experience
Based on what a customer has ordered, you can highlight to him or her a set of recommendations. This would assist the customer in exploring more options while sticking to their favourite cuisine or restaurant.
This leads to higher retention and steady sales. You can offer them discounts based on the size of the order. Offering them incentives is another way to provide a better customer experience through your online food delivery mobile app.
Keep Your Profits To Yourself
When you partner with an aggregator, then you are bound to share a portion of your earnings with the aggregator. It can be in the form of commission or fee. This lowers your bottom line and affects the overall picture of the revenue.
Your mobile app at your service can eliminate this hurdle. You would be solely getting the entire profits in your account. Plus, you will be at liberty to retain autonomy over the prices. An exclusive app-based offer becomes just another way to generate more revenue.
Connects You Directly With Your Customers
You can establish a direct connection with your customers through your mobile app. This is impossible when you have listed your restaurant business on another platform. Details that customers share reach directly to you.
To send personalised push notifications and build a brand, such details can be reviewed and analysed. The customers can use an app for your restaurant business to book a table.
Are you Into the Food Business in Canada?
We have expert team of mobile app developers in Toronto who can design perfect app that fit your needs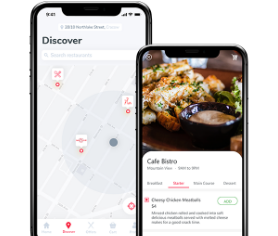 FAQs About Best Food Delivery Apps
Q. Which is the most used food delivery app in Canada?
SkipTheDishes, followed by Tim Hortons and Grubhub.
Q. Which is the most popular food delivery app?
SkipTheDishes remains at the top when it comes to the popularity of food delivery apps. UberEats and Foodora follow it at second and third position respectively.
Q. How much does it cost to develop an UberEats-like app?
It can cost in the range of $12,000 and $20,000 to develop an app like UberEats. The final cost of app development depends on the number of features and windows you include in your online food delivery mobile app.
Conclusion
Before getting into the segment of online food delivery, do read more about the market. Analyse the competitors as the industry has many players fighting for a customer's attention. Give it your best shot and take the risk with pride as our app developers in Toronto can help you get started in the right direction
If you are looking to get started with food delivery apps in Toronto then speak to our app builders who can customize the application to match your needs. We will understand your requirements, design the right approach, and implement technology that adds value to your business ideas.