Each year apple raises the bar and creates better innovation to improve our lives, not just the lifestyle.
The Apple event in September is the most awaited event in tech innovations. Apple Watch and iPad are the two biggest announcements of this apple event 2020. If you are iPhone or Mac book fan, there is a disappointment for you.  They haven't made any promises for both.
None the less, let's dive in the live update on both apple watch and apple iPad and see what they have in the bag.
Apple is giving more emphasis on how apple watch is driving innovation. It makes the most loved watched. Tim is happy to share how pleased he is receiving millions of messages every single morning how apple watch is changing day to day life.
Tim cook to share some of the success and inspirational stores about the Apple watch. The most innovative watch is making difference for athletes to the people who have been facing multiple health issues. It makes it more overwhelming to see how technology on the wrist is helping to save and to change multiple lives.
Let's begin and find how the apple watch is here for the people and making difference for Mankind. There are some incredible benefits of the Apple Watch.
Tim cook the CEO of apple inc, shares that each year apple watch takes a leap to bring exciting innovation to life. It has endless benefits with amazing capabilities.
The first biggest announcement is around here.
Apple announces Apple Watch Series 6 with the ability to measure blood oxygen levels
Sumbul Ahmad Desai, MD is telling us about blood oxygen and why it's important. She explains how the blood oxygen monitoring has experimented with the COVID19.
Meet the Apple Watch Series 6 blood oxygen sensor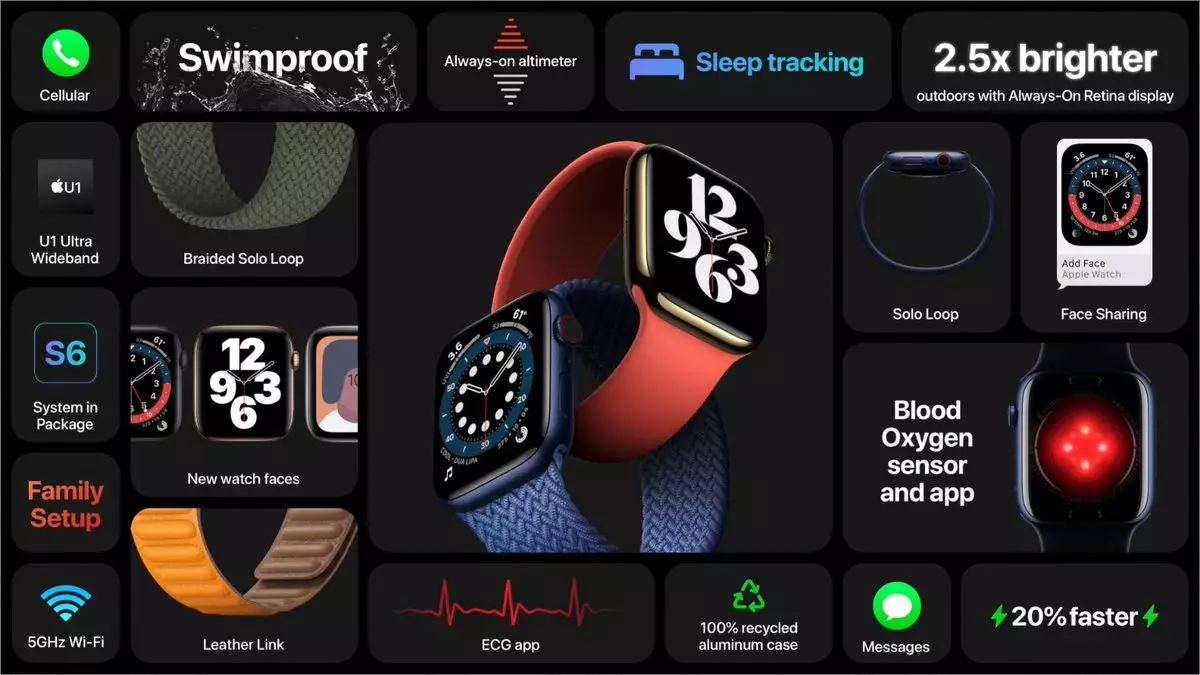 Create your own custom artist made face, Memoji face, customizable color stripes face.
20% faster than the previous generation
2.5x brighter outdoors (with AOD)
The watch will let you take a blood oxygen levels measurement in just 15 seconds
Blood Oxygen Monitoring
Artist palette New gold, blue, and red case finishes
High voltage sign S6 Chip
Always-on altimeter
Electric light bulb improved always-on display
Smiling face with heart-shaped eyes New improved watch faces
Family (man, woman, girl, boy) New Family Setup
WristwatchBraided Solo Loop Band and Leather Link
Apple Watch Series 6 starts at just $399
The next in the apple watch series is SE. This is the older model with updated version is tech and innovation. accessibly, better sensors, much more affordable and many more things for you. Let's find out what does the apple watch series SE has for you.
Key Features of Apple Watch Series SE
The new Apple Watch SE, the more affordable version of the Apple watch.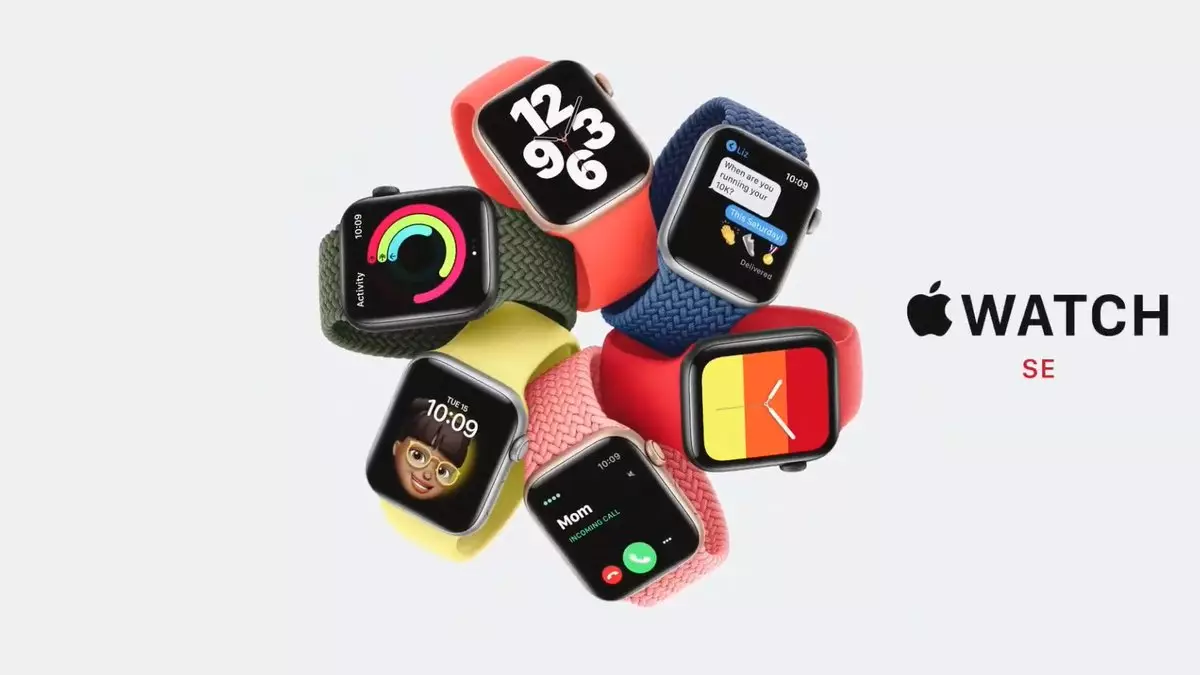 New colors.. product red, updated gold, blue, and graphite stainless steel
S5 Processor (From Series 5)
Looks like Series 4
No Always On Display
100% recycled aluminum
Supports Fall Detection – No ECG
Sleep Tracking
Swim proof
Fall detection
Solo Loop, Braided Solo Loop and Leather Link

Apple

Watch

SE

 starts at $279
Pricing of apple watch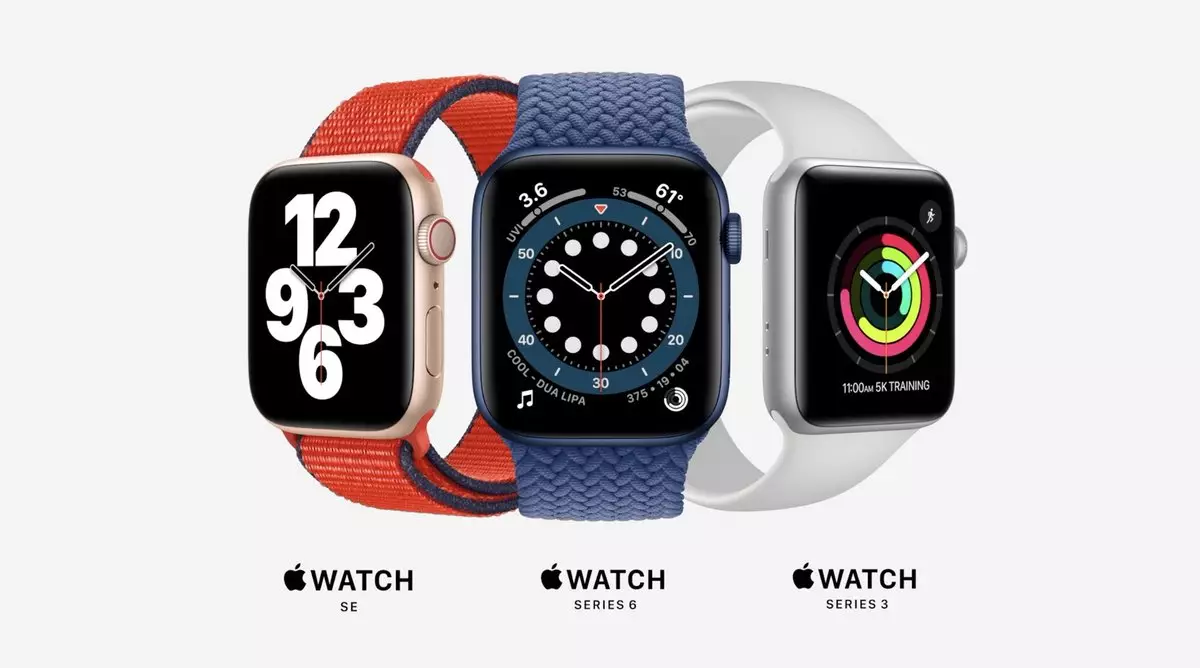 Apple Watch Series 6: $399
Apple Watch SE: $279
Apple Watch Series 3: $199
Next in the lineup, Apple introduces Apple One. Here is everything you need to know about the Apple one.
Apple bundles all your Apple services in one price. Yes, you read it right. the cutting edge technology brings this all together incredibly well. AppleOne bundle eliminates multiple subscriptions every month
Key Features of APPLE ONE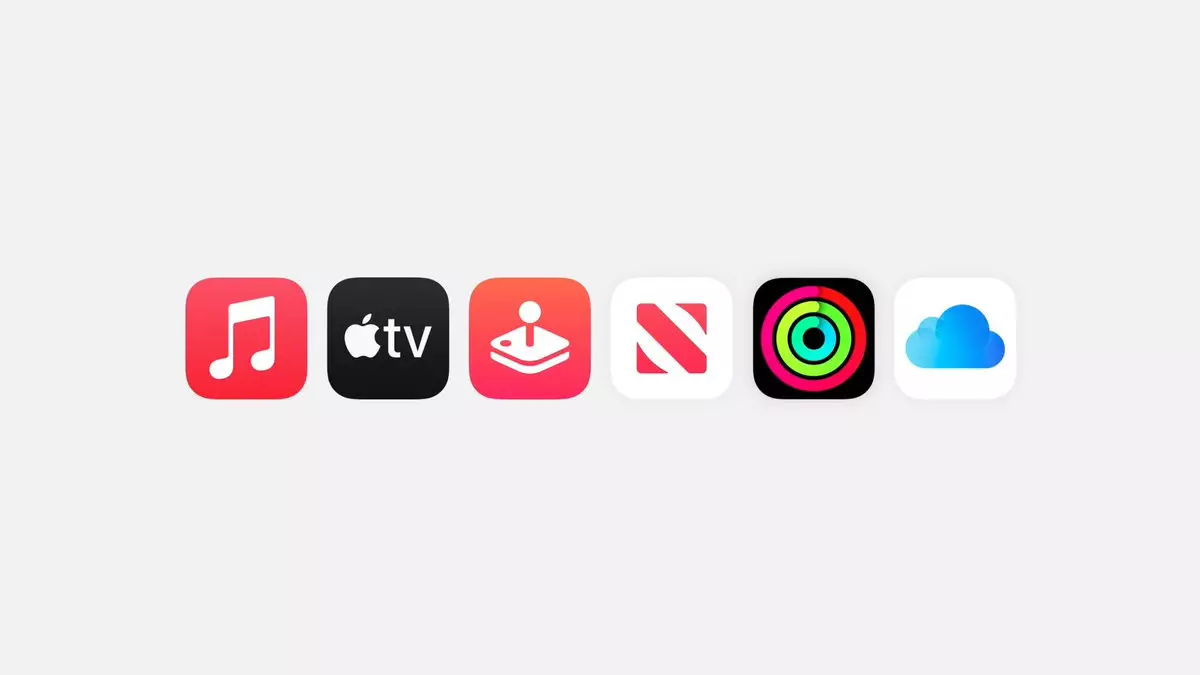 iCloud
Apple Music
Apple TV
Apple News
Apple Arcade
Apple Fitness+
Three different pricing of Apple One
Individual: $14.95 per month.
Family: $19.95 per month.
Premier (including Apple News+ & Apple Fitness+): $29.95 per month.
The next in the line up is the Apple iPad. The magical device where the journey of Apple begun.
Apple announces updated eighth-generation 10.2-inch entry-level iPad
Ted Merendino, product manager for iPad, is up to talk about it.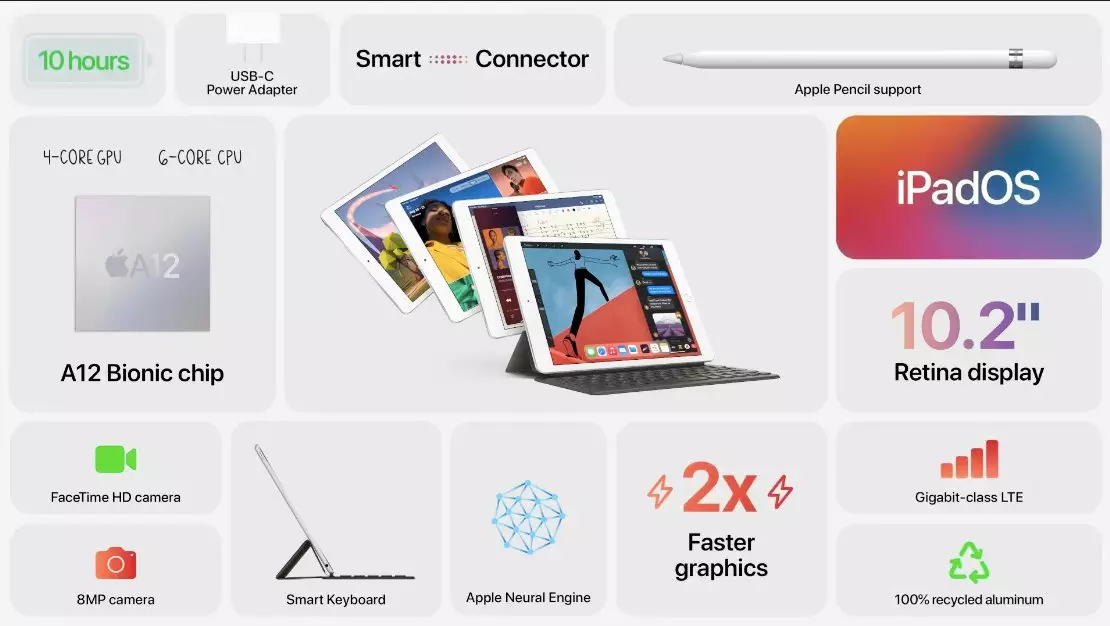 Apple's new iPads have considerable environmental considerations, like 100% recycled aluminum enclosures.
The key features of Apple iPad 8th Generation.
A12 Bionic chip, with 40% faster CPU, 2x faster graphics
New iOS 14 with new Apple Pencil features like letting you handwrite in any text field
Apple Keyboard + Pencil support
10.2" Retina display
Price starts at $329, and $299 for Education
The announcement is Apple's all-new iPad Air. It uses the 5nm process technology. 11.8 billion transistors packed in the tiny chipset.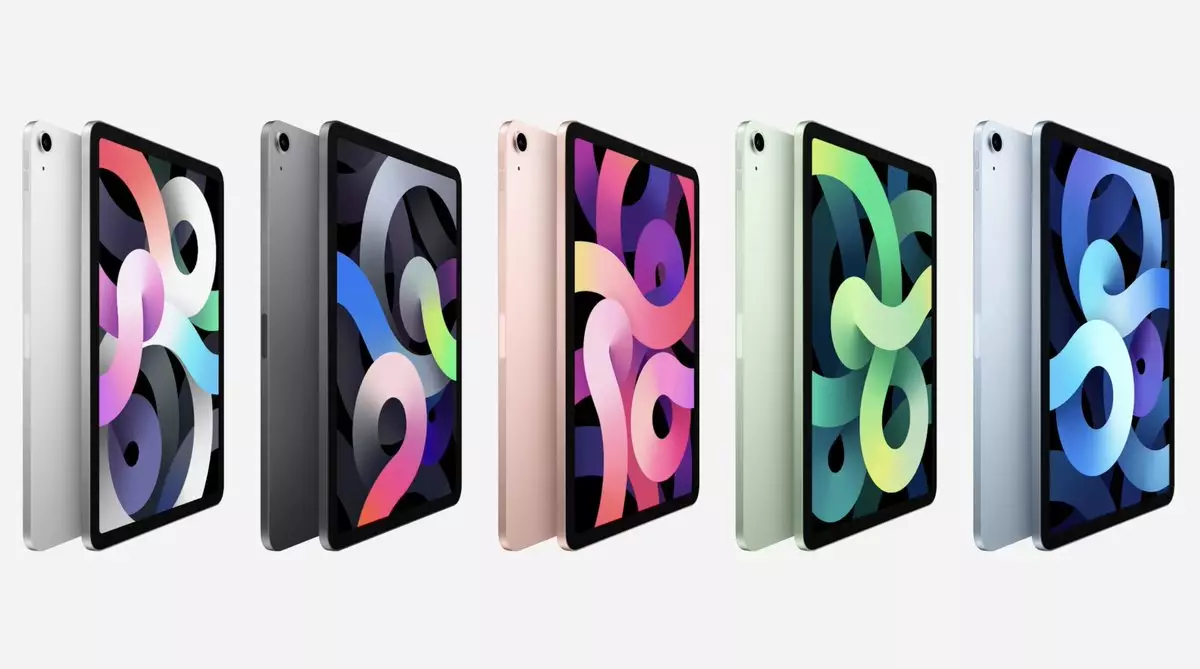 Key features of Apple iPad Air
Redesigned metal chassis + 5 colors
Fully laminated, True Tone, anti-reflective coating.
Liquid Retina display with a larger 10.9-inch display (edge to edge)
Next-generation TouchID
40% faster CPU, 30% faster graphics
10.9" 2360×1640 Liquid Retina display (LCD)
7MP Selfie Camera and 12MP Rear Camera
New A14 Bionic chip (16 cores, 5nm process!)
Supports Wi-Fi 6
Stereo Audio
Apple Pencil 2 and Magic Keyboard support
The price starts at $599
Last but not least, New iOS updates coming tomorrow across the Apple device lineup.
iOS 14
watchOS 7
iPadOS 14
macOS
tvOS 14
People waiting for a new iPhone announcement.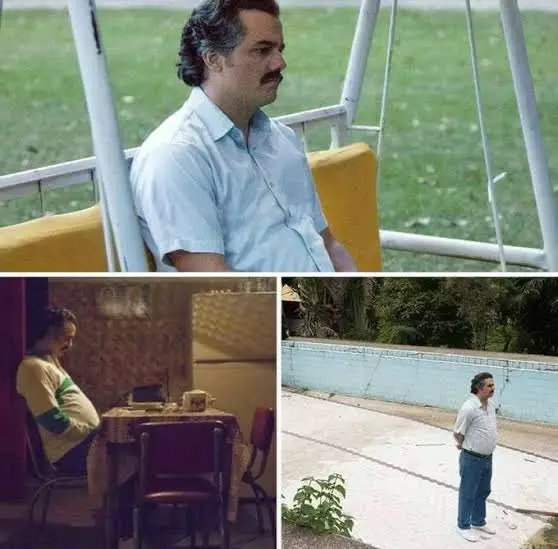 That's the end.
Thank you so much for checking all the apple event 2020 update. We will be back once again, until than Goodbye.